Schoenstein Organ Factory
Introduction
Stood on 3101 20th Street, Schoenstein & Co. is the oldest and largest organ factory in the Western United States. The craft had been in the Schoenstein family for over five generations and started as a small firm in the Black Forest of Germany in the mid-19th century. In 1868, Felix came to San Francisco representing his family business, but by 1877 he had established his own independent firm.
Images
A shot of the building from the front.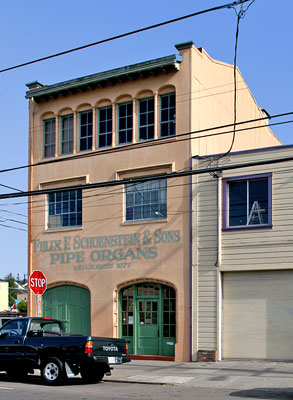 Backstory and Context
Felix Schoenstein's father, Leo, began building organs in Germany sometime before 1850. By 1964, his sons were also involved in the trade and began to build orchestrions, a kind of organ that is mechanically played, similar to a barrel organ. For years later, Felix and one of his brothers set sail for San Francisco to install an organ on Jackson Street.
Felix decided to settle in the city and worked under Joseph Mayer, a pioneer of organ building in California, for eight years. In 1877, after developing his skills even further, Felix decided to set up his own business and established himself at 512 Birch Street. Under his new venture, he was responsible for installing orchestrions across the city including Cliff House, Woodward's Gardens, Maier's Beer Garden, as well as many churches and private residences. His firm built its first full-scale pipe organ in 1881 for St. Mary's Church in Stockton.
Since then, the firm has constructed over 75 instruments with the last one being build in 1967. All components of the Schoenstein organs were built in the firm's own shops, except for the metal pipes, unlike many other firms who ordered their components from a catalogue.
Felix had ten children and three of his sons, Louis, Otto, and Erwin, became involved in the family trade. The company became known as Felix F. Schoenstein & Sons in 1909. His other sons were also involved in the organ business in other cities across the U.S.
The business was sold by the family in 1977, but the new owner retained the name Schoenstein & Co. and continued to produce pipe organs until 2004.

Sources
San Francisco Landmark #99 Schoenstein Organ Factory. Noe Hill. Accessed May 28, 2017. http://noehill.com/sf/landmarks/sf099.asp.

NATIONAL REGISTER OF HISTORIC PLACES INVENTORY - NOMINATION FORM. National Park Service. Accessed May 28, 2017. https://npgallery.nps.gov/GetAsset/849324eb-3962-42ac-9fc0-1dbfe6a1eaf7.


Additional Information