Bataan War Memorial
Introduction
The Bataan War Memorial is a large tank that commemorates the Harrodsburg Tankers in WWII. The men on this tank endured many hardships after they were called into action in 1941. This giant, and authentic, WWII tank stands in Harrodsburg to remember the lives of those lost in the war.
Images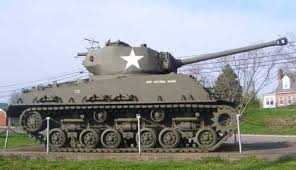 Backstory and Context
In October of 1941, the Harrodsburg Tankers, also known as the 38th company were called into battle. They were a National Guard Unit prior to being sent off to war. Sixty-sex men, and the tank, left out of Mercer County Kentucky, to San Francisco and then finally arrived in the Philippines in November. They fought to defend Bataan, and they would come to be known as the men who fought in "The Bataan Death March."
The ones were weren't killed in battle were taken as prisoners. It would be almost three years before they would be released and be able to return to Kentucky. Twenty-nine men lost their lives and this tank is used to remember them.
There many other monuments besides the tank that guests can see. There's the Confederate Civil War Monument, the Beriah Magoffin Monument, and the Veterans Memorial. They are all in a short drive from each other. There is also a Shaker Village, a Drive-In movie theater and a farm for kids to visit all close by too.
Additional Information