The Goodrum House
Introduction
The May Patterson Goodrum House was designed by Philip Trammell Shutze, one of America's most prominent architects in the 20th century. The English Regency-style home is said to be his favorite residential project in Atlanta and earned Shutze an honorable mention from the Architectural League of New York for it's design. The Goodrum house was purchased by the Watson-Brown Foundation in 2008 and is currently undergoing restoration.
Images
May Patterson Goodrum House designed by Philip Shutze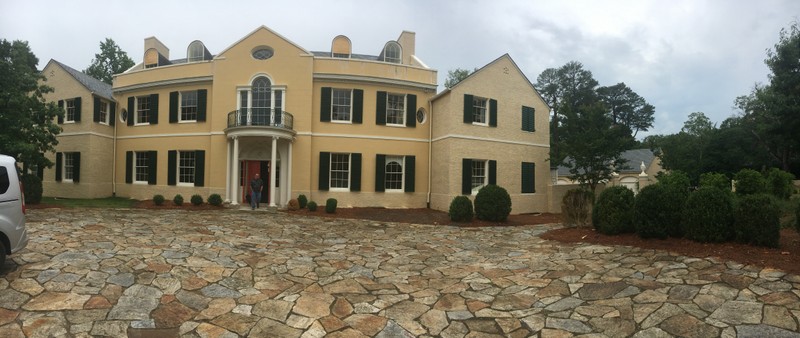 Living Room - furniture and rug are original to home.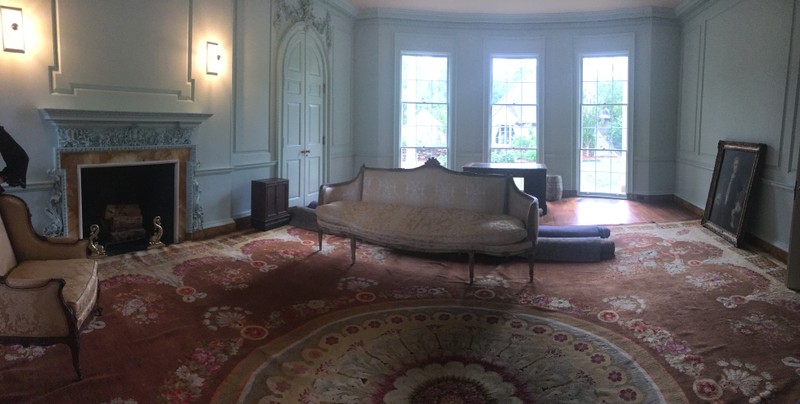 Dining Room - artwork by Allyn Cox

Breakfast Room - artwork by Athos Menaboni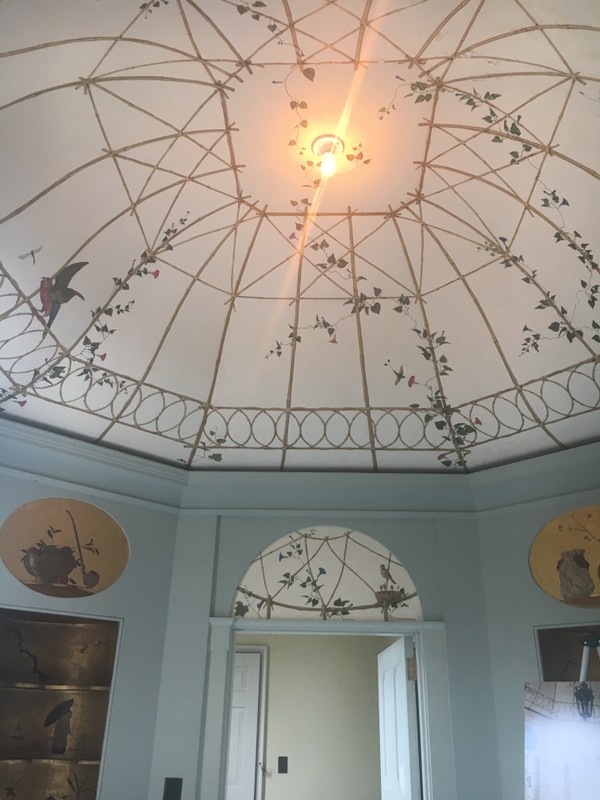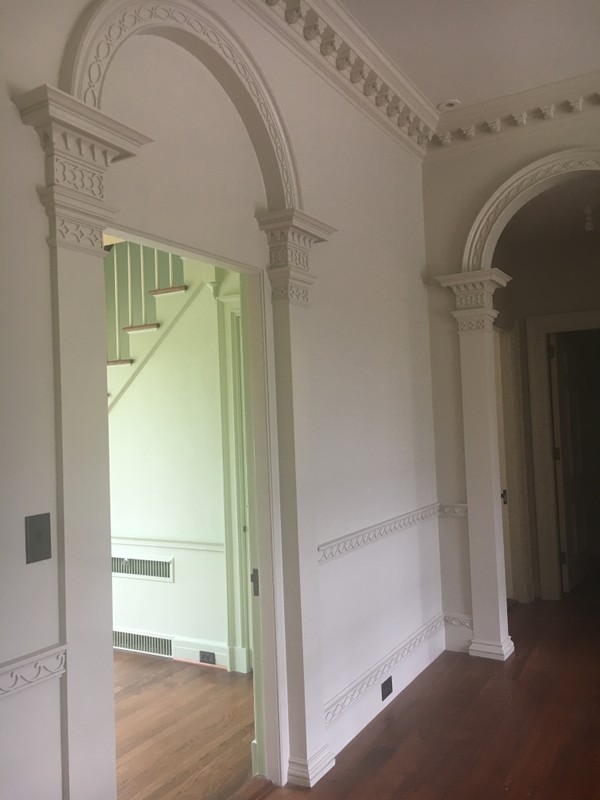 May Patterson Goodrum's bedroom

Photo of May Goodrum's Bedroom while inhabited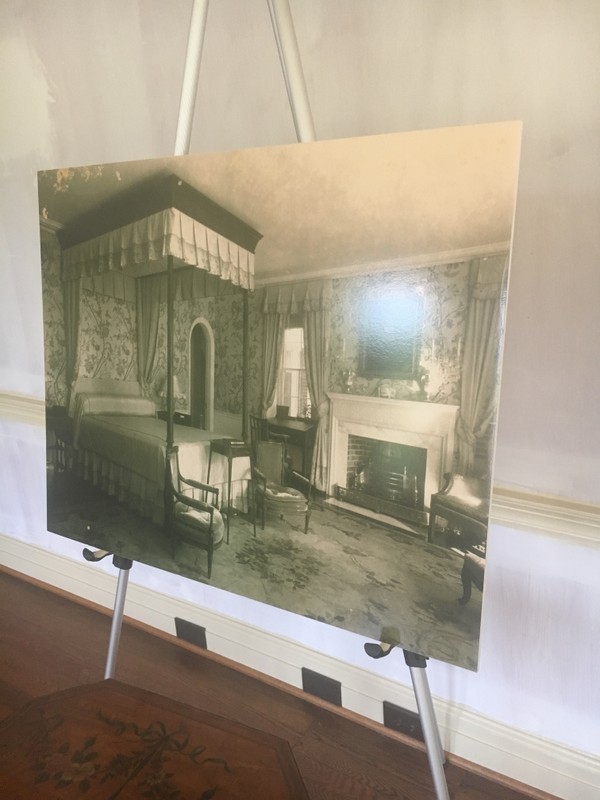 The remaining gardens and rear of home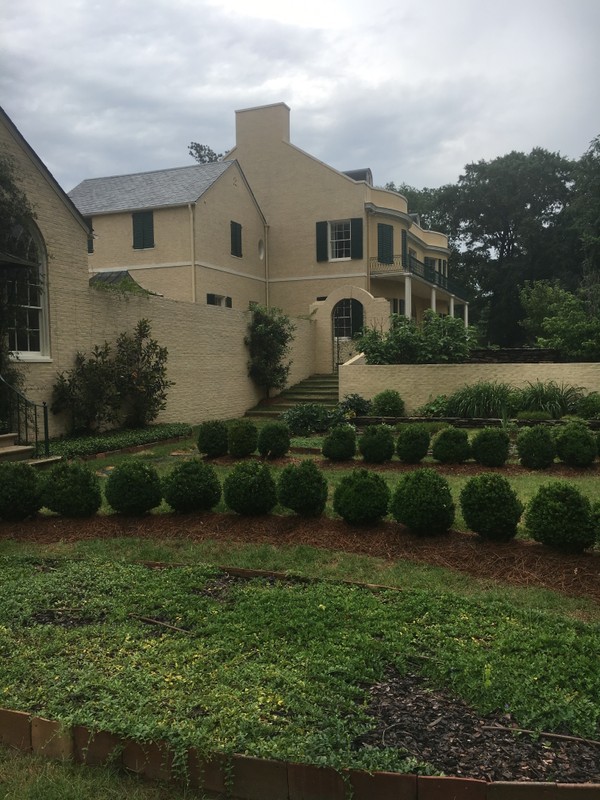 Backstory and Context
Recently widowed from wealthy Coca-Cola Businessman James J. Goodrum, May Patterson employed Philip Trammell Shutze to design her home in 1929. Shutze studied at Georgia Tech and Columbia University and was a prominent architect in Georgia in the 20th century. He was commissioned by many of Atlanta's affluent elites to design buildings such as the Swan House and Henry Grady High School. Shutze also designed the landscaping to complement the home.
The Goodrum House was finished in 1932 and boasts a myriad of English Regency-style architecture such as stucco exteriors, large, two-story bay windows, and cast-iron railings in the entrance. However, the home also has a significant amount of elaborate, Oriental Revival-style murals painted throughout the home by celebrated artists Athos Menaboni and Allyn Cox. Cox, who later painted murals for the U.S. Capital, painted the Chinese figures in the dining room, while Menaboni painted the birds and bamboo in the breakfast room. Herbert J. Milard carved all the incredibly elaborate moldings in both the sitting room and the entry of the home. The Goodrum House property also includes a small, one story guest cottage, added in 1936.
May Goodrum lived in the home until she sold it in 1958 and moved to Sea Island with her second husband. Later, two acres on the south side were subdivided and much of the rear garden was lost. The Goodrum House is currently undergoing a restoration after being purchased by the Watson-Brown Foundation in 2008. The foundation is in close contact with surviving relatives of May Goodrum and have been able to acquire photographs allowing them to restore the house to its former glory as well as furniture and floor coverings that were original to the home with hopes of continuing to grow the collection in the future.
Sources
"Historic Homes." Watson Brown. Accessed May 25, 2017. http://www.watson-brown.org/about/historic-homes/.
"Goodrum, May Patterson, House." National Parks Service. Accessed May 25, 2017. https://www.nps.gov/nr/feature/places/13000215.htm.
"Buckhead Heritage Society." May Patterson Goodrum House | Buckhead Heritage Society. Accessed May 25, 2017. http://www.buckheadheritage.com/content/history/historic-buildings/goodrum.
Press Release | Historic Preservation Division -- Georgia Department of Natural Resources. Accessed May 25, 2017. http://georgiashpo.org/node/2171.
Additional Information