Ball Ground Historic District
Introduction
Ball Ground is said to have gotten its name because it was a common meeting place for the Cherokee to meet to play a game similar to lacrosse. It was a popular place for this because it requires large flat areas, which would also later attract farmers. When the railroad was brought through the town, it grew more and the economy became a combination of agriculture and marble.
Images
Historic picture of Main Street.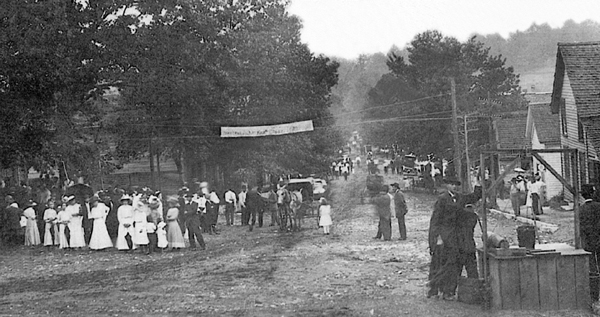 Plaque on the front of a now empty building on the main strip.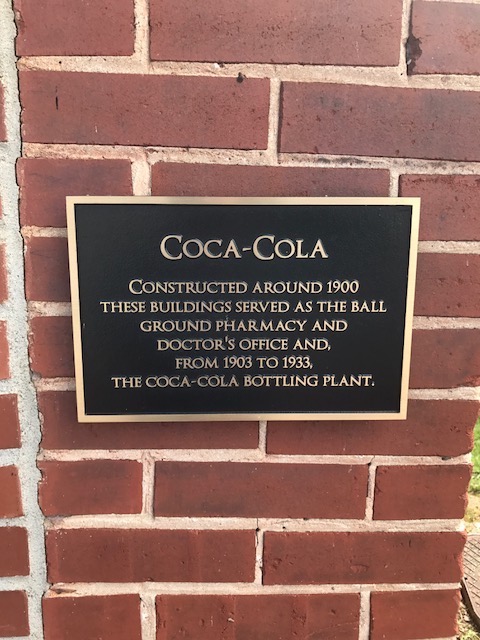 Strip of restaurants, Dot's Restaurant on the right.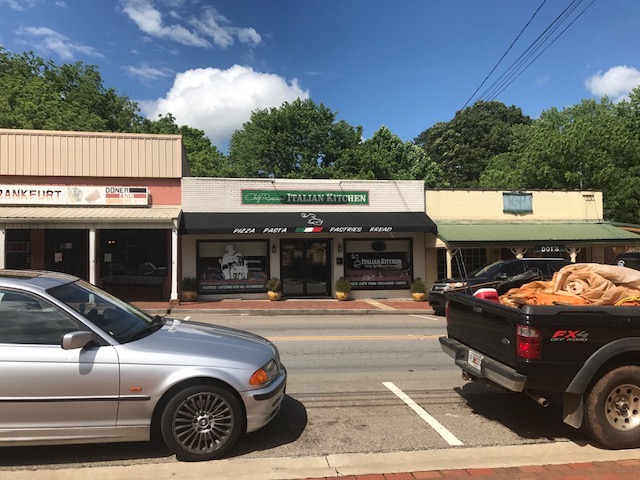 Plaque by the door of Dot's Restaurant, now closed.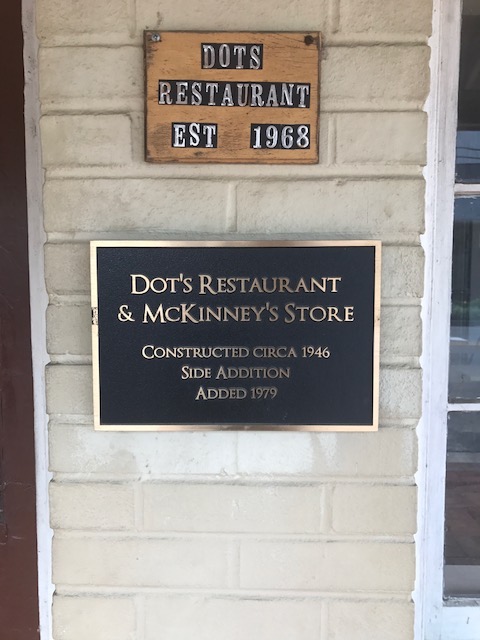 Backstory and Context
Ball Ground, Georgia, in Cherokee County is known for its history of interactions with the Cherokee people. It is named because it was first known to be used as a playing field for a sport played by the Cherokee, which required a large flat field. The Cherokee actually won the land in a ball game against the Creeks. The topography of the area later drew farmers to the area as well. Ball Ground was not officially established until 1882, when the railroad was brought through the area. At the time, the town was very small and its economy was heavily based in agriculture. Ball Ground was successful in selling its produce and later marble, for which it is now best known, because of their easy access to the railroad.
Ball Ground is also the site of a historic battle for land between the Cherokee and Creeks in a war that went through the 1740's and 1750's. The Battle of Taliwa in Ball Ground was said to be the largest and most decisive battle of the war, and the Cherokee defeated the Creeks there. The Creeks quickly retreated and left the land to the Cherokee, who the county is named after today.
The National Register of Historic Places recognizes the importance of Ball Ground mainly for its architecture, which includes Italianate seen in the downtown area and Queen Anne styles seen in the surrounding homes and neighborhoods. The National Register of Historic Places includes 114 buildings and 2 sites in Ball Ground's Historic District, and most of the buildings are homes. Its periods of significance range almost consistently from 1899 to as late as 1974, because the area was constantly growing and changing. As of May, 2017, the town was quiet and quite a few of the stores were vacant. However, it was clear that some were being remodeled on their interiors to open as new stores in the near future.
Sources
First 100 Years. City of Ball Ground. Accessed May 25, 2017. http://cityofballground.com/first-100-years/.

Georgia - Cherokee County - Historic Districts. National Register of Historic Places. Accessed May 25, 2017. http://www.nationalregisterofhistoricplaces.com/ga/cherokee/districts.html.

Accessed May 25, 2017. https://npgallery.nps.gov/pdfhost/docs/nrhp/text/09001057.pdf.


Additional Information