Big Shanty Village Historic District
Introduction
The Big Shanty Village Historic District was once a hot spot for travelers who came by rail or wagon. Big Shanty offered shops and even a hotel, The Lacy, where visitors could eat and sleep. Today some buildings from the early twentieth century still stand and the historic district is a vibrant place where people still come to shop and dine. The district was added to the National Register of Historic Places in 1980.
Images
The Big Shanty train depot, circa 1870, were many travelers visited while stopping in town.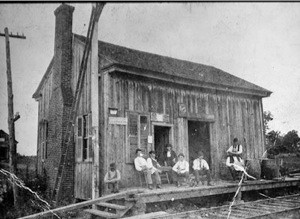 The Lacy was a hotel that the railroad leased in 1859 until the Union Army came in 1864.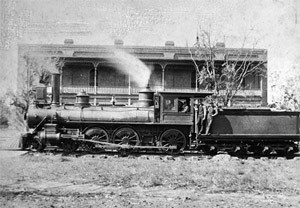 Early twentieth century buildings that were constructed between 1907 and 1908. Buildings like these provided travelers and residents a place to shop and dine.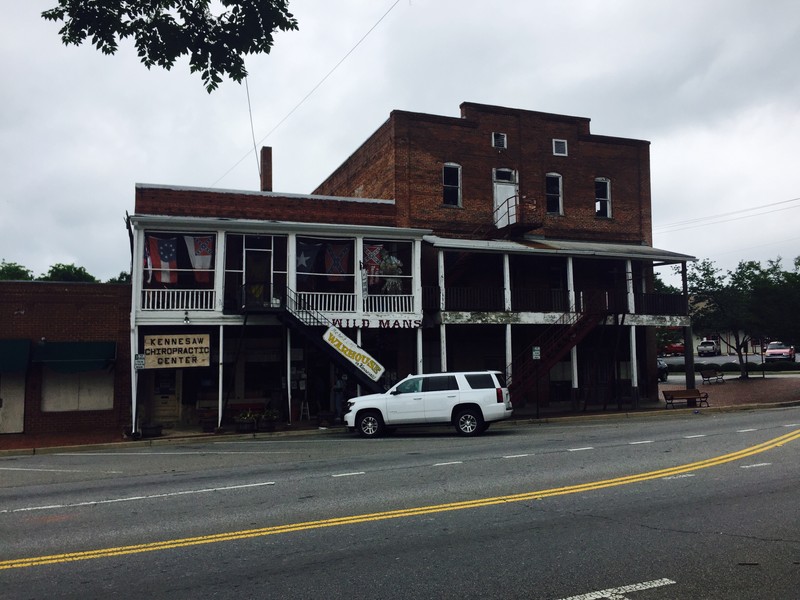 Backstory and Context
Historic Big Shanty Village was originally created as a camp for the men working on the railroad. From 1838-1841 temporary living spaces were built and the town was known to be "the big grade to the shanties" and was then shortened to just Big Shanty. The area was later called Kennesaw in the late twentieth century. Before the Civil War, Big Shanty was a transportation hot spot where many people would travel by rail and wagon into the city. In town shops and restaurants were built and a hotel acquired by the railroad, The Lacy, gave people a place to eat and sleep. In the mid 1860s during the Civil War troops moved through Big Shanty. One of the most significant events to take place out of Big Shanty was the 'Great Locomotive Chase'. Volunteers from the Union stole a train, the General, and tried to cause as much distraction to Confederate railroads as they could. 
In the early part of the twentieth century some brick buildings were built to house shops and a bank. Contemporary buildings have been put up and line the streets today, but some historical buildings have survived. A grouping of three shops still stands across from the railroad tracks. The remaining historical buildings were built between 1907 and 1908. 
Today the Big Shanty Village is a bustling downtown where people come to eat, shop, and walk around. A locomotive museum was built next to the railroad tracks to keep the history of the 'Great Locomotive Chase' alive and give visitors a look into the history of Kennesaw. In the museum "The General" locomotive is on display. All those who come to visit the town today can walk through a small green space where plaques highlight some of the most historic sites in the towns history.
Sources
Davis, Mark. "Southern Museum of Civil War and Train History." The Atlanta-Journal Constitution. 1/10/08. http://atlantasupperwestside.com/Site/SouthernMuseumofCivilWarandTrainHistory.html.
"Western and Atlantic Railroad." About North Georgia. Accessed May 24 2017. http://www.aboutnorthgeorgia.com/ang/Western_and_Atlantic_Railroad.
Additional Information