Barringer Hotel (Hall House)
Introduction
Once one of the finest hotels in Charlotte, if not the South, the Barringer Hotel hosted Hollywood greats and the politically powerful between its opening in 1940 and closure in 1975. Following a long period of decline, the hotel was converted into an apartment home for the elderly. The building now serves a residence for homeless women and their families.
Images
Barringer Hotel, now known as Hall House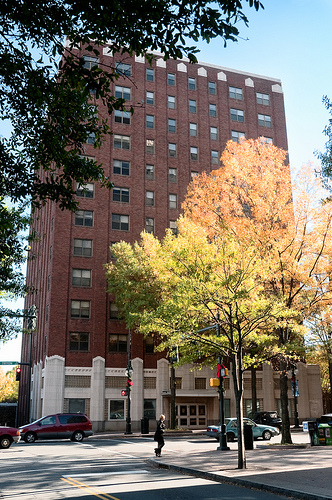 Backstory and Context
When it opened shortly before Christmas of 1940, the Barringer Hotel was one of the largest and grandest in Charlotte, if not the entire South. The 12-story property was named for William Rufus Barringer, who owned a number of hotels, by his children.

In its heyday, the Barringer Hotel hosted Gene Autry, Betty Grable, Judy Garland, and Richard Nixon were guests there. According to rumor, Elvis was also a guest at the property. In 1952, an addition was made to the hotel, adding a 120 rooms to the property. At that time, the hotel boasted hand-painted wallpaper in the dining room and antique paintings in the lobby.

Over the years, the property changed names and owners multiple times. The hotel, known at the time as the Cavalier Hotel, closed in 1975. In 1983, the city purchased and renovated the property and began using it as low-income homes for the elderly. More recently, the property serves as residences for homeless women and their children. It was added to the National Register of Historic Places in 2011.

There is an interesting side-note to the Barringer Hotel: it once reportedly hosted what may have been Charlotte's first gay club. Researchers have found references to the Bamboo Room Bar in the Barringer, which hosted gay men on Thursday nights.
Sources
Rebecca O. Spanbauer (November 2010). "Barringer Hotel" (pdf). National Register of Historic Places - Nomination and Inventory. North Carolina State Historic Preservation Office. Retrieved 24 May 2017.
Additional Information