St. John's Presbyterian Church
Introduction
The formal organization of Saint John's Presbyterian Church took place on March 6, 1870, when sixty-one charter members met at Pacific Hall, at Bush and Kearny Streets, to establish a new Presbyterian congregation in the City. In 1905 they completed Saint John's Presbyterian Church, designed in the Gothic Revival Shingle Style. The building was added to the National Register of Historic Places in 1996.
Images
An old interior shot of the Church.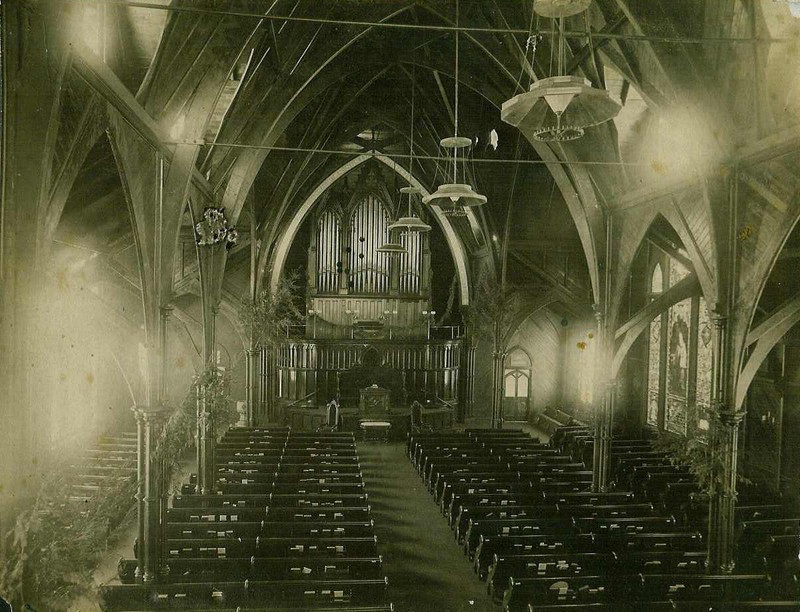 Backstory and Context
The congregation purchased the church in 180 and named Dr. William Anderson Scott as pastor. The first services were held at the new church on Sunday, March 27, 1870.
Dr. Scott and his family first arrived in San Francisco in 1854 from New Orleans. He began preaching in the Music Hall at Montgomery and Bush Streets, and quickly raised money to build Calvary Presbyterian Church. On October 5, 1856, he was hanged in effigy from a lamppost at Bush and Montgomery because of his opposition to the Committee of Vigilance, a vigilante militia that had formed in response to mass amounts of crime.

This happened again in 1861, this time outside his church, for including Jefferson Davis, President of the Southern Confederacy, in his public prayers. This forced the doctor and his family to leave the city promptly, and they went by steamer to Panama, then to England, Paris and back to England before taking up a pastorate in New York City.
He returned to San Francisco in 1868 hoping to become pastor of Calvary Presbyterian once again, but ended up at Saint John's where he remained until his death in 1885. Most notably perhaps, in 1880, Dr. Scott married Robert Louis Stevenson and Fannie Osborne in his study.
At the beginning of the 20th century, the congregation decided to build a new church at Arguello and Lake Streets. Ground was broken on April 25, 1905 nad the first service was on Easter Sunday, April 15, 1906. Three days later the great earthquake struck, damaging much of the building quite badly. Fortunately, a year later, repairs were completed and the church was rededicated.
Sources
San Francisco Landmark #83 Saint John's Presbyterian Church. Noe Hill. Accessed May 21, 2017. http://noehill.com/sf/landmarks/sf083.asp.

History. St John SF. Accessed May 21, 2017. http://www.stjohnssf.org/history.php.


Additional Information