Mills Building and Tower, San Francisco
Introduction
The 22-story Mills Tower was built in 1931 and designed by George W. Kelham and Lewis Parsons Hobart, the building is currently home to many financial firms including SeatMe, Pocket Gems, New York Stock Exchange, and Newedge. The two-building complex was designed in the Chicago school style with Romanesque design elements. The structures were declared San Francisco Designated Landmark #76 and were listed on the National Register of Historic Places in 1974.
Images
A historical shot of the building and surrounding landscape.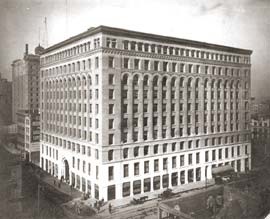 Backstory and Context
The original structure on this plot was a 10-story building designed by Burnham and Root/D.H. Burnham & Company and was completed in 1892. After surviving the 1906 earthquake, the building was restored by Willis Polk in 1908, who was also responsible for expanding the building in 1914 and 1918.
The Mills Building is considered to be San Francisco's best example of the Chicago School of architecture. At the time of construction, the Mills building was the tallest in the city and remained that way for many years. The building saw a lot of damage following the fire of 1906 and so was rebuilt and extended by Willis Polk. The building was extended a further two times before the Mills Tower was erected at the rear of the building by Lewis Hobart in 1931.
The period towards the end of the Victorian era saw the Chicago school of architecture expand rapidly in an architectural revolution and what were the early stages of the soon-to-be skyscraper. Innovations in building treatment meant that they could be built higher in a safer and more efficient way. The introduction of the steel frame as opposed to tradition masonry support, including throughout the exterior walls, revolutionised the way that we think about construction.
One of the style's pioneers was William LeBaron Jenny, an engineer who eventually became an architect. In the early 1870's, he employed Louis Sullivan, mentor of Frank Lloyd Wright, and among others he later employed were Daniel Hudson Burnham and John W. Root, who became the original architects of the Building as Burnham and Root. Of the first three steel frame buildings in San Francisco, only The Mills Building looks the same as its original state.
The most distinctive feature of the building is the Montgomery Street entrance, a two-story archway that has been elaborately carved in the classical acanthus leaf and egg-and-dart motif, with carefully chiselled faces at the tops of each of the Corinthian columnns forming the base of the arch.
Sources
San Francisco Landmark #76 Mills Building and Tower. Noe Hill. Accessed May 21, 2017. http://noehill.com/sf/landmarks/sf076.asp.

Mills Building History. The Mills Building. Accessed May 21, 2017. http://www.themillsbuilding.com/about-the-building/mills-building-history.


Additional Information