The Grand Theatre
Introduction
The Grand Theatre is a performing arts center that was built in 1924 and remolded in 1929. It lies in the center of Cartersville, and is home to a variety of performances throughout the year. It even hosts summer camps for children who are interested in the arts. It is also a marvel for those who have an interest in architecture with its Beaux Arts style.
Images
Outside of the Grand Theatre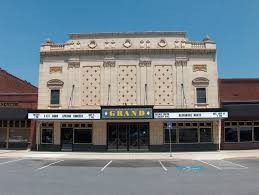 Inside of the Grand Theatre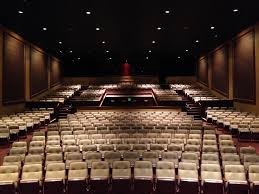 Backstory and Context
The Grand Theatre was built in 1924 during the so called "Golden Age" for motion-pictures in America. It was built to replace a building called the Grand Opera House that had burned down on November 15, 1923. Cartersville's first motion picture called "Syncopation" was also shown at this theatre on May 9, 1929. It changed hands many times from Manning and Wink Enterprises to the local Pumphouse Players. The last movie performance to be shown at the Grand was a movie called "Silver Streak" in the late summer of 1977. Now, it is host to many performances such as concerts, plays, musicals, and summer camps for students. It was recently renovated in 2004 to give back its 1930s art deco look. The Grand Theater is also on the National Register for Historic Places, and is the cultural center for art in Cartersville today.

Architecturally the Grand Theatre is made in the Beaux Arts style. It is created from load-bearing brick that is facaded by off-white terra-cotta blocks. It is topped with corinthian styled pilasters. It is a local interpretation of the grandiose style of theaters during the "Golden Age", that looked like where Hollywood films would actually be showing. It stands out drastically compared to the generic brick buildings that surround it, which are typical of Main Streets in the U.S.
Sources
A Grand Theatre History. thegrandtheatre.org. May 20, 2017. www.thegrandtheatre.org.


Brooks, Carolyn. National Register for Historic Places Inventory - Nomination Form. United States Department of the Interior - National Park Service. Published, April 23, 1984. Accessed, May 24, 2017. https://npgallery.nps.gov/pdfhost/docs/nrhp/text/84000893.pdf.


Additional Information