Bernard Powell Memorial Fountain
Introduction
This memorial commemorates the life and legacy of one of Kansas City's leading African American activists, Bernard Powell. Located on the eastern side of Spring Valley Park across the street from his childhood home, a life-size bronze statue of Powell sits atop a large pyramid-shaped fountain. Though his life was tragically cut short at age 32, Bernard Powell worked tirelessly for the Black community from a young age. He became involved in the civil rights movement at 13, became the Regional Director of the Congress of Racial Equality while in high school, and helped establish the Social Action Committee of 20 at age 21. From there he worked with several civic organizations and advocated for the investment of the Prospect corridor community.
Images
The Bernard Powell Memorial Fountain and plaza were installed in 1985 and dedicated in 1988. The bronze statue was installed in 1991.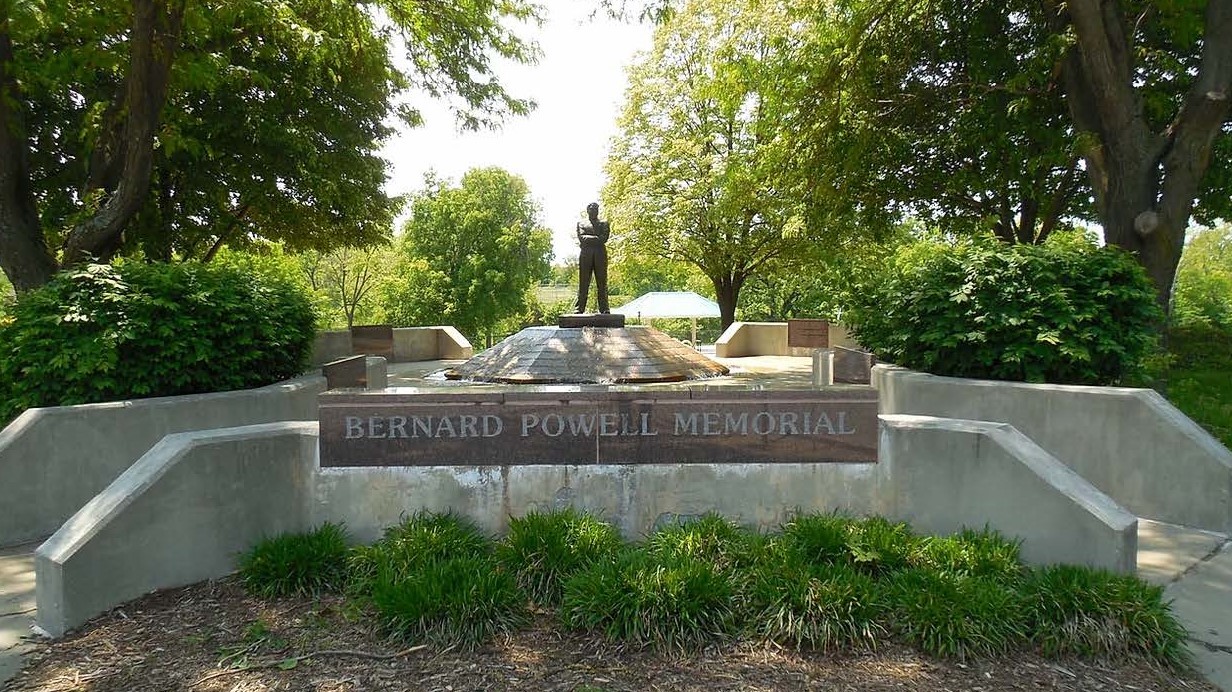 The Bernard Powell Memorial commemorates the short, but influential life of Civil Rights activist Bernard Powell.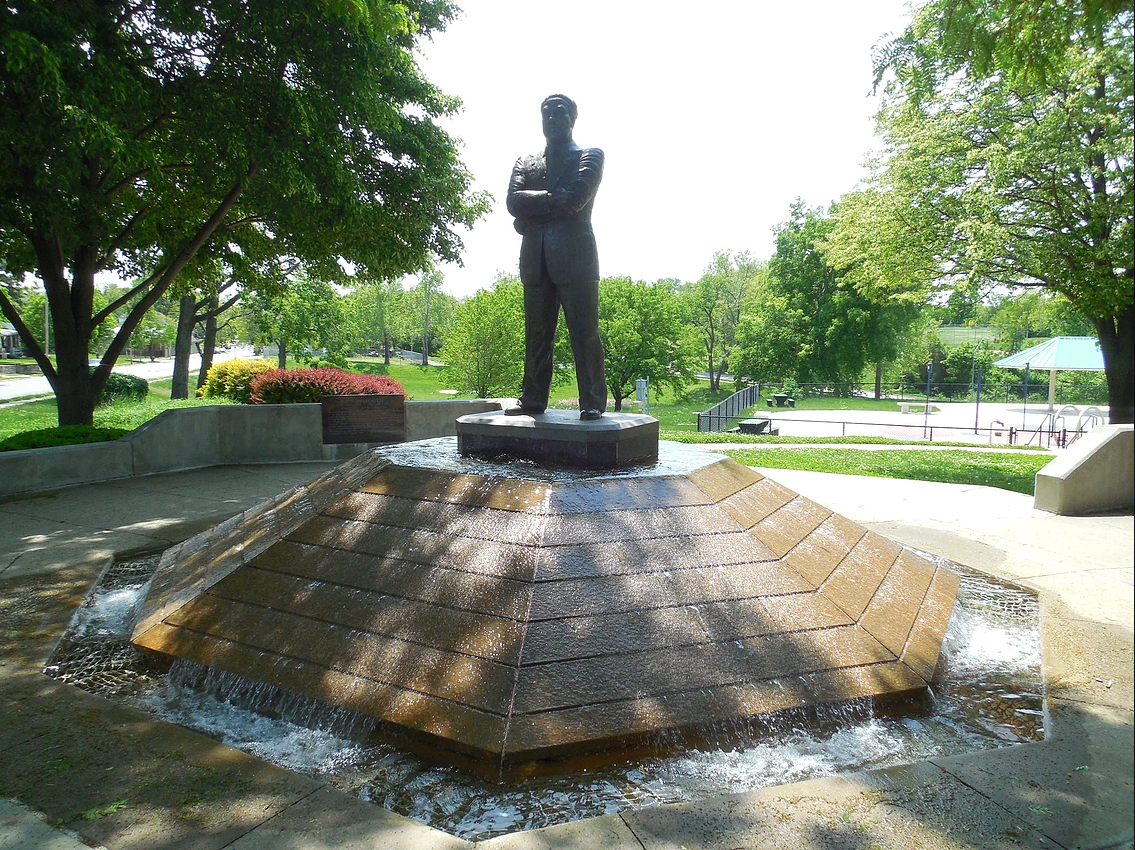 Detailed view of the life-size bronze statue of Bernard Powell.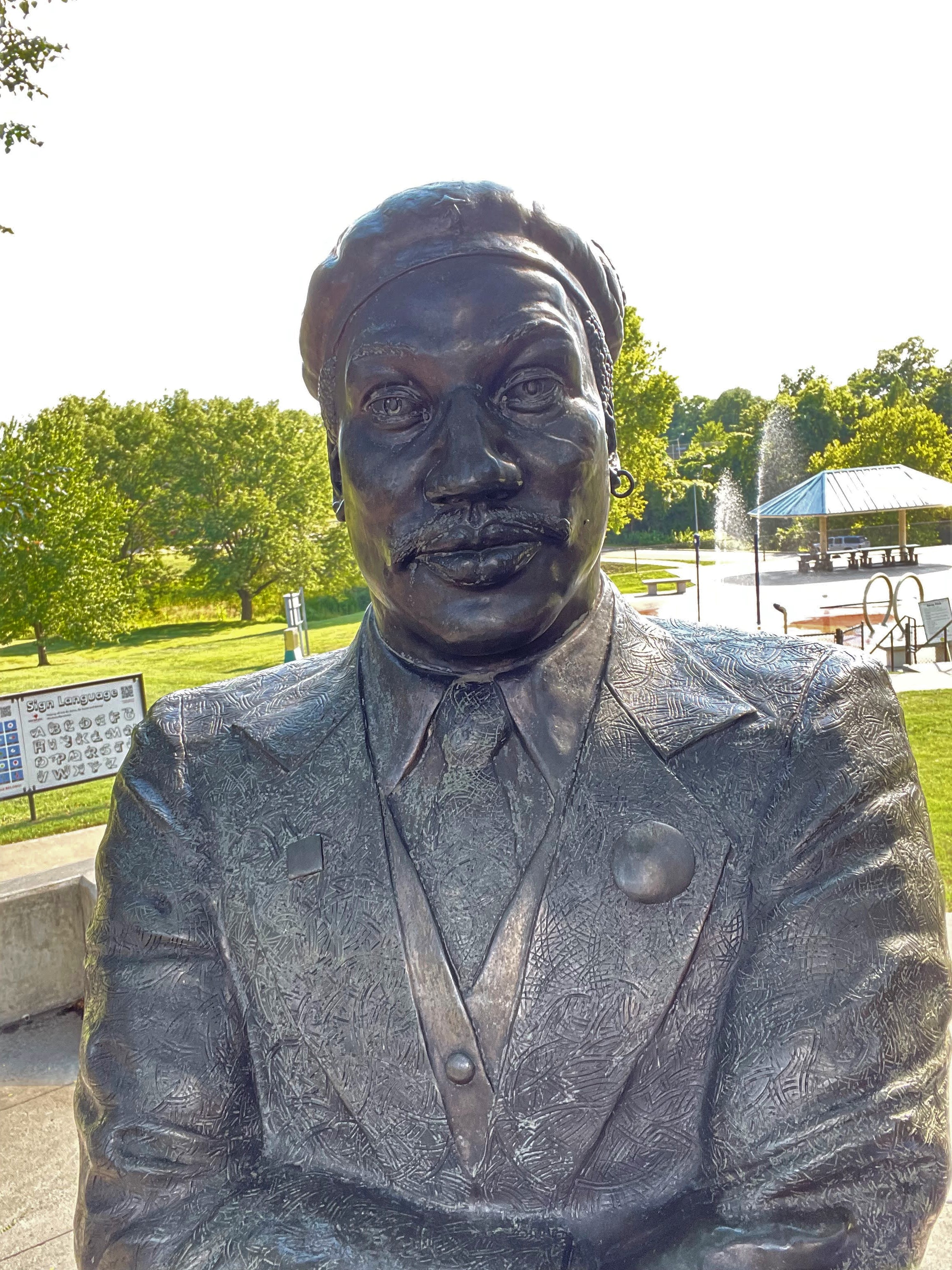 Civil Rights and community activist Bernard Powell (1947-1979). Courtesy of Kansas City Missouri Parks and Recreation.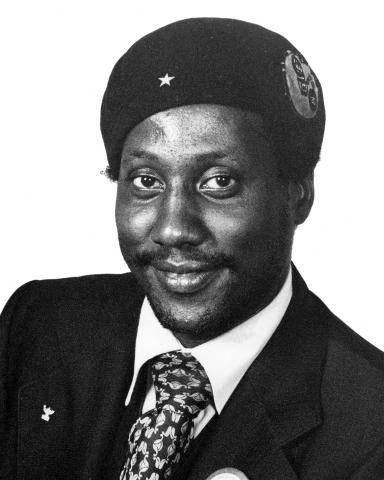 Bernard Powell with the youth members of the Marching Cobras. Courtesy of Community Voice Kansas.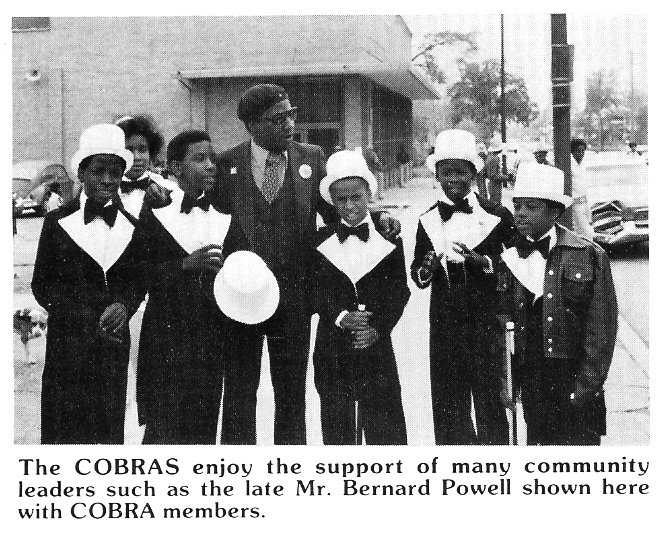 Memorial plaque of Bernard Powell - "Though Gone ... But Not Forgotten"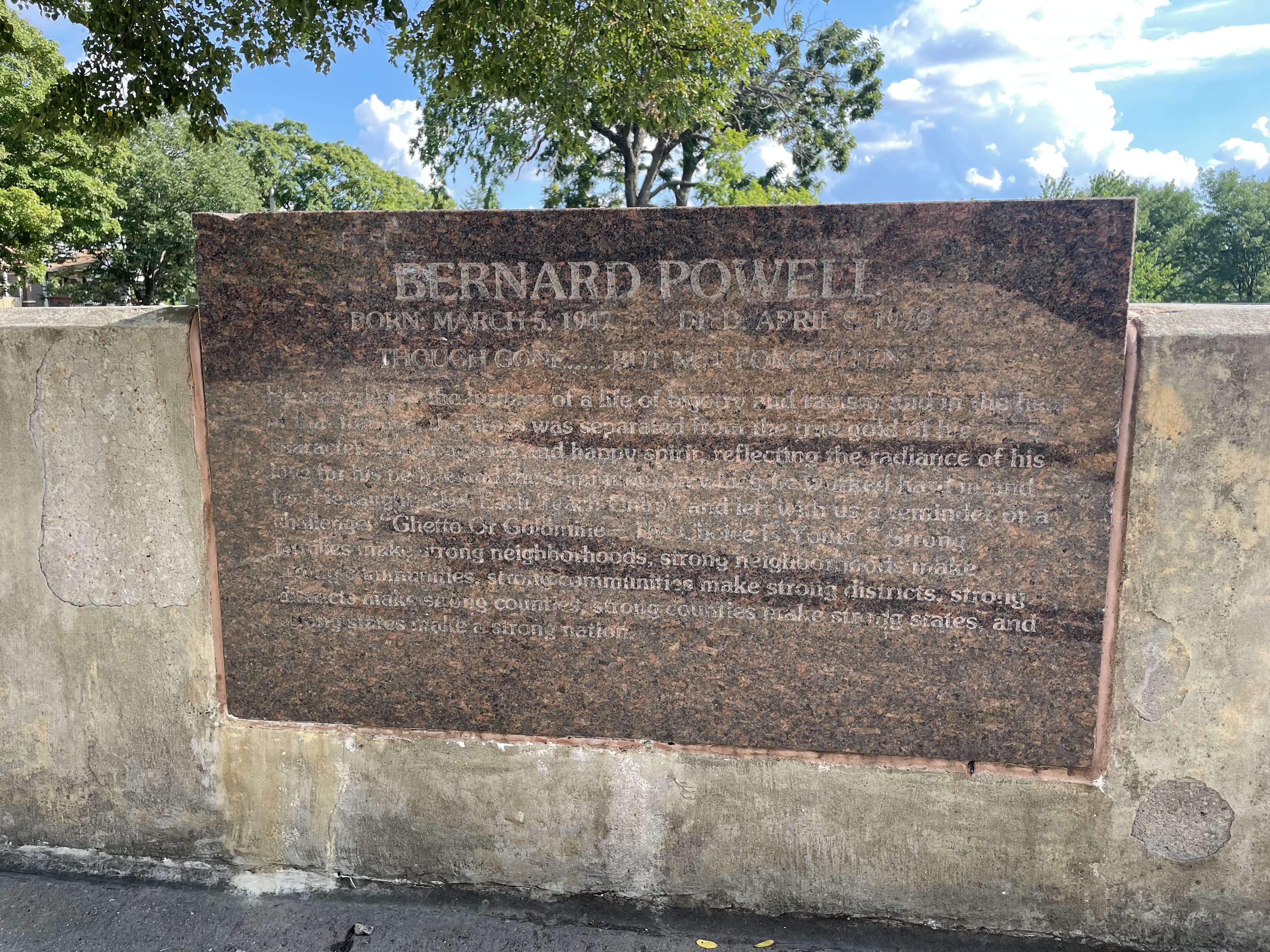 Memorial Plaque of Bernard Powell - "The Ghetto or Goldmine Dream: Without a Vision, the People will Perish"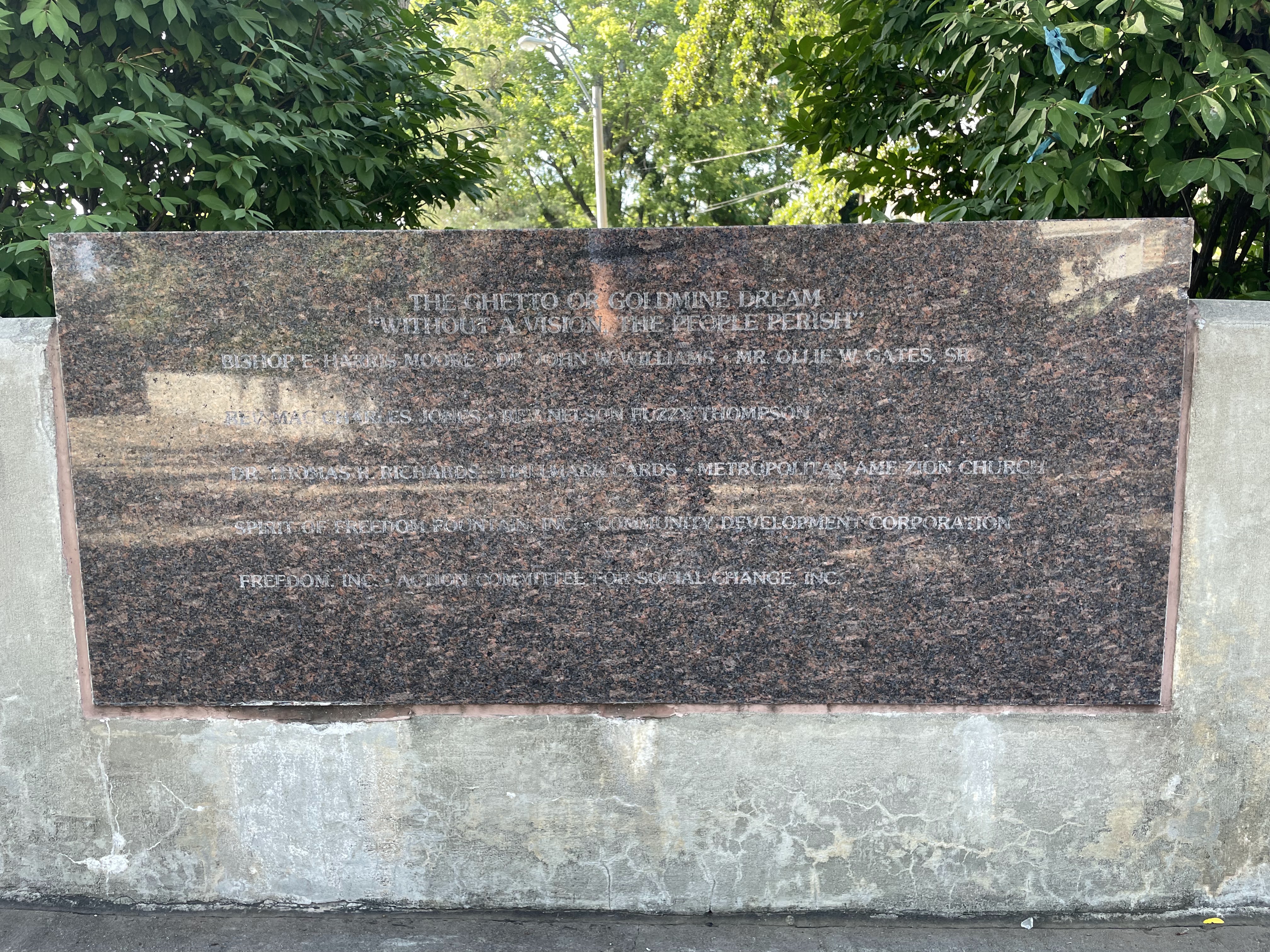 Memorial Plaque of Bernard Powell - a brief biography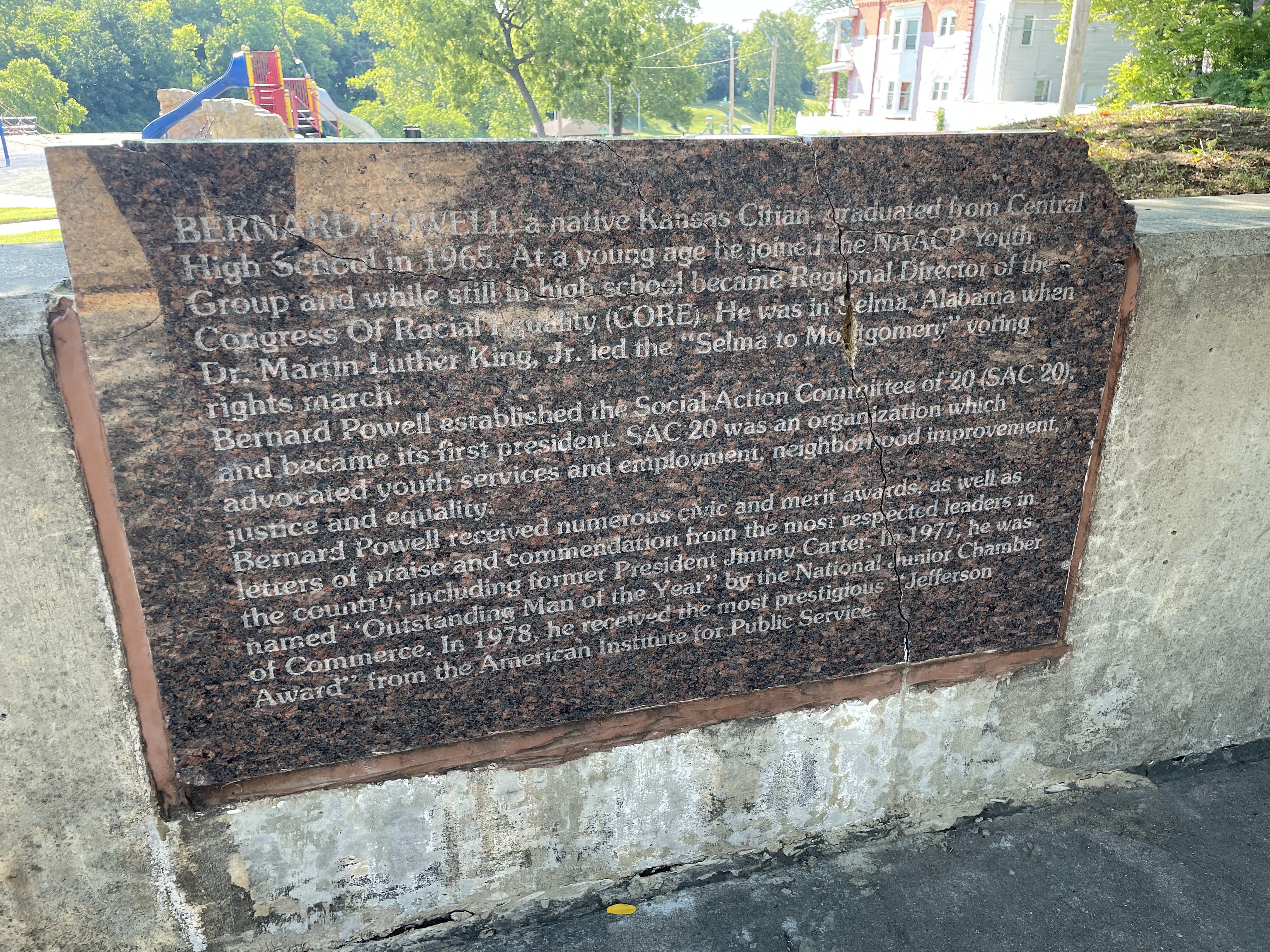 Memorial Plaque of Bernard Powell features names of contributors of the memorial - "In recognition of the Community Spirit of Bernard Powell"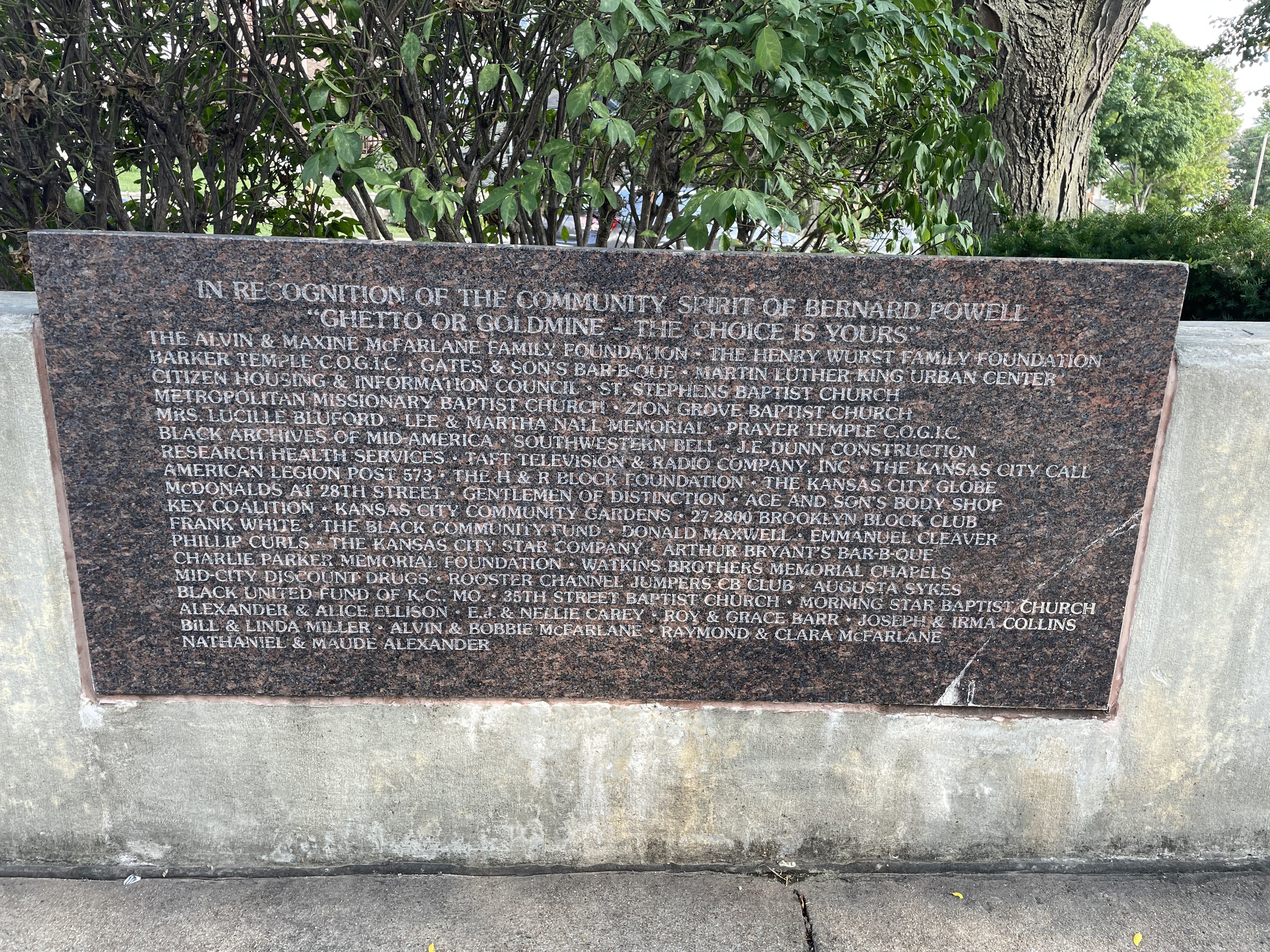 Memorial Plaques of Bernard Powell feature names of contributors of the memorial - "Let Each Teach Unity"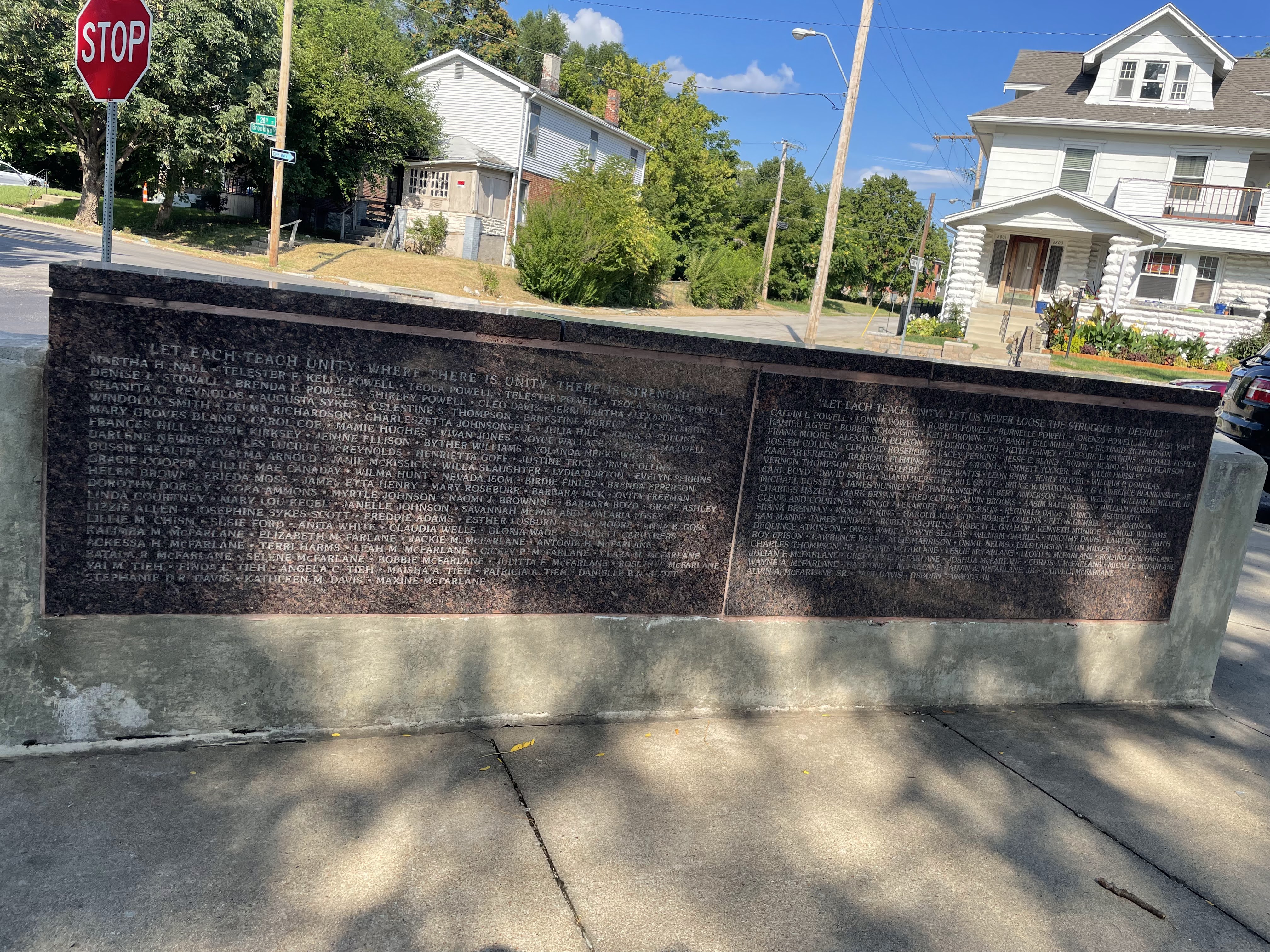 The Bernard Powell Memorial Time Capsule is to be opened on August 17, 2041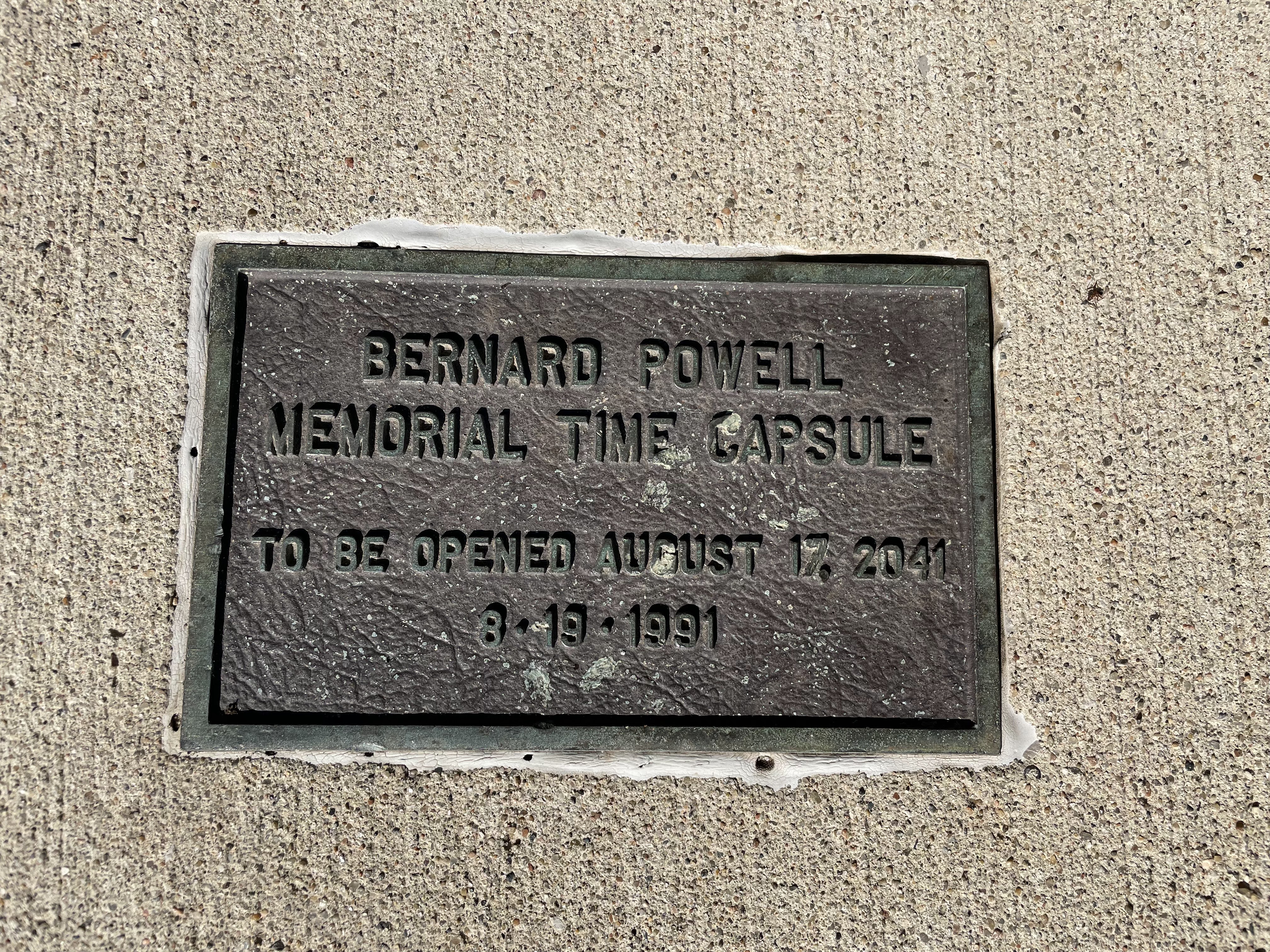 Backstory and Context
With money raised by Maxine McFarlane, Bernard's aunt and head of The Action Committee for Social Change, the memorial plaza and fountain were installed in 1985. The five foot, hexagonally-shaped pyramid fountain was officially dedicated on August 15, 1988. Sculpted by Eugene "Bud" Bortner, the 5' 8" bronze statue of Powell was not installed until 1991. As depicted, Powell would often wear a Black beret, a growing symbol of Black activism at the time. Accompanying the fountain are several plaques describing Powell's life, a list of those who contributed to the memorial, as well as a time capsule that is to be opened on August 17, 2041. 
Bernard Powell was born on March 5, 1947, just minutes before his twin brother. From a young age he became involved with the Civil Rights movement, first joining the National Association for the Advancement of Colored People (NCAAP) at 13 years old. In 1965, he became the , graduated from Central High School, and joined Martin Luther King in Selma, Alabama for a series of marches that would be a momentous turning point for Black voting rights. Following the riots in protest to Dr. King's assassination in 1968, Powell helped establish the Social Action Committee of 20 (SAC20). The organization focused on justice, equality, and teaching Black youth job and leadership skills. 
Quickly rising to civic duty in the following years, Powell became a member of several committees, including the Governor's Advisory Council on Comprehensive Health Planning for Missouri and the Human Resources Corporation. He also participated in the Urban League of Kansas City and the Missouri Head Start Council. In addition to being a civil rights activist, Powell also believed in community empowerment. He invested in the Prospect corridor, an area of Kansas City which was becoming devalued by many, largely in part to a recession in the 70s. His philosophy was "Ghetto or Goldmine - The Choice is Yours" as he worked tirelessly for his community to realize their full potential. 
Tragically, Bernard Powell was shot and killed on April 8, 1979 at Papa Doc's East Side Social Club by a former member of the SAC20. In his short life, Powell received several merit awards, including the "Outstanding Man of the Year" by the National Junior Chamber of Commerce in 1977 and the National Jefferson Award from the American Institute for Public Service in 1978. Posthumously in his honor, in 1980 the Bernard Powell Award was established by the KC Chamber of Commerce for those who demonstrate extraordinary community action. Most recently Powell was recognized as one of ten community honorees for RideKC's Paving the Way Honor Plaque Program, which celebrates those who made contributions to Prospect Avenue's rich history. His granite plaque can be found on the northbound Prospect MAX bus stop at 27th Street.
One of the plaques at this memorial reflects on Powell's character and vision for his community. It reads: 
Bernard Powell
Born March 5, 1947 Died April 8, 1979
Though Gone … But Not Forgotten
He was tried in the furnace of a life of bigotry and racism and in the heat of that furnace, the dross was separated from the true gold of his character. A courageous and happy spirit, reflecting the radiance of his life for his people in the community in which he worked hard in and for. He taught: "Let Each Teach Unity" and left with us a reminder or a challenge: "Ghetto or Goldmine - The Choice Is Yours." Strong families make strong neighborhoods, strong neighborhoods make strong communities, strong communities make strong districts, strong districts make strong counties, strong counties make strong states, and strong states make a strong nation. 
Sources
"Bernard Powell Memorial Fountain." KC Fountains. September 4, 2016. http://www.kcfountains.com/single-post/2016/09/04/Bernard-Powell-Memorial-Fountain.
"Bradley Powell, A Frontline Activist." African American Registry.  Accessed May 18, 2017. http://www.aaregistry.org/historic_events/view/bernard-powell-frontline-activist.
Riley, Kimberley. "Bernard Powell, Civil Rights Activist (1974-1979)." Missouri Valley Special Collections - Kansas City Public Library. 1999. http://www.kchistory.org/cgi-bin/showfile.exe?CISOROOT=/Biographies&CISOPTR=87&filename=88.pdf. 
Bernard Powell Memorial Fountain, City of Fountains. Accessed August 18th, 2022. https://cityoffountains.org/bernard-powell-memorial-fountain/.
Powell, Telester F.. To Bernard, Cowbird. April 28th, 2014. Accessed August 18th, 2022. http://cowbird.com/story/92569/To_Bernard_By_Mrs_Telester_F_Powell/.
Honor Plaques Recognize Kansas Citians Who Paved the Way, RideKC. February 10th, 2020. Accessed August 18th, 2022. https://ridekc.org/blog/honor-plaques.
Honoring KC Individuals Achieving Excellence, Greater Kansas City Chamber of Commerce. Accessed August 18th, 2022. https://www.kcchamber.com/what-we-do/awards-and-recognition/individual-recognition.
Image Sources
https://kcparks.org/places/bernard-powell-memorial/

https://cityoffountains.org/bernard-powell-memorial-fountain/

Nichole Stahly 8/17/2022

https://kcblackhistory.org/articles/bernard-powell

https://ridekc.org/blog/bernard-powell

Nichole Stahly 8/17/2022

Nichole Stahly 8/17/2022

Nichole Stahly 8/17/2022

Nichole Stahly 8/17/2022

Additional Information