Corps of Discovery Sculpture
Introduction
This monument was dedicated in 2000 as part of Kansas City's celebration of the city's founding. On September 15, 1806 the Lewis and Clark expedition, on its return journey from the Pacific Ocean, arrived at this location and camped nearby for two days before continuing down the river. The leaders, Meriwether Lewis and William Clark, noted that this spot, which is on a bluff overlooking the Missouri River and surrounding landscape, would be a good place for a fort. This was one of their last stops during the expedition, which concluded on September 23 in St. Louis. In April 2000 Kansas City placed a statue at West Terrace Park to commemorate the expedition's journey through the area. It depicts Lewis, Clark, and Sacagawea, along with York, a man who was enslaved by Clark, and Lewis' dog Seaman. The area includes a stone wall constructed as part of the Works Progress Administration along with numerous markers that share information about the human and natural history of the area at the time of Lewis and Clark's expedition. The inclusion of Clark and Sacagawea in this monument reflects a historiographical trend towards a more inclusive and complete past, perhaps best demonstrated by another recent statue in nearby Olathe that depicts pioneers of diverse ethnic and racial backgrounds.
Images
The sculpture at Clark's Point was created by American artist Eugene Daub.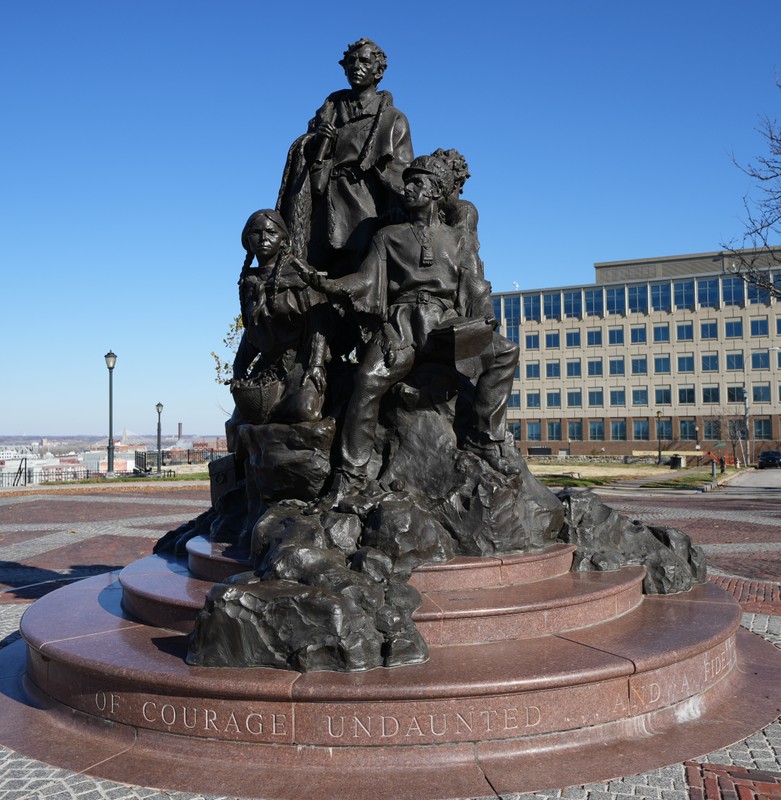 The expedition traveled almost 8,000 miles over the course of two years, from St. Louis to the Pacific Ocean and back. Image obtained from Encyclopedia Britannica.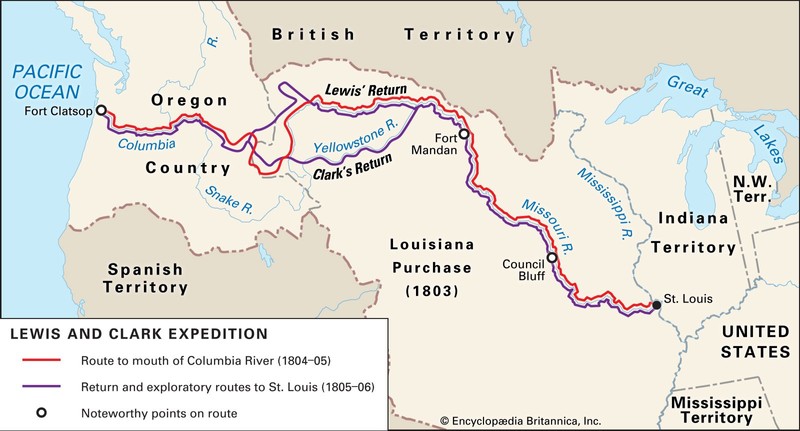 A view of the overlook facing north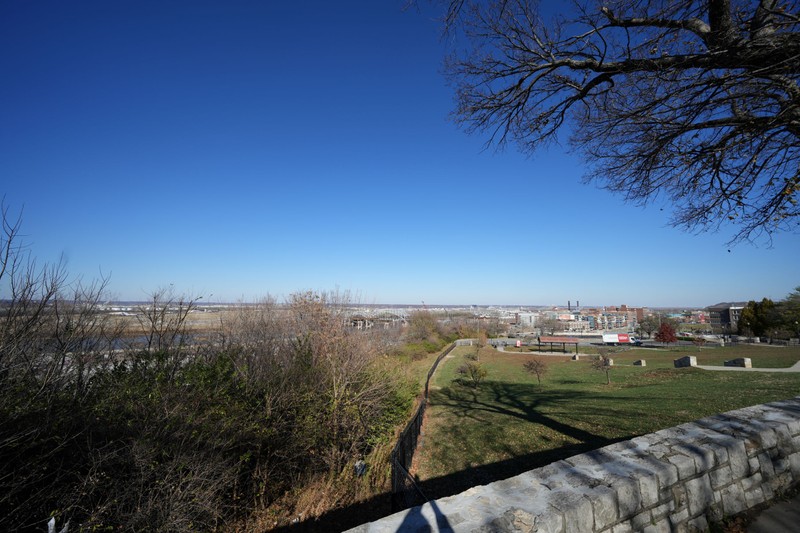 A view of the overlook facing north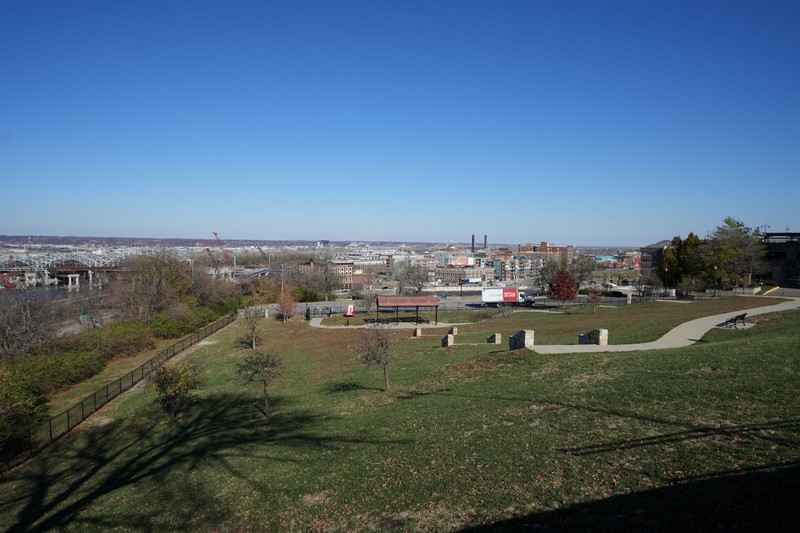 The overlook offers a unique perspective on the city's changing transportation routes and methods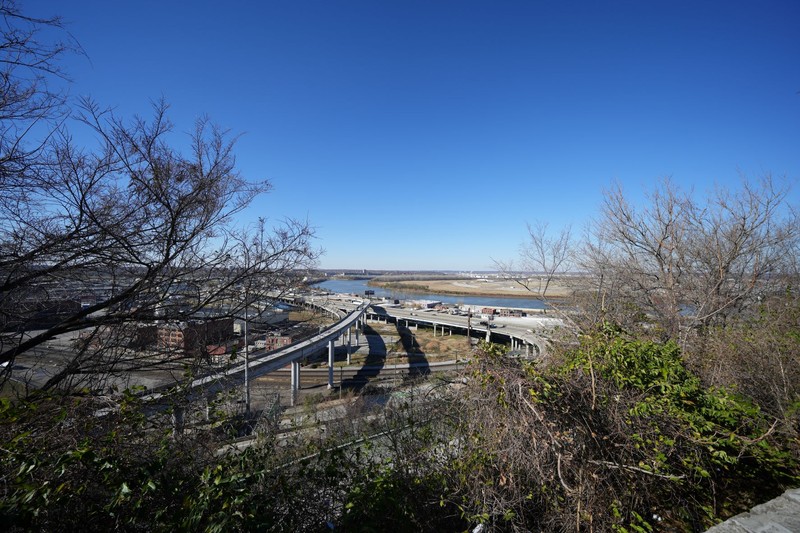 The overlook offers a view of the downtown airport and bridges over the Missouri River

This inscription within the brick wall surrounding the overlook connects it to the Works Progress Administration, a New Deal agency that employed millions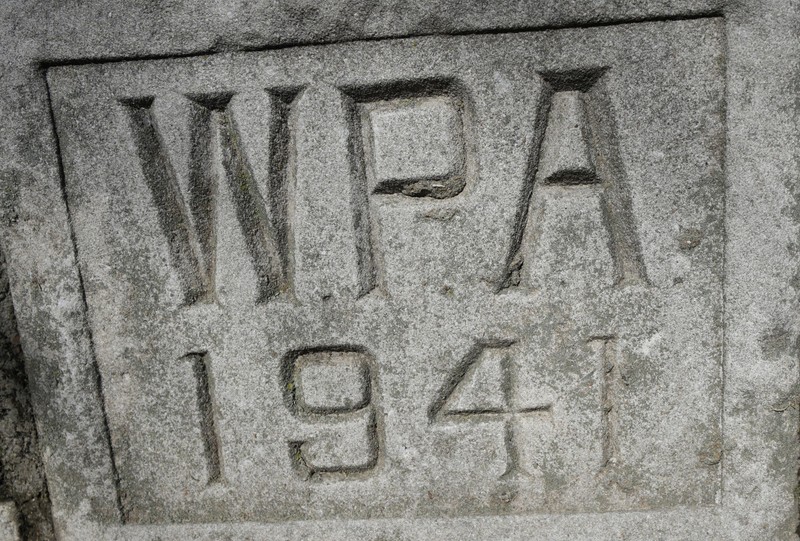 This marker is located near the monument and offers information about the natural history of the region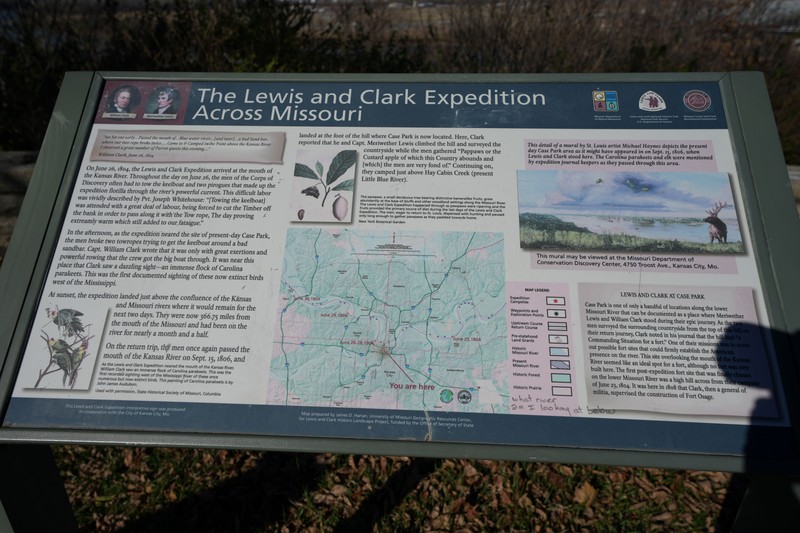 Backstory and Context
In 1804 President Thomas Jefferson dispatched Meriwether Lewis and William Clark on an expedition into the recently-acquired Louisiana Territory. Their objectives were to explore the Missouri River; establish diplomatic relations with Native American tribes; document regional plants and wildlife; and find a direct water route to the Pacific Ocean. Lewis and Clark assembled a party of several dozen men called the Corps of Discovery. The group left from St. Louis, Missouri on May 14, 1804. Later they were joined by Sacagawea, a Shoshone woman who served as the party's guide and interpreter with Native tribes. The expedition lasted over two years, with the Corps of Discovery traveling to the Pacific Coast and back, a journey of almost 8,000 miles. They returned to St. Louis on September 23, 1806 to much fanfare. While the expedition failed to find a water route to the Pacific, the party made many scientific contributions through its examination of the geography, plants, and animals in the West.
During the return trip back to St. Louis, Lewis and Clark traveled through what is now Kansas City, Missouri on September 15, 1806. Clark noted in his diary that the area, featuring a hill overlooking the Kansas and Missouri Rivers (present-day downtown Kansas City), would make an ideal location for a fort. The party managed to kill and eat an elk, and also collected papaw fruits.
Around 1999, Kansas City decided to build a monument to the Lewis and Clark expedition in honor of the city's upcoming 150th anniversary. Artist Eugene Daub was commissioned to sculpt a statue to be placed at the confluence of the Kansas and Missouri Rivers, around where Lewis and Clark had passed through. He created a bronze and granite sculpture, 21 feet tall and 18 feet wide. Named the Corps of Discovery, it depicts five members of the expedition: Lewis, Clark, Sacagawea, York (Clark's African American slave), and Lewis' dog, Seaman. On the base of the sculpture is a quote by Thomas Jefferson praising Lewis. The Corps of Discovery sculpture was dedicated on April 20, 2000. It stands in a brick plaza at West Terrace Park. 
Sources
Buckley, Jay H. "Lewis and Clark Expedition." Encyclopedia Britannica. May 24, 2018. Accessed May 31, 2018. https://www.britannica.com/event/Lewis-and-Clark-Expedition
"Corps of Dicovery." City of Fountains Foundation. July 17, 2016. Accessed May 31, 2018. http://www.kcfountains.com/single-post/2016/07/17/Corps-of-Discovery
"Corps of Discovery." Kansas City Parks & Recreation. Accessed May 31, 2018. http://kcparks.org/places/corps-of-discovery/
"Lewis and Clark." History.com. 2009. Accessed May 31, 2018. http://www.history.com/topics/lewis-and-clark
"Lewis and Clark Sculpture." Lewis and Clark Trail. Accessed May 16, 2017. http://lewisandclarktrail.com/section1/mocities/kansascity/clarkspoint.htm.
Image 2: https://www.britannica.com/event/Lewis-and-Clark-Expedition
Image Sources
Photo by David Trowbridge

Photo by David Trowbridge

Photo by David Trowbridge

Photo by David Trowbridge

Photo by David Trowbridge

Photo by David Trowbridge

Photo by David Trowbridge

Additional Information