Kentucky/Ohio Theater
Introduction
On Fourth Street, one of the historic main drags of downtown Louisville, Kentucky, there's an area called the Theater District. It's a bit of a misnomer, since there is only one theater in the area. It could be argued, however, that there are one and a half theaters, as the building was once the Kentucky Theater and a part of the Ohio Theater is still there.
Images
Photo of Kentucky Theater (image taken from Broken Sidewalk Blog)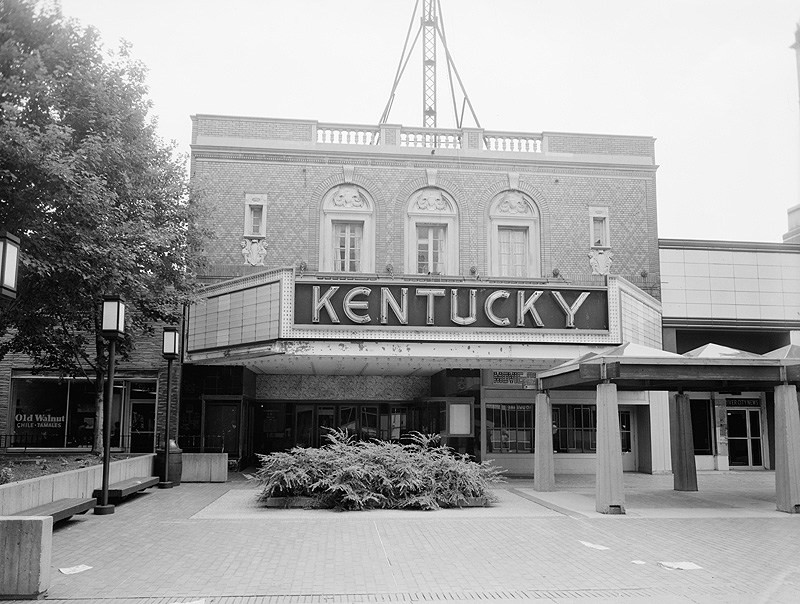 Side view of Kentucky Theater (image taken from Flickr)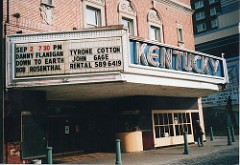 Photo of both the Kentucky and Ohio Theater that shows just how close the two theaters were. (Image taken from Flickr)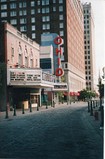 The very large Ohio sign that still remains after the building was torn down. (Image taken from Retro Roadmap Blog)
Backstory and Context
History of Kentucky Theater
The Kentucky Theater was opened October 6, 1921, and was designed by Joseph & Joseph. It was originally operated by the Modern Amusement Company. A 1940 remodeling increased seating from 780 to 1,100 by the addition of a balcony. The theater's color scheme and decor was also changed at this time. In 1984 it became home for a multimedia slide presentation promoting Kentucky tourism, but the show was short-lived and in 1986 the building closed. Ten years later the City of Louisville marked the abandoned building for demolition.
Local entrepreneur George Stinson bought the historic theater at auction to save it from the wrecking ball and in 1998 gave a no-cost lease to a band of volunteers who created a non-profit arts organization, called the Kentucky Theater Project, Inc. Since that time, organization founders worked with more than 200 volunteers to transform the Kentucky Theater into a vibrant community arts center that was due to bring new life to Fourth Street.
In 2008, the Kentucky Theater was revamped into an upscale gourmet food mart, known as the Theater Square Marketplace.
History of Ohio Theater
The Ohio was built in 1941. Seating was listed at 900. It was located next door to the larger Kentucky Theatre. The Ohio Theatre closed as a motion picture venue in 1965.
The facade and marquee of the building are all that remain of this theater today, along with its large "Ohio" vertical sign. Part of the storefront portion of the theater building still exists, as well. Unfortunately, the remainder of the Ohio Theater was demolished.
Before a 1948 Supreme Court decision broke up a monopoly, theater chains and movie studios were joined at the hip. This meant that pictures from Columbia and Warner Brothers landed at the Kentucky or the Ohio.

Civil Rights Sit In Demonstrations
In 1961, numerous sit in demonstrations by African Americans, led by young people, largely area high school students occurred. Under the leadership of organizations including the NAACP and the Congress of Racial Equality (CORE), sit-ins, picket marches, and other forms of non-violent protests by African Americans and some white supporters began in earnest in February 1961. City police arrested protesters on charges of delinquency and disorderly conduct, but the demonstrations continued.
Many of the demonstrations centered on the 4th Street shopping district and the Kentucky/Ohio Theaters. There, African Americans were often discriminated against and harassed when attempting to make purchases or eat at certain restaurants.
Sources
1. "Louisville Edition: What's Left of the Ohio Theatre."
Lost City
. N.p., n.d. Web. 15 May 2017. <http://lostnewyorkcity.blogspot.com/2009/09/lost-city-louisville-edition-whats-left.html">>.
2.
Runyon, Keith. "Louisville's Glorious Movie Row."
89.3 WFPL News Louisville
. N.p., 27 Feb. 2015. Web. 15 May 2017. <">http://wfpl.org/remembering-louisvilles-glorious-movie-row/>.
3.
"Ohio Theatre."
Cinema Treasures
. N.p., n.d. Web. 15 May 2017. <http://cinematreasures.org/theaters/15979>.
4.
Talbott, Tim. "Campaign to End Racial Segregation in Louisville."
ExploreKYHistory
. N.p., n.d. Web. 15 May 2017. <">http://explorekyhistory.ky.gov/items/show/295>.
5.
"Palace Theatre and Ohio Theatre Marquee – Louisville KY Surprises!"
Retro Roadmap
. N.p., n.d. Web. 17 May 2017. <">http://retroroadmap.com/spot/palace-theatre-and-ohio-theatre-marquee-louisville-ky-surprises/>.
6.
Klayko, Branden. "Gourmet Drama To Fill The Kentucky Theater Marketplace — Broken Sidewalk."
Broken Sidewalk
. N.p., 20 Nov. 2014. Web. 17 May 2017. <">https://brokensidewalk.com/2009/gourmet-drama-to-fill-the-kentucky-theater-marketplace/>.

7.
Badzo, Onasill ~ Bill. "Kentucky Theatre: Louisville, KY. (200l)."
Flickr
. Yahoo!, 21 Oct. 2009. Web. 17 May 2017. <">https://www.flickr.com/photos/onasill/4032347453/in/photostream/>.