Loup River Freighters Hotel at the Trails and Rails Museum
Introduction
Jerome Lalone built the Loup River Freighters Hotel in 1884 as a home for his family along the Loup River. Freighters rented the extra rooms as they were traveling from outside of Kearney to the railroad station in Kearney. Felix and Flavia Eckhout purchased the home was in 1898, and several Eckhout generations lived there. When you visit the Loup River Freighter's Hotel, be sure to find out what is special about the porch!- Information provided by the Buffalo County Historical Society.
Images
The front of the hotel today.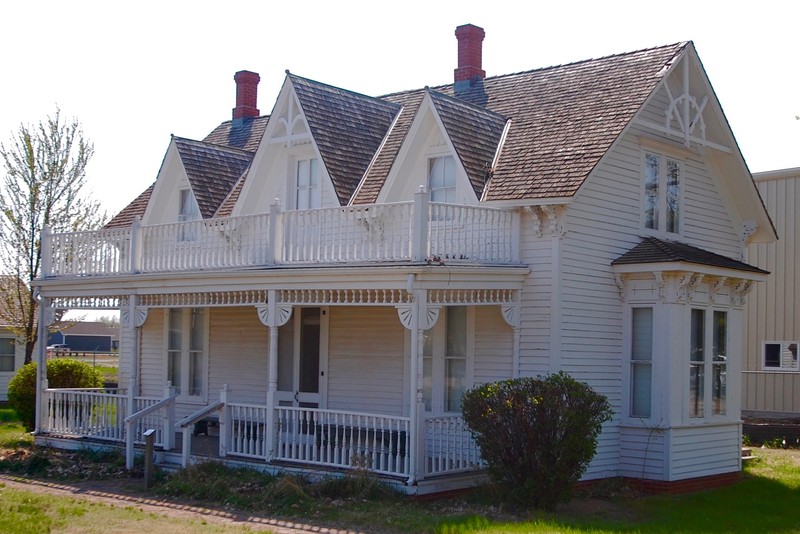 Backstory and Context
The term "freighter" was used to describe the wagon teams that would bring goods from one location to another; often one of these points was a nearby railroad station so they could both pick up goods needed in their communities and drop off items produced by the community to be shipped and sold elsewhere. They made the journey with multiple wagons and some would stay at small boarding houses or hotels such as this if their journey was more than a one-day trip. The freight wagons were larger than most other wagons at the time, with wheels that were easily taller than the men that drove them.

The owners of large homes such as the Lalone family would often rent their spare rooms out to travelers such as freighters passing through. Similar to hotels today, the owners would provide a room and basic furnishings for the person or people renting the room such as a bed and dresser. Some accommodations provided less privacy and were much like today's hostel; many people shared one room. Unlike hotels today, the owners often offered a dinner in the evening; this may or may not have been included in the fee for the night, and everyone staying for the evening ate together in one large group. Today's bed and breakfast would be similar to the hotels of the past as a traveler was often staying in the same building as the owner.

Sources
Sneed, David, "Giants in the Land," Wild West, October 2009, 58 - 61.

Hair, William I. "Stagecoaches and Public Accommodations In Antebellum Georgia," The Georgia Historical Quarterly, Vol. 68, No. 3 (Fall, 1984): 323- 333.


Additional Information