Charles Dietle House
Introduction
Located on the corner of Page and Laguna Street, this historic home was designed and constructed by Henry Geilfuss for bootmaker Charles Dietle in 1885. After the great earthquake of 1906, the house was sold to John DeMartin, allegedly for a bag of gold. Today, the building is home to private law offices and listed on the National Register of Historic Places as one of the few homes in the area that predate the earthquake and fires that ravaged the city.
Images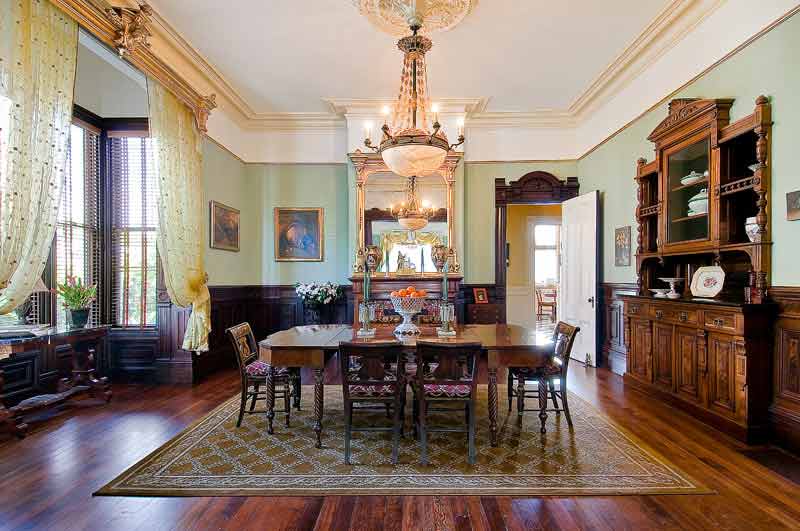 The interior of the historic Victorian home built for Charles Dietle is now home to a law office.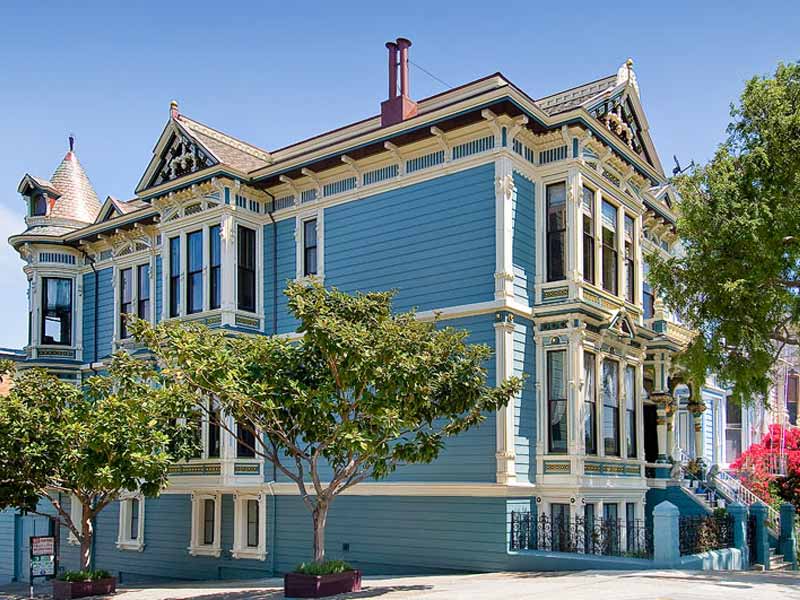 A July 1884 advertisement in the Daily Alta California newspaper for Charles Dietle's bootmaking business.

A March 1897 advertisement in the San Francisco Call newspaper for John DeMartini's fruit and vegetable wholesale business.

A 1905 State of California Board of Bank Commissioners report lists John DeMartini as one of the Bank of Italy's founding directors, albeit with the smallest number of shares.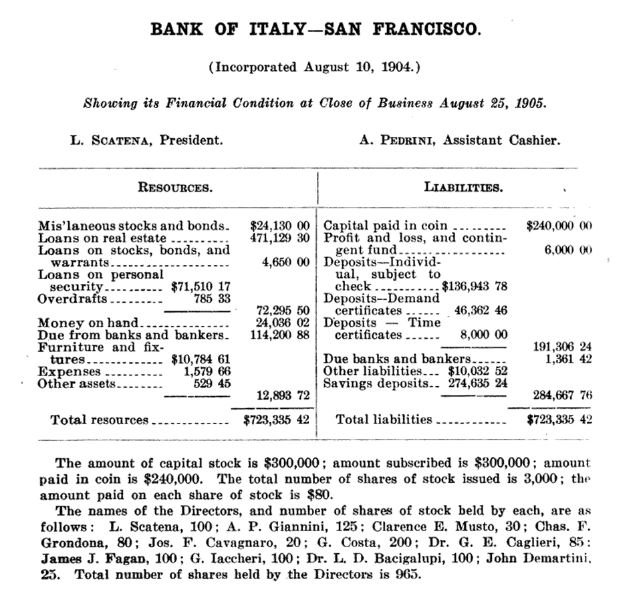 Another classic Henry Geilfuss--the Westerfeld House, also in San Francisco (Library of Congress).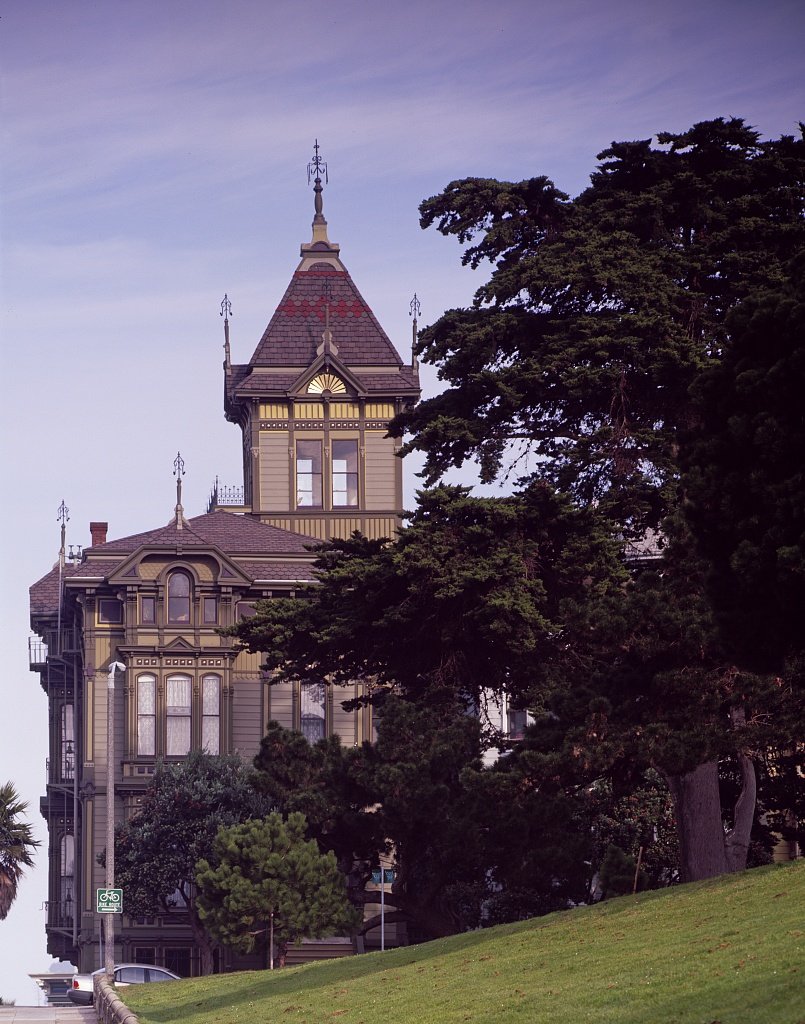 Backstory and Context
This Victorian mansion is today worth over $6 million owing to its rarity (as a survivor of the 1906 earthquake) and the skyrocketing value of real estate in San Francisco. Featuring an outdoor courtyard with a stable, and a roof deck with views across the city, it was designed by architect Henry Geilfuss in 187 for German-born bootmaker Charles Dietle. Evidently Dietle was far from an ordinary bootmaker, as the house contains five bedrooms, a ballroom, a dumbwaiter, and an attic lounge.
Geilfuss, whose name has become synonymous in the last century with classic San Francisco architecture, designed Dietle's house in the Stick-Eastlake style, then at the height of its popularity in America in the 1880s. This architectural zeitgeist was sparked, for the most part, by English architect Charles L. Eastlake's influential book, Hints on Household Taste in Furniture, Upholstery, and Other Details, published in 1868. Eastlake Victorians often feature large amounts of intricate woodwork: oversized columns and balustrades, curved brackets and scrolls in the corners; lattices and perforated gables or pediments serve to offset the bulkier elements such as the columns, and create a more three-dimensional visual impact.
Miraculously, the home escaped the horrific damage of the 1906 earthquake and the massive fires that followed. Perhaps put off by the scale of the catastrophe--or perhaps feeling that his business was too much affected by the destruction of the city--Dietle soon sold the mansion to John DeMartini, a notable fruit and vegetable commission merchant, and one of the original directors of the Bank of Italy, which later would become the Bank of America.
The venerable house became a law office in the 1970s and remained so until 2006, when it became a home once more. Its remarkable state of preservation, in addition to being a representative of master architect Henry Geilfuss's work, led it to be added to the National Register of Historic Places. It is also San Francisco Designated Landmark #48.
Sources
San Francisco Landmark #48 Charles Dietle House. Noe Hill. Accessed May 13, 2017. http://noehill.com/sf/landmarks/sf048.asp.

Landmark Mansion at Page and Laguna For Sale. Hoodline. Accessed May 13, 2017. http://hoodline.com/2013/05/landmark-mansion-at-page-and-laguna-for-sale.

Keeling, Brock. This landmark Hayes Valley house is Victorian perfection. SF Curbed. Accessed May 13, 2017. https://sf.curbed.com/2016/10/3/13155560/landmark-hayes-valley-house.

Opulent Victorian a snapshot of historic San Francisco. SF Gate. November 09, 2016. Accessed March 26, 2019. https://www.sfgate.com/realestate/article/Opulent-Victorian-asnapshot-of-historicSan-10598668.php#photo-11387144.


Additional Information