First Presbyterian Church
Introduction
The First Presbyterian Church was founded in 1840, making it the first Christian Organization in Chattanooga. The congregation first met in a log cabin, though quickly outgrew the accommodations and built a dedicated church in 1845. During the Civil War, the church was used as military hospital. This usage ruined the vast majority of the building and a new building was constructed soon after. The building was opened in 1910 and services are still held at this historic location.
Images
First Presbyterian Church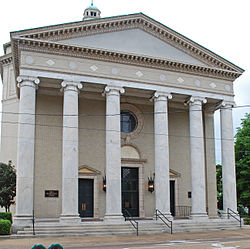 Backstory and Context
Most of what is known about the history of the church pre-1990 comes from the book "Catalyst of Christ" written by a contemporary congregation member.His book states that i
n June of 1840, two missionaries began the First Presbyterian Church. The two men had been sent to the area years before to preach to the Cherokee Indians; this was no longer necessary after the Indian Removal of 1838. Worship took place in a small log cabin.
The first dedicated church was built in 1845. This church was used by several denominations in the area for worship during the period. This building was overtaken by the Union Army in 1863, where it became a makeshift military hospital. Much of the wood and decoration was stripped from the building to be used as firewood. The congregation continued to meet at private residences during this period.
A small facility serviced the church from 1888 to 1910; at this point the church that currently stands on site was completed. The building was designed by Stanford White, an architect who followed American Renaissance aesthetics. The building was added to the National Register of Historic Places in 2009.
Additional Information