Kaufman-Straus Department Store
Introduction
This historic department store was targeted for sit-ins because African-Americans were denied service in their restaurants. In February 1960 student members of CORE (Congress of Racial Equality) and members of NAACP Youth Council protested in front of the store. The building is now home part of Fourth Street Live and home to the Sports & Social Club among other businesses.
Images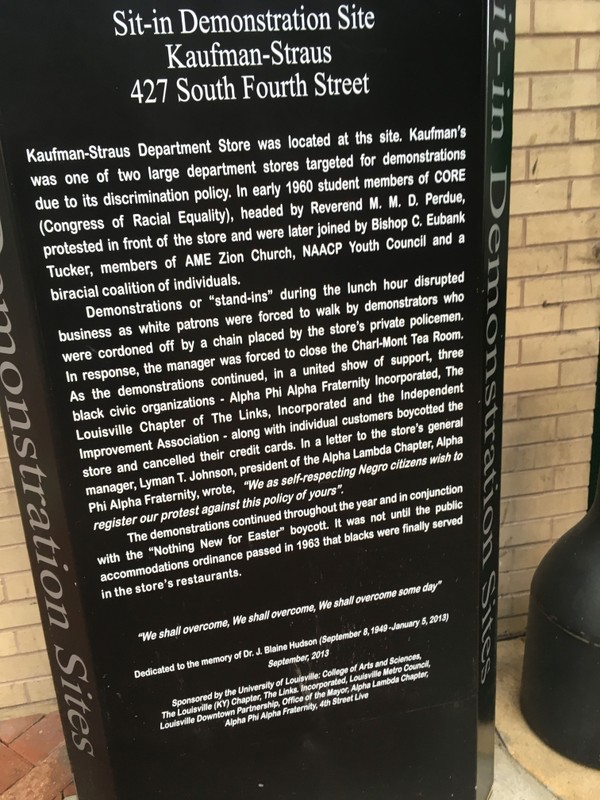 Backstory and Context
Founded by Henry Kaufman in 1879, Kaufman-Straus was one of the two largest department stores in the city of Louisville, specializing in women's clothing, furs, and linens and also some menswear. In January 1961, Raoul Cunningham, president of the NAACP, united the NAACP Youth Council and CORE into a mass campaign.
Beginning on February 9, the joint campaign began stand-ins at Kaufman-Strauss and Stewart's department stores. At the same time, adult members of the NAACP introduced the "Nothing New for Easter" campaign, a boycott of downtown businesses which continued until May and ended after the 1961 Kentucky Derby. This consumers' boycott had the potential to keep 75,000 Black residents from buying any items from the downtown Louisville businesses, also depriving the downtown businesses of 18 million dollars a year.
By the end of February, Kaufman-Strauss and Stewart's opened negotiations. The sit-ins forced the manager of Kaufman-Straus to close the Charl-Mont Tea Room. It was not until the public accommodations ordinance was passed in 1963 that African-Americans were finally served in the store's restaurants. On May 14, 1963 the Louisville Board of Aldermen passed an ordinance for open accommodations, which finally gave Louisville a policy of nondiscrimination for public accommodations.
Sources
http://digital.library.louisville.edu/cdm/ref/collection/cs/id/1209
Global Nonviolent Action Database- Louisville NAACP and CORE activists campaign for open accommodations, Kentucky, 1961
http://nvdatabase.swarthmore.edu/content/louisville-naacp-and-core-activists-campaign-open-accommoda...