Langhorne House
Introduction
The Langhorne House is the birthplace of Nancy Langhorne, Viscountess Astor, the first woman seated in the British House of Commons. Her sister Irene married the artist Charles Dana Gibson who immortalized his wife as the "Gibson Girl," the international fashion ideal of the turn of the 20th century. Their father, Chiswell Langhorne, worked in the tobacco industry while in Danville and is credited with developing the tobacco auctioneer's chant at Danville's famous loose-leaf tobacco auctions. A historical marker is located at the corner of Broad and Main Streets. The Langhorne House museum is open Saturdays 2:00-5:00 pm, or by appointment
Images
Langhorne House - 117 Broad Street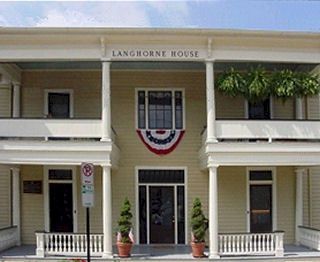 Backstory and Context
The Langhorne House is an historic late 19th-century house later enlarged and used as an apartment house. Its period of significance is 1922, when Nancy Langhorne Astor, by then known as Lady Astor and the first woman to sit in the British Parliament, came to Danville to visit her birthplace and promote Anglo-American relations.
The original dwelling was built in 1874 as a one-story, central-passage plan structure with a rear ell. It was enlarged in 1878 to add a second story and Italianate-style porch. In 1921, the house was moved to the next lot and further enlarged, with conversion for use as four apartments. The house was attached to a three-story apartment building constructed at its original site. The front facade features a two-tier porch with fluted Doric columnns in the Classical Revival style and multiple entries. In 1990, the structure was restored to its appearance in 1922, when Lady Astor made a speech to 5,000 people from the second-story porch of the house.
The building was listed on the National Register of Historic Places in 2006. Owned by the Lady Astor Preservation Trust, it is located in the Danville Historic District.

Sources
Langhorne House. Wikipedia. Accessed May 12, 2017. https://en.wikipedia.org/wiki/Langhorne_House.

Langhorne House. Facebook. Accessed May 12, 2017. https://www.facebook.com/Langhorne-House-137163806356899/timeline/.


Additional Information