Nimíipuu (Nez Perce) Monument
Introduction
This monument, located in Calvary Cemetery, commemorates the remarkable and largely unknown story of the Nez Perce Indian delegation that arrived in St. Louis in the fall of 1831. Two of the four men of the delegation—Black Eagle and Speaking Eagle—are buried here. The delegation traveled 2,000 miles from Idaho to St. Louis to obtain the "Book of Heaven," which presumably meant the Bible, and to meet with William Clark, one of the leaders of the Lewis and Clark Expedition (1804-1806) tasked with exploring the rest of the continent west of the Mississippi River and finding the route to the Pacific Ocean. At the time, Clark was the Superintendent of the Bureau of Indian Affairs. Despite the fact that he lived among the Nez Perce for that short time, he lost all knowledge of the language. As a result, communication was difficult. As such, it is possible that Clark and others in St. Louis misunderstood the exact purpose of the delegation. Locals began to speculate (in newspapers) that the delegation was seeking spiritual understanding of and conversion to Christianity. This had effect of galvanizing missionaries to head westward, which, in the long run, helped further American expansion in that direction.
Images
The Nez Perce delegation monument; two of the four men are buried here.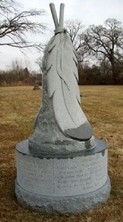 Backstory and Context
The Lewis and Clark expedition stayed with a band of Nez Perce for month on the return journey (they needed to wait for the snow to melt to pass through the Rocky Mountains). It was there that the Nez Perce learned, presumably, of Christianity. For the next 25 years oral tradition was passed down about the expedition and it was believed that the white men would return. This compelled Black Eagle, Speaking Eagle, and the other two Nez Perce,
No Horns On His Head and Rabbit Skin Leggings, to travel to St. Louis to seek the "Book of Heaven."
Black Eagle and Speaking Eagle became ill and died in St. Louis. They were given a Catholic burial and were interred in the cemetery next to what is today known as the "Old Cathedral." Their remains were relocated here in 1854 but the location was not known until a National Park historian discovered it in 2000. The monument, which stands eight feet tall, was installed in 2003.
Sources
"The Indian Delegation of 1831." Distilled History. October 14, 2015. https://www.distilledhistory.com/tag/nez-perce-indians.

"Nimíipuu (Nez Perce)." The Historical Marker Database. Accessed May 10, 2017. http://www.hmdb.org/marker.asp?marker=62061.

"The Saint Louis Delegation of 1831." Bureau of Land Management - National Historic Oregon Trail Interpretive Center. Accessed May 10, 2017. https://www.blm.gov/or/oregontrail/files/st-louis.pdf.

Photo: William Fischer Jr., via The Historical Marker Database