Dekum Building, Portland (1892)
Introduction
The Dekum building was completed in 1892 by Fank Dekum, an immigrant to the United States who had lived and worked in a variety of US cities before making his fortune in Portland. Dekum arrived as a child in Bavaria in the 1830s and his journey provides a window into the lives of many other immigrants as well as the San Francisco Gold Rush, the establishment of German bakeries throughout the US, and the way many business leaders found success through finance, real estate, and the railroad industry.
Images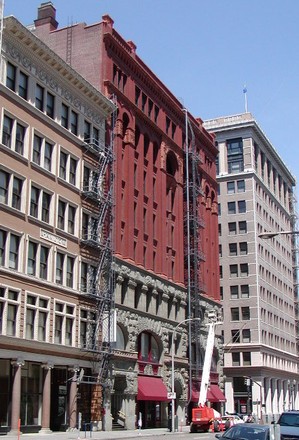 Backstory and Context
Frank Dekum, a German immigrant who arrived with little wealth, made his fortune and rose to prominence in the city of Portland. Originally born in Bavaria, Germany, in 1829, the Dekum family immigrated to the U.S. in 1837. The family settled in Illinois and in 1852, Frank and his family moved to San Francisco. The following year they moved north the Portland. Frank found work as a worker in a bakery before opening his own business and working as both a realtor and banker. He later worked in insurance before securing a position as a railway executive. He constructed this building towards the end of his life in 1892.
Dekum was born in Palatine, Bavaria, on November 5, 1829, a city from which his family resided for several generations. However, in 1837, the Dekum family, including all seven children, emigrated to America and settled on an Illinois farm. Indeed, the family was among nearly 10,000 new German immigrants to the U.S.

Nearly a decade later, at age 17, Frank Dekum left his family and moved to St. Louis where he apprenticed with a confectioner, earning three dollars per month (roughly $90/month in 2017 dollars). Hence, nearly three years later, in February 1852, Dekum -- like many people of that era -- left Missouri for California. He took a steamer with his friend Fred Bickel via the Panama Canal, arriving in San Francisco four months later, in mid-June. As did many after the 1849 Gold Rush, Dekum engaged in gold mining, both in French Gulch and Middletown. However, after a year, he returned to San Francisco. One year later, he sailed to Portland, which at the time was nothing more than a small river town comprised of 1,500 inhabitants.
With gold mining behind him, Dekum went back to his confectionary roots and found employment at a baker. A few months later, he sent for Fred Bickel and together they established Dekum & Bickel in 1855, Portland's first confectionery business, which also included the sale of fruit and a restaurant. The business proved highly successful, remaining in business for 25 years before Dekum sold his interest to Bickel and retired from the firm.
Roughly nine years before retiring from Dekum and Bickel, in 1871, Dekum built the first Dekum Building on the northwest corner of Front and Washington Streets. It was one of a series of real-estate construction projects he headed. Dekum also served as a banker, became involved with was also involved in Portland's banking, including serving as president of Portland Savings. He was also an original stockholder in the local syndicate that completed the Portland Hotel.
In addition to his business ventures, Dekum served as the German Aid Society's charter member, found in 1865, and later its president. In 1878 he helped organize the Mechanics' Fair Association, including spearheading the development of its Exposition Building. Lastly, Dekum was heavily involved in conservation and environmental protection, including forming the German Song Bird Society.
Towards the end of his life, Dekum put his time and effort into building the Dekum Building, now listed on the National Register of Historic Places. Dekum spared no expense in building his prized skyscraper, which opened in 1892. Unfortunately, he died two years after its completion, dying at the age of 64 in 1894.
The eight-story building's rough cut stone at the base, red brick in the upper stories, terra cotta ornamentation, and reliance on large, stone block arches proved to be a favorite type of architectural design in Portland from 1889 to 1895. The style, known as the Richardsonian Romanesque style, was the creation of a popular Portland architectural firm, McCaw & Martin.
When the Dekum Building opened in 1892, the department store Lipman, Wolfe & Co. occupied the first two floors while the remaining largely served as offices for physicians, dentists, and lawyers. Over the years, the building went through many ownership changes and renovations. Today, the Dekum Building stands as one of the oldest buildings still standing on Southwest Third Avenue. When compared to the Hamilton Building, located next door and built only one year apart, one is easily able to ascertain the shift in architectural style in Portland from Richardsonian Romanesque and toward classic detailing.
Sources
"Dekum Building."
The Oregon Encyclopedia.
Accessed May 10, 2017. https://oregonencyclopedia.org/articles/dekum_building_portland_/#.WRM3_fQrJD8.
German: A New Surge of Growth. Immigration. Library of Congress. Accessed May 10, 2017. https://www.loc.gov/teachers/classroommaterials/presentationsandactivities/presentations/immigration...
McMath, George A. "Nomination Form: Statement of Significance."
National Park Service: National Register of Historic Places.
Published March 20, 1980. https://npgallery.nps.gov/pdfhost/docs/NRHP/Text/80003363.pdf
Ritz, Richard E. Architects of Oregon: A Biographical Dictionary of Architects Deceased – 19th and 20th Centuries. Portland, Ore.: Lair Hill Publishing, 2002.
Additional Information