Karpeles Manuscript Library Museum
Introduction
Founded in 1983 by David and Marsha Karpeles, the Karpeles Manuscript Library Museum is the world's largest private library containing original manuscripts and documents. The library is comprised of several locations around the country, including this one in St. Louis. In all, the library contains one million manuscript pages, covering a wide range of historical, musical, literary, scientific, and religious topics. At this location, the library houses many significant documents such as the Great Soulard Discovery Map (the original from which a copy was used by Lewis and Clark), the Saint Louis Application to the Baseball National League, the proclamation of the French approval of the Louisiana Purchase, and Charles Lindbergh's landing citation at Le Bourget field in Paris, one of the most important documents in the history of aviation. The building was constructed in 1911 and was originally the home of a Christian Science congregation and then a Baptist congregation. The museum opened in 2015.
Images
The Karpeles Manuscript Library Museum - St. Louis opened in 2015 in a former church built in 1911.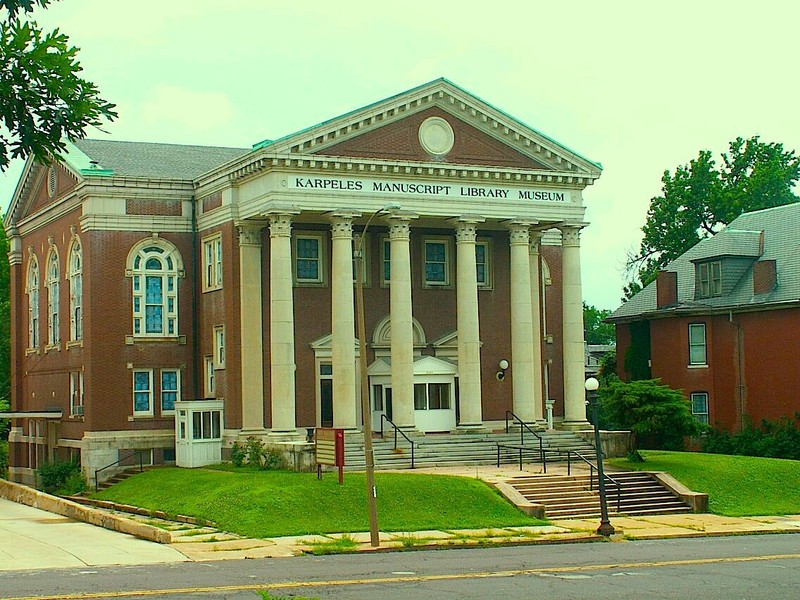 Backstory and Context
David Karpeles earned a phd in history but he worked for General Electric for a number of years; he made innovations in
artificial intelligence. History, however, was his main passion. Over the years he collected the documents that now constitute the Karpeles Library. Noteworthy items (not at the St. Louis location) include
the original draft of the Bill of Rights and the notes Albert Einstein wrote for his famous E=mc² equation.
Sources
Homepage. Karpeles Manuscript Library Museum - St. Louis. Accessed May 9, 2017. http://www.rain.org/~karpeles/StLfrm.html.

Naffziger, Chris. "The Karpeles Manuscript Library Museum Opens its Doors." St. Louis Magazine. July 29, 2015. https://www.stlmag.com/arts/history/the-karpeles-manuscript-library-museum-opens-its-doors.
Additional Information