Four Fifty Sutter Building
Introduction
Offices used by dentists and doctors are usually relatively bland and nondescript. That is not the case with Four Fifty Sutter, a remarkable Art Deco structure built specifically to house dentist offices. The building was added to the National Register of Historic Places in 2009.
Images
Four Fifty Sutter Building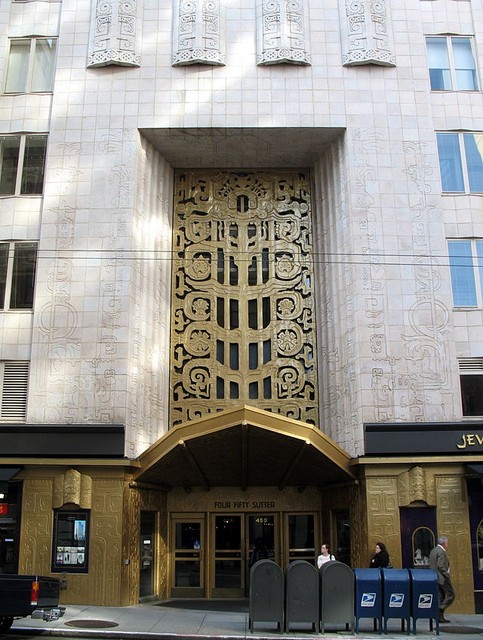 Four Fifty Sutter Building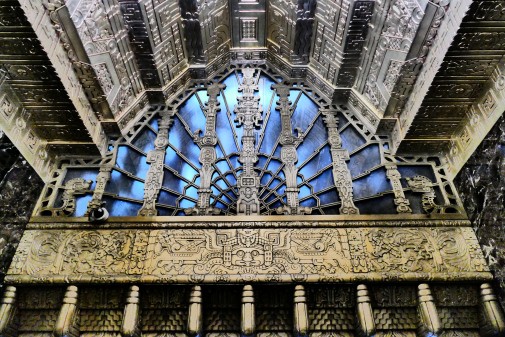 Backstory and Context
The building at Four Fifty Sutter, which has housed medical and dental offices for almost one hundred years, was the brainchild of an eccentric dentist, Francis Edward Morgan, Jr. Morgan wanted a building dedicated solely to dentistry, and the project was headed by renowned San Francisco architect Timothy Pflueger.

Pfleuger wanted a building that was different than virtually every other structure in the United States--a building with little to no European influences. The building he designed--which was then the second-largest in the city and perhaps the largest medical building in the world at the time--is considered an Art Deco masterpiece. Four Fifty Sutter is also remarkable for its heavy use of Mayan symbolism.

Among the building's stunning design elements are its Mayan bas-relielf spandrels on the exterior, as well as the remarkable lobby. The lobby is remarkable for its inverted gold pyramid ceiling, which is meant to evoke the image of a Mayan pyramid. The massive elevator doors are made of dark bronze. Mayan symbolism is used throughout the building's lobby, but much of that symbolism is lost on the casual observer.

Four Fifty Sutter opened in 1929, just days before the stock market crash. It was last skyscraper built in the city until the building boom of the postwar years. The building was added to the National Register of Historic Places in 2009.

Sources
King, John (August 12, 2008). "Two different architects with much in common". SFGate. Retrieved 7 May 2017.
Additional Information