St. Francis Lutheran Church
Introduction
Located on 152 Church Street, St. Francis Lutheran Church has stood since 1906. Built by the mainly Lutheran Nordic Immigrants of the time, the church sits in the heart of the Nordic-dominated Duboce-Market neighborhood. As a result, the church was designed in the Danish Gothic style with red brick laid over a wooden frame. The building survived the 1906 earthquake and was used as an infirmary for several months. It acquired its current name in 1964.
Images
Saint Francis Lutheran Church was built in 1906.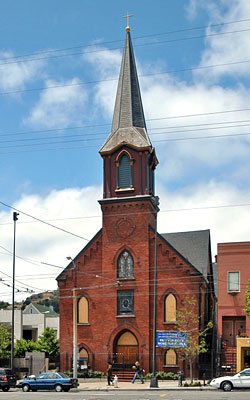 Backstory and Context
Before the church was established, Lutheran clergy had to come to San Francisco from Fresno to meet the needs of the community. As the Danish community increased, it was eventually big enough to develop its own church. The community wrote to Queen Louise of Denmark asking for financial aid to build their own church to which she sent 500 Kroner.

Work on the church began in 1905 and was completed the following year. The 1906 earthquake damaged the sanctuary, but the main floor was still intact. During its early years, the area around the church was populated mainly by Scandinavians and Germans and sermons would be delivered in Norwegian, Danish, Swedish, Finnish, and German.
Over the years, as English became the common tongue and memories of their homelands faded, the various Lutheran congregations merged. In 1964, a Danish and Finnish congregation merged and named the new congregation in honor of the City's patron saint, Saint Francis Lutheran Church.
Sources
"San Francisco Landmark #39, Saint Francis Lutheran Church." Noe Hill. Accessed May 07, 2017. http://noehill.com/sf/landmarks/sf039.asp.

Photo: Noe Hill