Bourn Mansion
Introduction
This mansion belonged to William Bourn, the head of Spring Valley Water Company who had made his fortune from his Empire Mine near Grass Valley. He commissioned the house in 1897 and chose a young Willis Polk to design the townhouse in a Carolingian style. Polk had previously designed the offices and main residence at the Empire Mine, and contributed much of the design towards Bourn's magnificent estate, Filoli, on the Peninsula
Images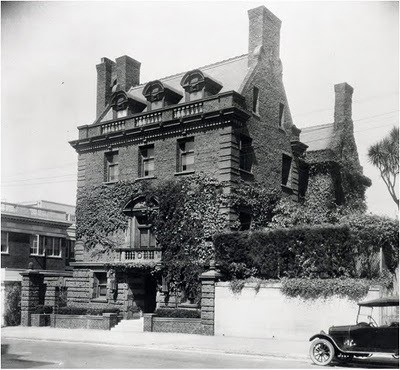 Backstory and Context
William Bourn was considered to be the richest man in San Francisco, and possibly even the country. He inherited a fortune from his father and later created and developed Pacific Gas & Electric, now PG&E.
Modest by Bourn's standards, this 27-room mansion is a masterpiece of the bricklayers' and stonemasons' art. The mansion was just one of the elaborate buildings owned by Bourn, the likes of which included palatial Empire Mine in Grass Valley, CA., and the Bourn's famous estate, Filoli in Woodside.
In the 1970s the building was sold to eccentric Arden Van Upp, turning the classic Georgian home into a modern party pad. The building became known for lavish hedonism and attracted the likes of movie stars, rockers, and porn stars, all looking for a good time. Sadly, the good times came to an end, the building fell into disrepair, and Van Upp became a recluse, with only her cats for companionship.
The house was finally cleaned up and sold at auction in 2010, and despite assessments that repair would cost quite a bit more than the house is worth, it remains a Historical Landmark and still stands.

Sources
San Francisco Landmark #38 Bourn Mansion. Noe Hill. Accessed May 07, 2017. http://noehill.com/sf/landmarks/sf038.asp.

Bourn Mansion. Atlas Obscura. Accessed May 07, 2017. http://www.atlasobscura.com/places/bourn-mansion.

Here is Where I Live in San Francisco. Anusha. Accessed May 07, 2017. http://www.anusha.com/bourn.htm.

Boulware, Jack. The Fortress on the Hill. SF Weekly. Accessed May 07, 2017. http://archives.sfweekly.com/sanfrancisco/the-fortress-on-the-hill/Content?oid=2135996.