Chinatown Gate and Chinatown
Introduction
At the intersection of Grant Avenue and Bush Street is the gate which marks the entrance to Chinatown, home to the largest Chinese population outside Asia. Chinatown is both a neighborhood and a tourist attraction, drawing more visitors each year than the Golden Gate Bridge.
Images
The entrance to Chinatown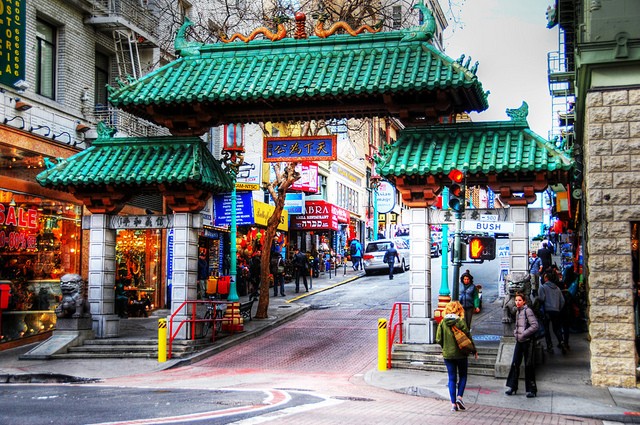 Backstory and Context
San Francisco's Chinatown began in the 1850s, but the area has been integral to the life of the city for almost as long as the city has existed. Grant Avenue, the main thoroughfare in Chinatown, was San Francisco's first street. It's on Grant Avenue that the Chinatown Gate, the traditional entry point for the neighborhood, can be found. Adorned with fish, lions, and dragons, the gate is inscribed with the words of Dr. Sun Yat-sen.

The Chinese population of San Francisco continued to increase throughout the latter half of the nineteenth century, until 1882, when the Chinese Exclusion Act was passed. The Chinese have the sad distinction of being the first ethnic group prohibited from entering the United States. Following the 1965 Immigration Act, Chinese immigrants were again allowed into the country and immigration from China into the city continues.

Because San Francisco's Chinese population was frequently subjected to discrimination and police harassment, many Chinese individuals became affiliated with tongs, which began as benevolent organizations that provided financial and legal help to Chinese laborers. Over time, however, some tongs became associated with criminal gangs, and the organizations were often involved in prostitution, gambling, and racketeering. As a result, by the early 1900s, Chinatown developed a reputation for vice and lawlessness, which only increased the discrimination and harassment its residents faced.

Chinatown was destroyed in the 1906 earthquake which leveled most of the city. As the rebuilding of San Francisco progressed, numerous city officials proposed relocating the Chinese to the outer reaches of the city. Eventually, however, it was the city's restrictive housing covenants which prevented this, and Chinatown was rebuilt in its original location.

Modern-day Chinatown is famous largely as a tourist attraction, and its many restaurants are regarded as the birthplace of westernized Chinese cuisine. Roughly 15,000 Chinese now live in the district, and approximately 2,000,000 tourists visit it each year.
Sources
Zelenko, Michael. The Tongs of Chinatown. Found SF. Accessed May 07, 2017. http://www.foundsf.org/index.php?title=The_Tongs_of_Chinatown.

History. SF China Town. Accessed May 07, 2017. http://www.sanfranciscochinatown.com/history/index.html.

Rathinasabapathy, Radhika. Your guide to Chinatown in San Francisco. Timeout. Accessed May 07, 2017. https://www.timeout.com/san-francisco/things-to-do/your-guide-to-chinatown-in-san-francisco.


Additional Information