The Savoy Grill and Hotel
Introduction
The Savoy Grill, located at 219 W 9th Street, was a location frequented by Harry S. Truman. He ate there so enough that they placed a plaque in booth number four, designating his favorite place to sit. Until recently, individuals were able to eat at the restaurant and view different historic items, such as a job application from Truman. The Grill has served as an important part of Kansas City's history, both socially and economically.
Images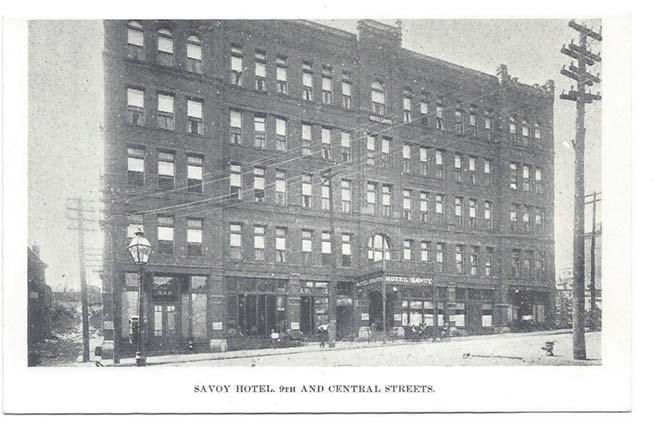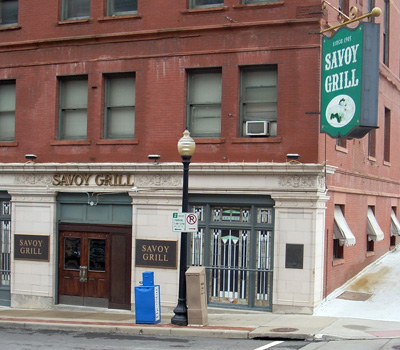 Backstory and Context
The Savoy Grill was just one part of the Savoy Hotel and Savoy Grill. It was constructed between 1890 and 1906, as Neo-Classic design. Throughout its existence the building underwent at least four different construction phases. First, the original building was built, which was a five-story structure. Then, a sixth story was added, along with rear extensions spanning all six-stories. Lastly, in 1905-1906 a western addition was added, reaching seven stories.
The Savoy Grill maintained a turn of the century feeling up throughout the twentieth and twenty-first centuries. A patron could enter the restaurant and experience great food, along with the service expected of a classy restaurant. In the mid-1900s the restaurant closed its doors causing anger; in result, the grill quickly reopened.
The hotel and grill have passed through many different owners, who had changed the name repeatedly. In 1962, the Savoy Investment Company bought the building, but they did not own it for long. Donald F. Lee purchased the entire hotel in 1965. He had owned and operated the Grill since 1960. [1]
The Savoy Hotel and Grill closed after a fire in 2014. There are currently plans to renovate and restore the historic hotel through the 21c Museum Hotels group. They committed to a redevelopment schedule with work beginning in 2016.[2]
Sources
[1] National Register of Historic Places, Savoy Grill, Kansas City, Jackson, Missouri, National Register #74001073.
[2] Diane Stafford, "Hotel Savoy renovation in Kansas City gets new timetable." The Kansas City Star. September 13, 2016. http://www.kansascity.com/news/business/development/article101620162.html (accessed April 21, 2017).

Deel, Karla. The Savoy Hotel Bed & Breakfast and the Savoy Grill. n.d. http://ediblenetwork.com/kansascity/edible-traditions-the-savoy-hotel-bed-breakfast-and-the-savoy-gr... (accessed April 28, 2017).
Scooters Bars. February 2010. http://www.scootersbars.com/2010/02/savoy-grill/ (accessed April 28, 2017).