Jackson County Democratic Club
Introduction
During the Great Depression, Kansas City witnessed the rise and triumph of a Democratic Party political boss. Tom Pendergast used his influence and patronage to bring money and jobs into the city. In addition, Harry S. Truman's political career began with the aid of Tom Pendergast, something that Truman had to accept and also overcome as he continued his political career.
Images
Pendergast and Truman, 98-39 (Truman Library)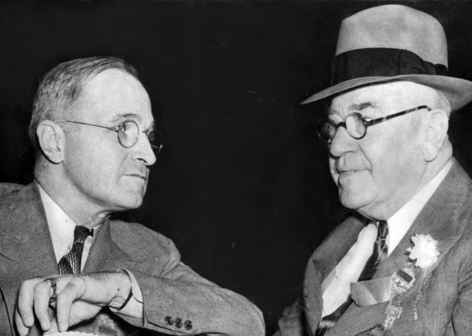 Pendergast and the Jackson County Democratic Club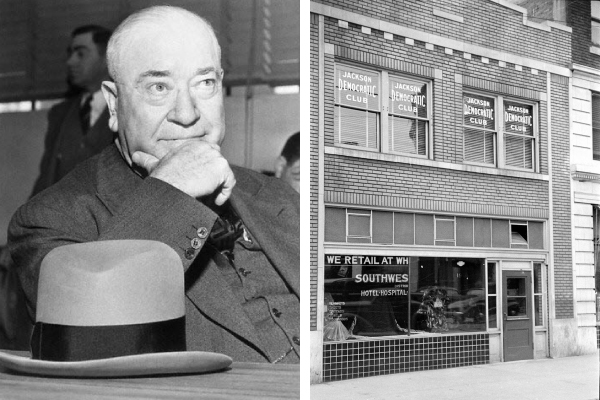 Backstory and Context
The Jackson Country Democratic Club, also known as the Thomas J Pendergast Headquarters, was located at 1908 Main Street in Kansas City. Raymond H. Sanneman designed the two-story brick building that was completed in 1926 housing a public space on the first level, and a private space on the second level. Pendergast's office was on the second floor in the northwest corner. The building has not seen a lot of alteration and is still in good condition.
Tom Pendergast was a notorious political boss who controlled much of Kansas City's political scene; he dominated the Democratic Party, especially from 1926 to 1939. Harry S. Truman was successfully introduced into the political machine because of aid from Tom Pendergast. Truman learned as he continued into his career, that his relationship with Pendergast was frowned upon by many in Washington D.C. even though others in Kansas City held him in high regard. Mr. Truman continued to campaign and reinvent himself, allowing him to become President, after Pendergast was arrested for tax evasion.
Before his arrest, Pendergast had succeeded in bringing in job opportunities, as well as federal money during the Great Depression, allowing for many in Kansas City to not struggle as bad as other cities did. On the other hand, Pendergast also used his influence over the police force to allow gambling, prostitution, and liquor sales to rise, even though it was illegal.[1]
Sources
[1] National Register of Historic Places, Pendergast, Thomas J. Headquarters, Kansas City, Jackson, Missouri, National Register #11000764. https://dnr.mo.gov/shpo/nps-nr/11000764.pdf