Times Square
Introduction
Times Square, also known as the "Crossroads of the World," is one of, if not, the most iconic places in New York City and is one of the world's busiest pedestrian areas. Stretching from West 42nd to West 47th Streets, this junction of Broadway and 7th Avenue holds a plethora of sights to enjoy. Take time to gaze at the numerous stores located around Times Square as well as the gigantic advertisements on the surrounding buildings! Make sure to arrive early if you plan to watch the ball drop on New Year's Eve!
Images
Relaxation is always found in Times Square Picture: New York Times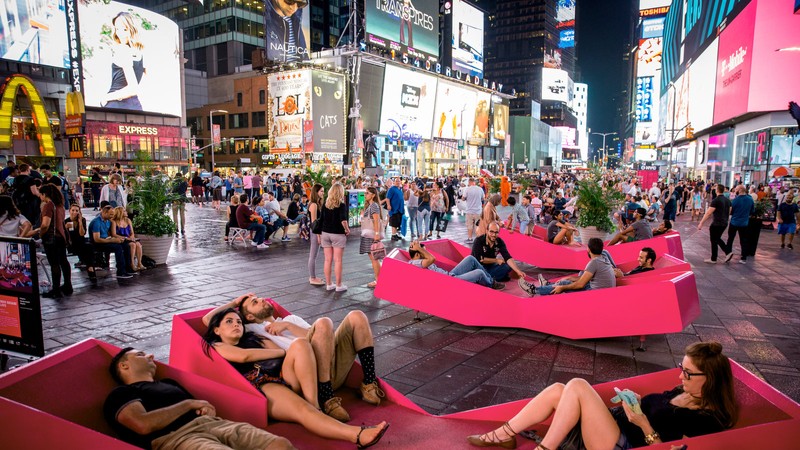 Times Square on New Year's Eve Picture: Travelling Moods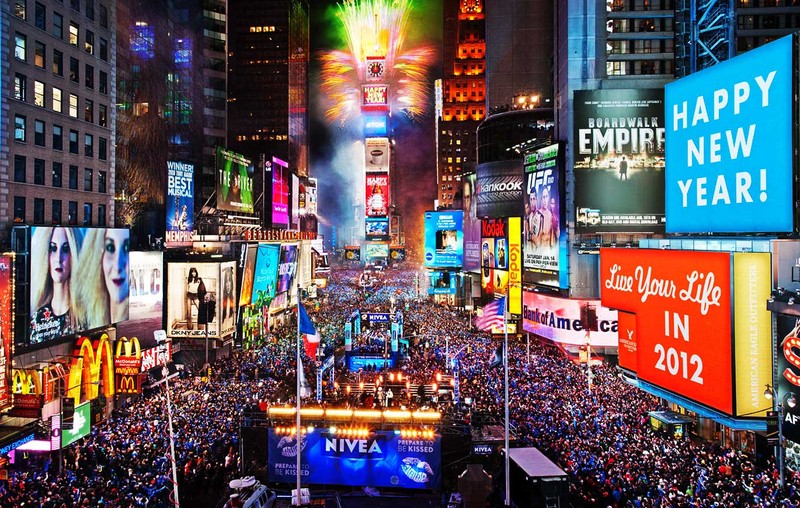 Backstory and Context
Times Square was originally known as Long Acre Square, as was generally used as the early site for William H. Vanderbilt's horse exchange. During the 1880s, this area was a large space with dull apartments surrounding it, but once electric lights and theater advertisements began to appear, the neighborhood changed into an inviting environment for New Yorkers. With it, though, came brothels, pickpockets, and streetwalkers, turning the area into more of a red-light district.

In the early 1900s, New York Times owner and publisher Adolph S. Ochs realized an opportunity to build Times Tower in a highly visible location. The Times moved into their new location, the second tallest building in the city at the time, in January 1905. The previous spring, a resolution was signed by Mayor George C. McClellan that renamed the intersection Times Square. Within a decade, they outgrew the location and moved to a new one. Before they left, they gave birth to an ongoing tradition today: the New Year's Eve spectacular. Although the Times moved, the tower remained and is still the focal point of Times Square today.

Sources
http://www.timessquarenyc.org/visitor-tips/history/index.aspx#.WQzbyIWcHIU
http://www.nyctourist.com/times-square-history.php

Additional Information