The Memorial Building
Introduction
In 1925, the Memorial Building was built at 416 West Maple Avenue in Independence, Missouri. The building was erected to memorialize those who had fought in World War I. Harry S. Truman led the dedication ceremony that took place on July 4, 1926. The is a contributing property of the Harry S. Truman National Historic District. Today, the building is home to the Independence Parks and Recreation Department.
Images
Memorial Building, circa 1950.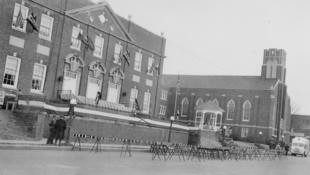 Backstory and Context
The Memorial Building was erected in 1925 with Classical Revival architecture. The building is two-stories tall and made of brick. The building's only alterations were in 2001-2002 when an addition was added in the rear to allow for a larger performance stage. In addition, other improvements included utilities and the addition of an elevator. The building has gone by two other names: Soldiers' and Sailors' Memorial Building and World War I Memorial Building. Harry S. Truman oversaw the dedication ceremony as he was a World War I veteran as well as the county judge for eastern Jackson County. The building was rededicated after the addition was added in 2002.
The announcement of the construction of the Memorial building was made by the Independence Examiner on January 16, 1925. The American War Mothers decided to build it in memory of the servicemen who served during World War I. Their goal was to make the building available for functions within the community, such as meetings. In addition, the American Legion was to have their headquarters there. Other groups, such as the Daughters of the American Revolution and the United Daughters of the Confederacy worked to add different structures to the building.
Overall, the building holds a lot of significance for Independence and the Truman's. The building served as the polling place for Harry and Bess for over thirty years, including during the 1948 election, which Harry Truman won. On June 27, 1945, the Memorial Building was the only location that Truman held a press conference while staying in Independence. Most importantly, a significant amount of presidential papers were stored in the Memorial Building until the Truman Library was completed in 1957.
Sources
Franklin-Weekley, Rachel (Evans Hatch & Associates). "Harry S. Truman Historic District." National Park Service - National Historic Landmark Nomination Form, p. 114-115. https://dnr.mo.gov/shpo/nps-nr/71001066.pdf.
Harry S. Truman Library and Museum. "Truman Places: A Map of Places in Greater Kansas City That Were Important to Harry S. Truman." Kansas City, n.d.
Photo: Memorial Building, circa 1950. Accession Number 2005-90 (Truman Library)
https://www.trumanlibrary.org/photographs/view.php?id=12400