Community Savings and Loan Association
Introduction
The Community Savings and Loan Association was a part of the Ott Building which was built ca. 1887. The building, which is a contributing property of the Harry S. Truman National Historic District, housed multiple commercial businesses throughout the late 19th and early 20th century. Most notably, Harry S. Truman served as the manager of the Community Savings and Loan Association during the 1920s. In addition, the building also featured a restaurant and the Independence Waterworks Company. Today the building is occupied by an upholstery store, an American Family Insurance office, and is home to the Jackson County Election Board.
Images
The former Community Savings and Loan Association building was built around 1887. Future President Harry S. Truman worked here in the mid-1920s.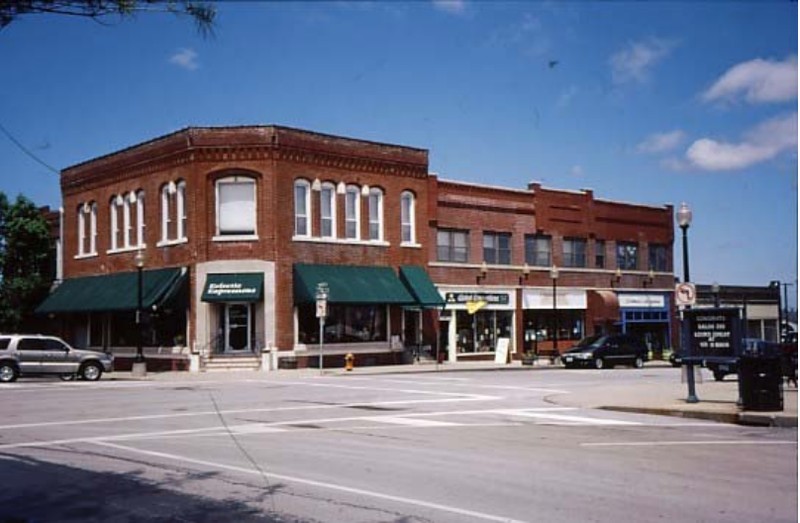 Backstory and Context
The Ott building may have been built by Christian Ott Sr., who moved to the area as a pioneer. In his life, Ott was known as a civic leader and a philanthropist, at one point serving as mayor. The building was constructed in 1887 with two stories and bricks on the interior and exterior and large windows. There are three storefronts, each has its own address and front door. The building has housed multiple different businesses over the years. In 1911, it was the home for a fruit shop, the Kansas City Home Telephone Company, and the Independence Water Works. The second story was used as offices for doctors, lawyers, and a chiropractor.
Eventually, the building fell into the hands of Albert Mohr Ott, son of Christian Ott Sr. While under his ownership, the building suffered damage from a fire in February 1915. It was practically destroyed as the only thing left without damage were the walls. Due to the fire, part of the layout was altered; for example, the display windows on the ground floor were changed.
Harry S. Truman and two other men took over the Community Savings and Loan Association in 1925. During that time, Harry worked as the manager. In 1926, Truman became President of the institution and moved its location to 204 North Liberty Street. The business did not succeed as Truman had hoped, stating, "My private business had gone to pot." Besides working in the building, Mr. Truman had another connection to the building. He was also related to the Ott's through marriage. Albert Ott was the father of Natalie Ott, who married Bess' brother, Frank.
Sources
Franklin-Weekley, Rachel (Evans Hatch & Associates). "Harry S Truman Historic District." National Park Service - National Historic Landmark Nomination Form, p. 85. https://dnr.mo.gov/shpo/nps-nr/71001066.pdf.
"Mary Ethel Noland Papers." Harry S. Truman Library & Museum. Accessed May 1, 2017. https://www.trumanlibrary.org/hstpaper/noland.htm.
Truman, Harry S. "Longhanded Note of Judge Harry S. Truman." Harry S. Truman Library and Museum. A
ccessed April 24, 2017. https://www.trumanlibrary.org/whistlestop/study_collections/trumanpapers/psf/longhand/index.php?docu...
Photo: Evans Hatch & Associates, via "Harry S Truman Historic District" NHL form
Additional Information