Dr. James Naismith Memorial
Introduction
This memorial commemorates the life Dr. James Naismith, the inventor of basketball. Naismith invented the game in Springfield, Massachusetts in 1891 while working as a physical education teacher at the International YMCA Training School. He wrote the game's original rulebook which is now located at the University of Kansas. In 1898, the university hired Naismith to develop its physical education program and to coach the newly formed basketball team, which he did until 1907. Interestingly, the first games had to take place in a local skating rink because the facilities at the university were inadequate. Over the decades the sport he invented grew in popularity; it was first introduced at the Berlin Summer Olympics in 1936 and the National Invitation Tournament and NCAA Championship Tournament began in 1938 and 1939, respectively. Naismith died in 1939 at his home here in Lawrence and is buried here with his first wife.
Images
The Dr. James Naismith Memorial honors its namesake, the inventor of the sport of basketball. Other prominent Kansas basketball figures, such as Larry Brown, are included in the memorial.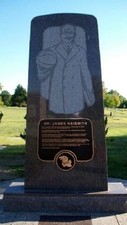 Sources
"Dr. James Naismith." The Historical Marker Database. Accessed May 5, 2017. http://www.hmdb.org/marker.asp?marker=54545.

"Naismith, James." Encyclopedia.com. Accessed May 5, 2017. http://www.encyclopedia.com/people/sports-and-games/sports-biographies/james-naismith.
Additional Information