Education Building, Marshall University
Introduction
Author-Uploaded Audio
This building was constructed in 1937 and known as Jenkins Hall until 2020. The building originally served as a laboratory school where enrollees of the college's teacher preparation program could teach students under the guidance of experienced teachers and their professors. The building was named in honor of Confederate General and Cabell County native, Albert Gallatin Jenkins. In 2020, the Board of Governors reversed a previous decision and voted unanimously to remove Jenkins' name in the wake of protests around the nation that were a response to the police killing of Goerge Floyd. Jenkins Hall was a functioning school for grades kindergarten through 12 until 1970 when it was repurposed to house Marshall University classes and offices. Today Jenkins Hall is the third oldest building on campus and houses a Learning Resource Center, a mathematics education laboratory, a science education laboratory, an electronic classroom, and the June Harless Center for Rural Educational Research and Development.
Images
Jenkins Hall is currently the third oldest building on Marshall University's campus.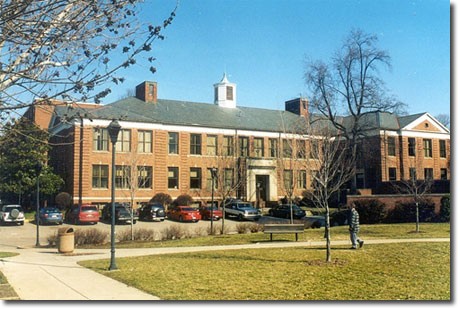 Jenkins Hall in 1938. The fence marks Marshall's original tennis courts.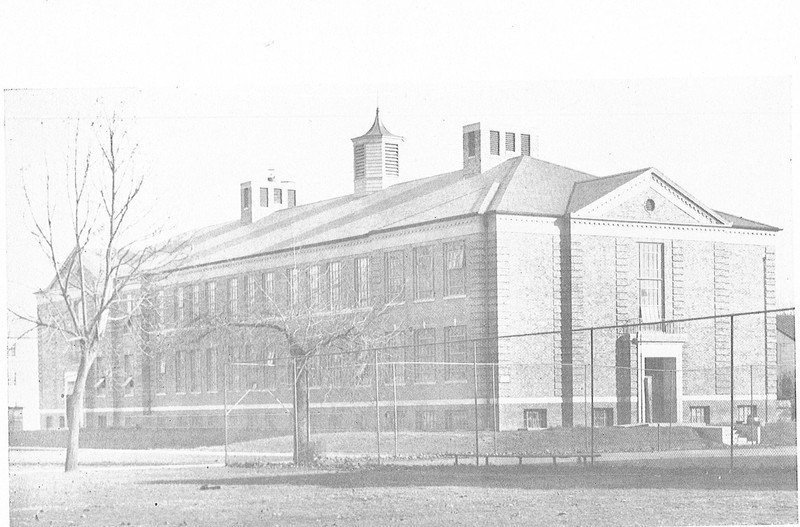 Albert Gallatin Jenkins, for whom the building is named.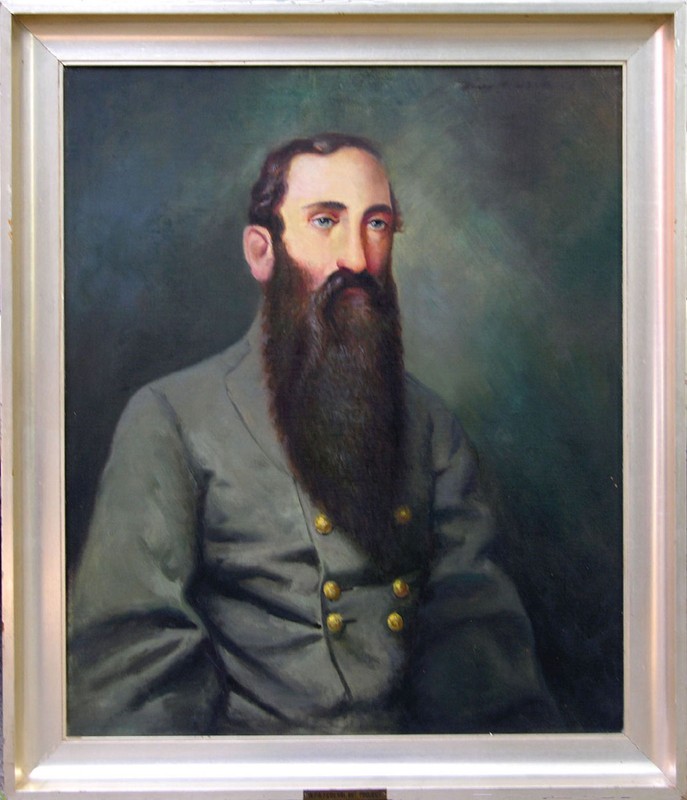 This 1862 image from Harper's Weekly depicts Confederate soldiers taking free people of color they captured to the South where they were sold into slavery similar to the actions of Jenkins' men in 1863.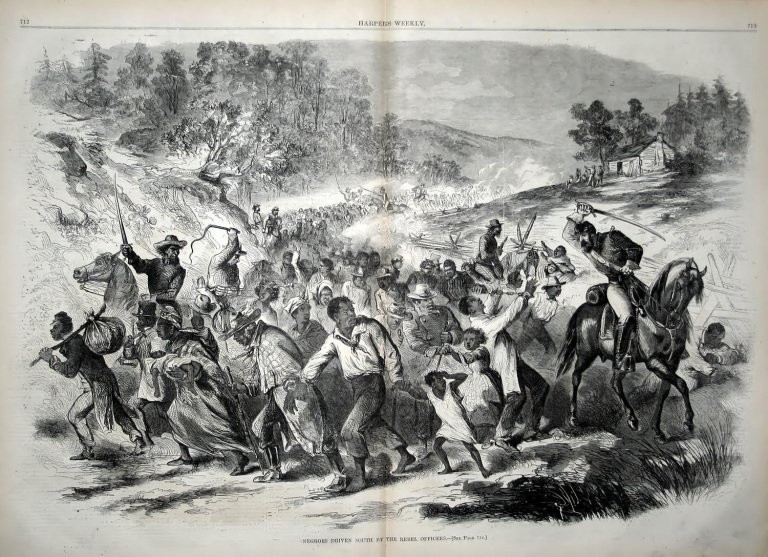 This monument placed beside Jenkins Hall honors students from the Marshall Lab School who served in the military during World War II.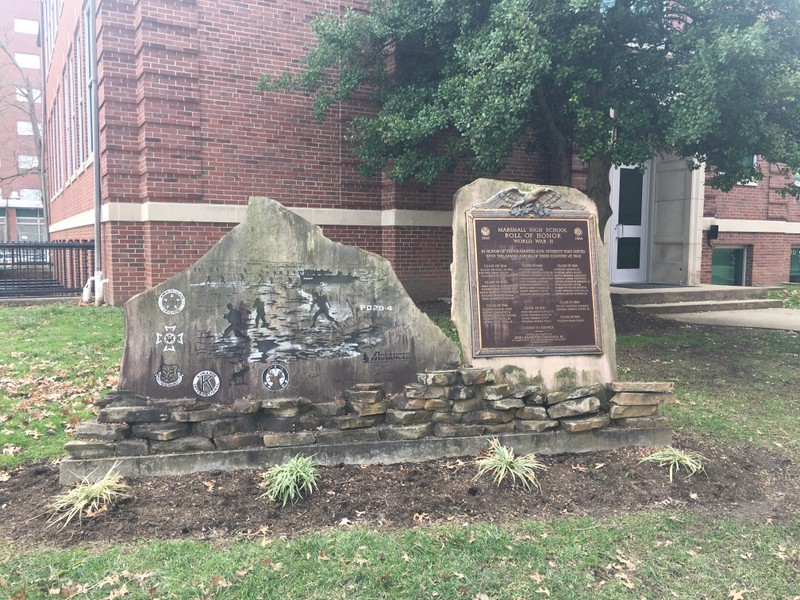 The Marshall Lab School Puzzle Tile Memorial mural was created during the 2019 renovations by Robert P. Hutton to commemorate the historic role of Jenkins Hall as a lab school.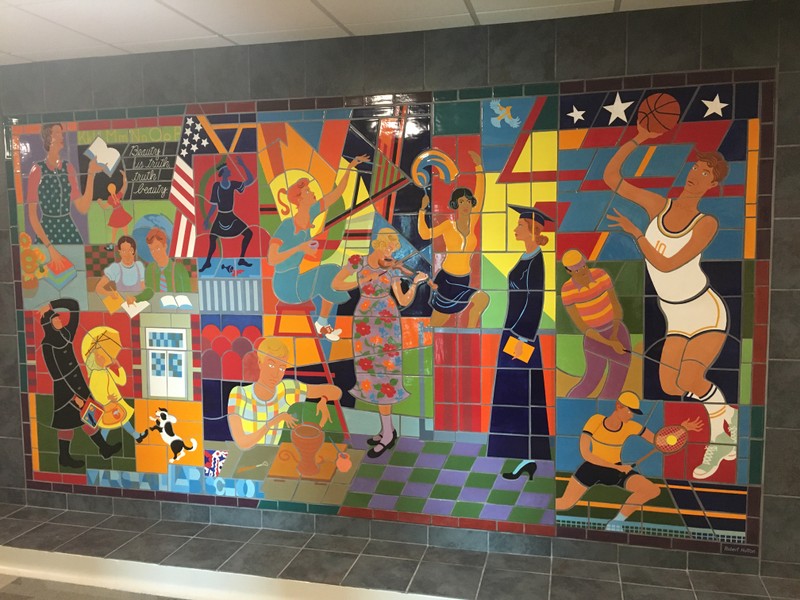 Backstory and Context
Author-Uploaded Audio
Albert Gallatin Jenkins was born on November 10, 1830, to Captain William Jenkins and Janetta Jenkins on their plantation in Greenbottom Virginia. Prior to settling in Greenbottom, William Jenkins traded wheat from Norfolk for coffee along the coast of Brazil. The Jenkins plantation enslaved 51 people in 1850, and while this number was estimated to reach 80 in 1860, records that would provide a precise number and the names of the enslaved have not yet been discovered. Captain William Jenkins died from pneumonia on November 17th, 1859, and he left his plantation to his three sons, Thomas, William, and Albert. Albert Jenkins inherited a portion of the plantation with the mansion house as well as many of the enslaved persons as his personal property.
Albert Gallatin Jenkins took an interest in education after watching his brothers and sisters attend a tutor-led school on the family plantation. Albert's father enrolled him and his brothers in Marshall Academy in 1845 and a family in Guyandotte was paid $30 to board Albert during his schooling at Marshall Academy until 1846. At that time, Marshall Academy was a single two-story building that could best be understood as a college preparatory academy. 
From 1846 to 1848, Albert and his brothers attended Jefferson College in Cannonsburg, Pennsylvania, an institution grew into Washington and Jefferson College. Due to their education at Marshall Academy, all three brothers entered Jefferson College as sophomores. After graduating from Jefferson College in 1848, Albert continued his education at Harvard University Law School. In 1850, at the age of 19, Albert graduated from Harvard Law School and was admitted to the bar later that year.
Albert began practicing law in Charleston upon his return to Cabell County and he quickly made a name for himself within the Democratic Party. On May 28th, 1857, Albert Jenkins defeated John S. Carlile and became the new Congressman from Cabell County. After a term in the state legislature, Albert defeated James M. Laidley and became a U.S. Congressman in 1859. Jenkins held this seat in Congress until the start of the Civil War in 1861 when he and many other Southern legislators abandoned their seats to support the Confederate States of America.  
On April 20th, 1861, Jenkins was named Captain of the Border Rangers, a pro-Confederacy militia composed of men from Cabell and Mason counties. Owing to Jenkins leadership of the unit, these men initially camped at the Jenkins family plantation in Greenbottom. The Border Rangers grew under Jenkins' leadership and the men swore an oath of loyalty to the Confederacy and officially joined the Confederate army on May 29th, 1861. In June of 1861, William McComas nominated Jenkins for a seat in the Confederate Congress at the Virginia State Convention.
Jenkins and his men were tasked with maintaining Confederate control of lands between the Guyandotte and the Big Sandy River at the beginning of the war. In August of 1861, Jenkins formed the 8th Virginia Calvary and was named Colonel. In 1862, Jenkins left the battlefield to become a member of the First Confederate Congress, but soon left Richmond after being appointed Brigadier General. During the war Jenkins led raids that resulted in the destruction of homes and the enslavement of free people of color in West Virginia and Pennsylvania. After initial success in causing headaches for Union forces, Jenkins' decision to focus more on stealing horses and attempting to capture free people of color for the purpose of selling them in Richmond limited his usefulness to the Confederate cause and caused Robert E. Lee and other leading Confederate officers to distrust Jenkins. Believing that Jenkins' had failed to support his request for reconnaissance and attacks on Union forces ahead of the Confederate offensive in Pennsylvania that culminated in the Battle of Gettysburg, Lee assigned another officer to stay with Jenkins and assigned the Border Rangers to a far flank in the Battle of Gettysburg.
Rather than faithfully executing his orders prior to Gettysburg, Jenkins and his men regularly avoided any confrontation with Union forces in June of 1863. Jenkins even earned the scorn of Pennsylvania newspapers when his men ran from a group of curious civilians, believing the women and men who had come to the Chambersburg area because they were eager to see a bit of the war firsthand might be a Union force. Instead of confronting the small pro-Union militias, Jenkins led raids on Greencastle, Chambersburg, and other neighboring Pennsylvania communities. These raids included multiple instances where local residents witnessed and recorded Jenkins and his men capturing people of color with the intention of selling them into slavery. These individuals included formerly enslaved persons who had escaped bondage as well as local residents who had always been free.
These events have been well-documented by historians dating back at least to the 1982 publication of When War Came This Way by now-retired historian Ted Alexander. Alexander served as senior staff historian at Antietam National Battlefield and his book is one of many secondary sources that chronicle the 1863 Pennsylvania raids of Jenkins and his men.   
In 2018, the Board of Governors of Marshall University declined a request by students and faculty to rename the building owing to Jenkins actions during the Civil War that included the capture and enslavement of free people of color. The Board of Governors issued a statement that included the following phrase: "There is some evidence that he even captured former slaves who had been freed by their owners to return them to slavery but we have been unable to document that fact." However, students, librarians, and historians had provided nearly two dozen documents demonstrating that Jenkins and his men knowingly captured and enslaved free people of color in addition to formerly enslaved persons who had escaped bondage.The Board of Governors may have not been privileged to read this information, however, owing to University President Jerry Gilbert's decision to hire an outside consultant whose report to the board failed to include the sources uncovered by students, faculty, and archivists. The report is publicly available, but the consultant refused repeated requests to also make the primary sources uncovered by archivists, students, and historians available.
Among the sources provided by historians was the Diary of Rachel Cormany, a resident of Franklin County witnessed Jenkins' actions firsthand and recorded them in her diary. On June 16, 1863, she recorded this passage:
June 16, 1863: Jenkins and his men were "hunting up the contrabands & driving them off by droves. O! How it grated on our hearts to have to sit quietly & look at such brutal deeds--I saw no men among the contrabands--all women & children. Some of the colored people who were raised here were taken along--I sat on the front step as they were driven by just like we would drive cattle. Some laughed & seemed not to care--but nearly all hung their heads. One woman was pleading wonderfully with her driver for her children--but all the sympathy she received from him was a rough "March along"--at which she would quicken her pace again. It is a query what they want with those little babies--whole families were taken. Of course when the mother was taken she would take her children. I suppose the men left thinking the women & children would not be disturbed. I cannot describe all the scenes"
Additional sources included a letter of Jenkins' own men and numerous other eyewitnesses collaborating these events. Numerous newspaper accounts were read by a historian at a public meeting, including the Lancaster Daily Express, June 20, 1863 which claimed that Jenkins and his men "went to the part of the town occupied by the colored population, and kidnapped all they could find, from the child in the cradle up to men and women of fifty years of age." 
The harm caused by Jenkins and his men is demonstrated by a letter of Priscilla Marshall. Marshall wrote to Freedman's Bureau officials on April 4, 1866 requesting help in finding her three children who were still missing after Albert Jenkins and his men captured them in 1863. Jacob Hoke was another eyewitness to the raids. His book about the Civil War includes several instances where Jenkins and his men captured formerly enslaved persons. According to Hoke, Jenkins' raiders also knowingly captured local free people of color. Hoke recorded that were was at least one instance where Jenkins was persuaded to release one of his captives after a local minister interceded with evidence proving that one individual he captured was a free man who had been living in Pennsylvania for some time. Hoke and one local newspaper both confirm that local residents interceded to free some of the people who had been captured by Jenkins and his men.
"In some cases these negroes were rescued from the guards, who were conducting them South, by the indignant people. A case of this kind occurred in Greencastle, in which a few determined men, armed with revolvers, captured a squad which had in charge a number of these poor frightened creatures, and released them from the unhappy fate which threatened them."
During the Battle of Gettysburg, Jenkins commanded his cavalry and was wounded in battle and did not recover for a month. In May of 1864, during the Battle of Cloyd's Mountain, Jenkins was severely injured and his arm being amputated. Jenkins died 12 days later from his injuries and was initially buried at Greenbottom. His body was later moved to the Confederate soldier plot in Spring Hill Cemetery in Huntington.
Jenkins Hall was dedicated with a groundbreaking ceremony in 1937 that honored the Confederate General who opposed the formation of West Virginia. He was also celebrated at the building's opening ceremony on April 6th, 1938. In the next few decades, the building that bore his name served as a laboratory school where students at Marshall College observed the teaching of area children. The laboratory school gave education students at Marshall classroom experience prior to graduation. Similar to other campus laboratory schools in the final decades of the 20th century, this public school closed in 1970 and the building became classroom space for Marshall students.
Following a 2020 decision by the Board of Governors, the building was renamed the Education Building. The building is home to the College of Education. In 2019, the Board of Governors voted to keep Jenkins' name on the building and installed a plaque that was intended to distance the university from the actions of Jenkins. The plaque was quickly removed after it was discovered that it included typos and a misspelled word. According to university officials interviewed by the local newspaper, the unanimous decision to rename the building came only after the "three or four" prospective donors who had previously threatened to withhold potential donations conceded to the name change. Regardless of the name of the building, this has been the place where generations of teachers have been trained, and the two audio recordings that are part of this entry reflect the perspectives of students and teachers.
Sources
Dickinson, Jack L.. Dickinson, Kay Stamper. Gentleman Soldier of Greenbottom: The Life of Albert Gallatin Jenkins. 2011.
Geiger, Joe. Civil War in Cabell County, West Virginia 1861-1865. Charleston, WV. Pictorial Histories Publishing Co., 1991.
Green, Hillary, "The Persistence of Memory: African Americans and Transitional Justice Efforts in Pennsylvania," in Paul Quigley and James Hardon, eds. Reconciliation After Civil Wars: A Global Perspective, New York: Routledge, 123-149.
Jacob Hoke, The Great Invasion of 1863; General Lee in Pennsylvania. Dayton, Ohio: W.J. Shuey, 1887. 
James C. Mohr (ed.), The Cormany Diaries: A Northern Family in the Civil War (Pittsburgh: 1982), pp. 329–30.
Letter of Isaac Reynolds, August 9, 1863. http://russellvets.org/letters/reynolds12.html
Lancaster Daily Express, June 20, 1863 
Wallace, George Selden. Cabell County Annals and Families. Richmond, VA. Garrett & Massie, Publishers, 1935.
Johnson, Flora Smith. The Civil War Record of Albert Gallatin Jenkins, C. S. A.. WV Division of Culture and History. July 01, 1947. Accessed May 03, 2017. http://www.wvculture.org/history/journal_wvh/wvh8-1.html.
Dickinson, Jack L. "Albert Gallatin Jenkins." e-WV: The West Virginia Encyclopedia. 07 December 2015. Web. 05 May 2017.
Nance, Karen N. Cartwright "Green Bottom." e-WV: The West Virginia Encyclopedia. 05 August 2016. Web. 05 May 2017.
Virtual Tour: Jenkins Hall. Marshall University. Accessed May 03, 2017. https://www.marshall.edu/campus/virtualtour.php?id=16.
Bozzoli, Carlos. Jenkins Hall. Marshall University Architectural Guide. Accessed May 03, 2017. http://www.marshall.edu/virtual-tour/google-earth-3d-tour/architectural/JenkinsHall.html.
In 1993, Ed Ayers led a team of scholars at the University of Virginia in the creation of the Valley of the Shadow Project. This pioneering work made thousands of records relating to the Civil War in Franklin County available online. This database includes a dozen sources confirming the nature and scope of Jenkins' raid http://valley.lib.virginia.edu
Letter of Priscilla Marshall to Orlando Brown, April 4, 1866, Records of the Assistant Commissioner for the State of Virginia, Bureau of Refugees, Freedmen and Abandoned Lands, 1865-1869, National Archives and Records Administration, Record Group 105, M1048, roll 17. Creation of machine-readable version: 
Desi Hopkins, University of Virginia Library, Valley of the Shadows Project http://valley.lib.virginia.edu/papers/B1226 Used with permission from National Archives and Records Administration
The William Heyser Diary," Kittochtinny Papers, Franklin County Historical Society, volume XVI, p. 74.
Additional Information