La Riviere (Ingles Castle)
Introduction
Built in 1892 by William Ingles, this estate was inducted into the National Register of Historic Places in 1994 for its association with relevant historical figures and distinctive architecture for its period of significance. The undeveloped land was given to Thomas Ingles by his father William Ingles, of London England, husband of the well-known Mary Ingles. Thomas's son, also named Williams Ingles, later inherited the property. He was a prominent civil engineer and notable businessman in the area of present day Radford, Virginia. He designed the existing home in the late-Victorian Queen Anne style trending among prosperous businessmen, while incorporating a plethora of creative and unique qualities. The residence remains the private dwelling of members of the Ingles family; however, the grounds may be booked for special occasions.
Images
by BlueEyesDream via: Divianart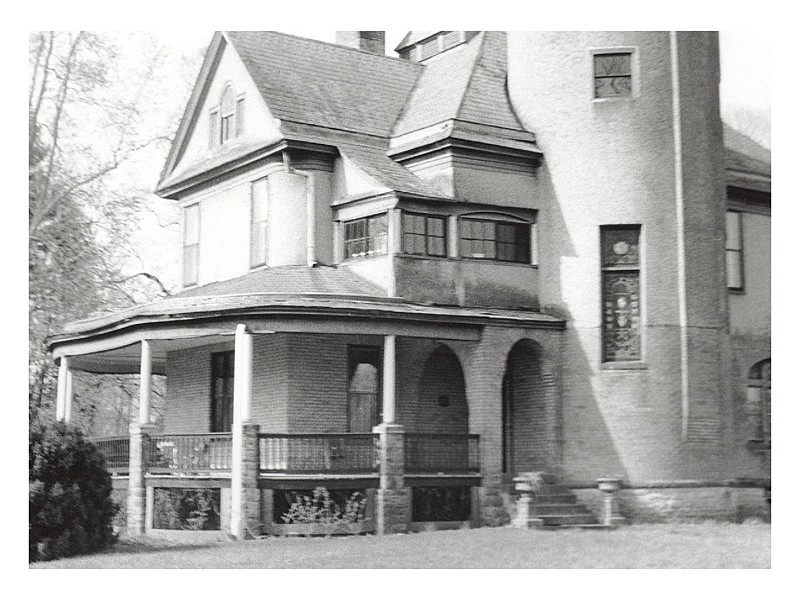 by John MacKinnon via: Panoramio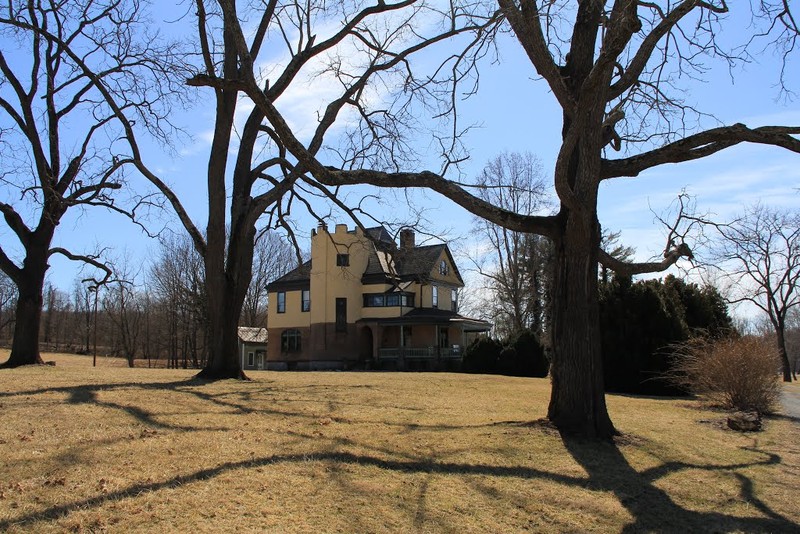 by John MacKinnon via: Pinterest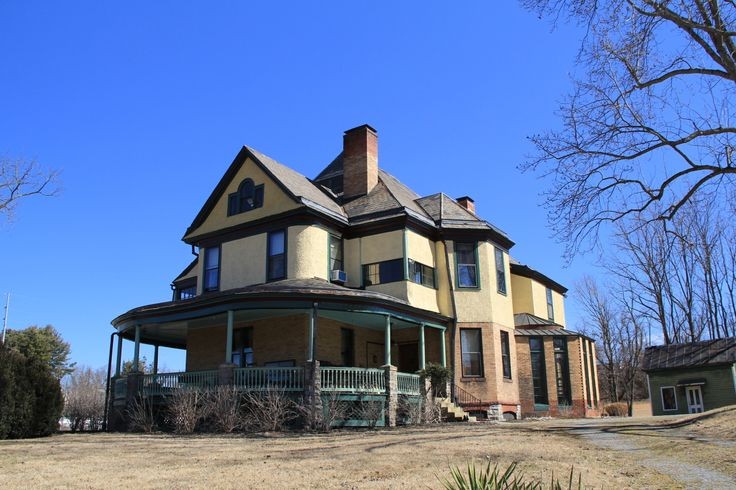 Wedding on front lawn by Elegantviolin.com via: Pinterest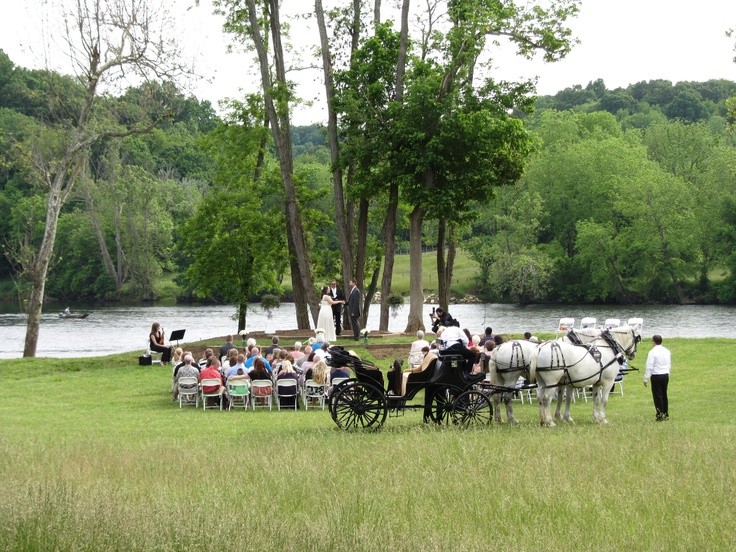 Backstory and Context
The original La Riviere was built in the early 1800s by Thomas Ingles, who had been given the initial 20 acre tract by his father, William Ingles- owner of much of the surrounding land in the late eighteenth/ early nineteenth century via a land grant awarded to him for his services in the American Revolution. Thomas, along with his mother Mary Ingles and little brother George (age 2), was kidnapped when he was 4 years old by a band of Shawnee Indians during the French and Indian war in an event known as the Draper's Meadow Massacre. He was separated from his mother (who later escaped) and brother (who died soon after) and was allotted a new Indian family. Thomas suffered Stockholm syndrome, in which a captive will develop a psychological affiliation with their captor and form a bond as a defense mechanism. He was located by his family and rescued by the age of 15; however, he had assimilated so greatly with the Indians that he had lost most of his native tongue and memories of his biological family. He would not accept their consanguinity and soon ran away back to his Indian family.
At the age of 18, Thomas returned and, after struggling to homogenize, became a productive member of society: joining the military, getting involved in politics, and starting a family with an Eleanor Grills. The couple had a girl they named Mary and a son they named William after Thomas's parents. Eleanor had just given birth to another little girl, they named Rhoda, when a gang of rogue Shawnee Indians (members of the same tribe whom Thomas had grown up with) attacked Thomas's home while he was working in the fields. Without any weapons, he watched his home (the original La Riviere) plundered and burnt to the ground as his own family was abducted, just as his father watch him be taken away when he was a boy. Thomas knew where they were headed though, and hurriedly assembled a rescue party in a nearby village. The group ascended upon the Indians by surprise, who then began to tomahawk their prisoners. Little Mary (age 5) and William (3) did not survive, and Eleanor had taken a serious blow to the head, requiring extensive surgery to extract several skull fragments. Eleanor and their newborn Rhoda survived and the family relocated to Mississippi where the couple later added twins, William and Thomas Jr., to the bloodline.
The eldest twin, William Ingles, designed and built the La Riviere that can be seen today. The only remnants of the original La Riviere are an ice house, a chimney ruin, a couple decorative urns by the front porch steps, and the original circular driveway, for horse drawn carriages could not reverse and neither could early automobiles. William moved to the Radford area after his grandfather died to be near his grandmother, Mary Ingles. He attended Washington College in nearby Lexington, Virginia, and became a highly skilled civil engineer: renowned in Virginia, West Virginia, and the Carolinas. He built a covered bridge that retired Ingles Ferry for nearly 22 years before Union troops destroyed the bridge and the ferry remained the only local passage across the New River. After Mary Ingles's death, William memorialized his honorable grandmother by designing and building a stone obelisk in downtown Radford that still stands today.
Later in life, after becoming a successful civil engineer and established businessman in the budding town of Radford, Virginia, William decided to build a home for him and his wife, Minnie, on the La Riviere land passed down to him from his father, Thomas. This was a nearly 20 acre tract along the New River occupied by deciduous trees and the remains of an apple and pear orchard (some original pear trees still remain and have been know to live for over 350 years). William constructed La Riviere 2 in the late-Victorian, Queen Anne style, with cherry wood finishes and silver doorknobs. The home unfortunately burnt down by an unknown cause the night before the couple were to move in. Discouraged, William hired a contractor to build the home that stands today in the same Queen Anne style; however, this time incorporating a distinctive two-story battlement tower on the North side. At a time when the average american home was typically around 900 square feet, this mansion is over 6,000 square feet; still massive by today's average american new home size of around 2,400 square feet. Commonly referred to as the Ingles Castle, the residence boasts a conservatory, library, parlor, and ornate stained glass windows. The exterior has a stucco second level and a brick first level with a wooden wrap-around porch overlooking the New River.
William and Minnie Ingles were relative socialites in Radford, Virginia, involving themselves in much of the city's affairs. They occasionally threw parties at La Riviere, but more often than not had guests staying/living with them. The image of one frequent resident was burned into the silver backed mirror over the mantel in the library, via lightning photography. As she passed in front of the mirror, a bolt of lightning struck nearby and the flash caused the very rare event, a snapshot of the woman that can still be seen in the mirror today.
William and Minnie had no children of their own, and the estate was passed to William's twin brother, Thomas Jr., after their death. Descendants of Thomas Ingles still live in the residence today. In 1994, the now 14 acre property was deemed worthy of preservation by the National Park Service and is protected under the National Historic Preservation act of 1966.
Sources
J. Daniel Pezzoni, United States Department of the Interior National Park Service, National Register of Historic Places Registration Form, Roanoke, Virginia: Preservation Technologies. Inc. (January 3. 1994), all.
Luther F. Addington, Attack on Thomas Ingles' Family, Historical Sketches of Southwest Virginia, (1967), all.
Additional Information