John Speer Farmstead and the Murphy-Bromelsick House
Introduction
Located in Hobbs Memorial Park, this site is historically significant for two reasons. The property was once a farmstead owned by staunch abolitionist John Speer, and the old building, the Murphy-Bromelsick House, is an excellent example of mid 18th century architecture and a serves as a window to the past. John Speer was a key figure in Kansas during the pre and post-Civil War periods. He worked as a newspaper publisher and wasn't afraid to make his views known. During the height of the war in 1863, his homestead and family were attacked by the infamous Quantrill Raid, which occurred on August 21 of that year. A contingent of 450 Confederate irregulars, led by William C. Quantrill, attacked the town, leaving 200 men and boys dead or missing. They targeted abolitionist leaders and their families; John survived by hiding in a cornfield, but his two eldest sons were killed. If it weren't for Speer's efforts, as expressed through his newspaper, Kansas may not have joined the Union as a free state in 1861. The Murphy-Bromelsick House was built between 1866-1869. It was located just 300 yards away from the current location, saving it from demolition, in 2000. Irish and German immigrants built and lived in it through much of the first half of the 20th century.
Images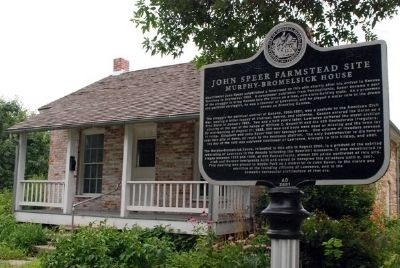 Backstory and Context
John Speer, a Quaker, arrived in Kansas in 1854 from Pennsylvania. He began working as a newspaper publisher in the 1830s. His newspaper in Kansas was one of the first to be established in the state. It was the early predecessor to the current Lawrence Journal-World.
Sources
Paterik, Stephanie. "Residents honor Lawrence abolitionist through Hobbs Park memorial." Lawrence Journal-World. Monday, July 16, 2001. http://www2.ljworld.com/news/2001/jul/16/residents_honor_lawrence_abolitionist.

"John Speer Farmstead - Murphy-Bromelsick House." The Historical Marker Database. Accessed May 4, 2017. http://www.hmdb.org/marker.asp?marker=37581.

Photo: The Historical Marker Database
Additional Information