G. L. Hulbert's Store
Introduction
In September 1941, G. L. Hulbert opened the second-largest general store in the country in Buffalo. The self-made businessman had outgrown his little country store and decided to expand to a 30,000 square foot store. The store delivered everything that you needed and would even trade certain goods in place of paying with cash. G. L. Hulbert was a very respected man in the community and everyone knew who he was when they saw him. The two-story store was a big part of the town's daily life until 39 years later the store burned in the night.
Images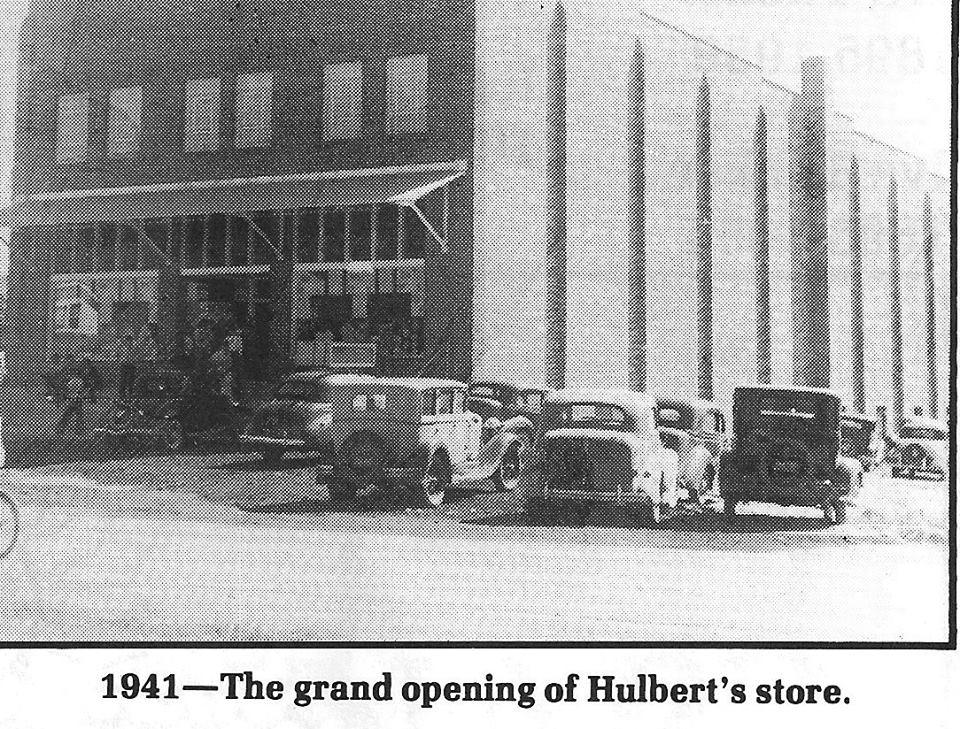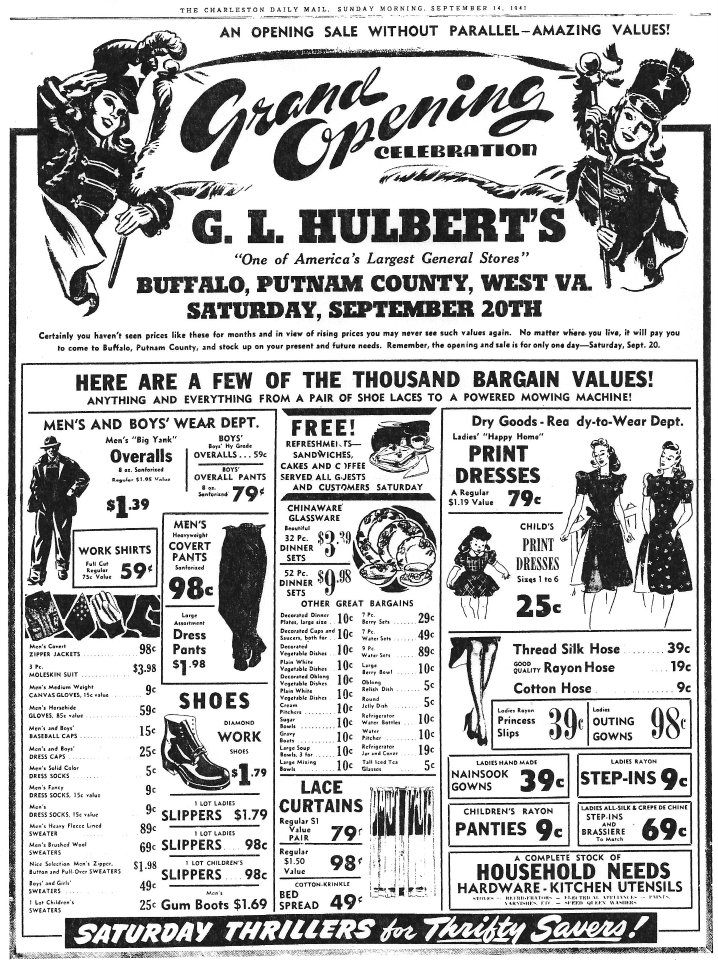 Delivery Truck for Hulbert's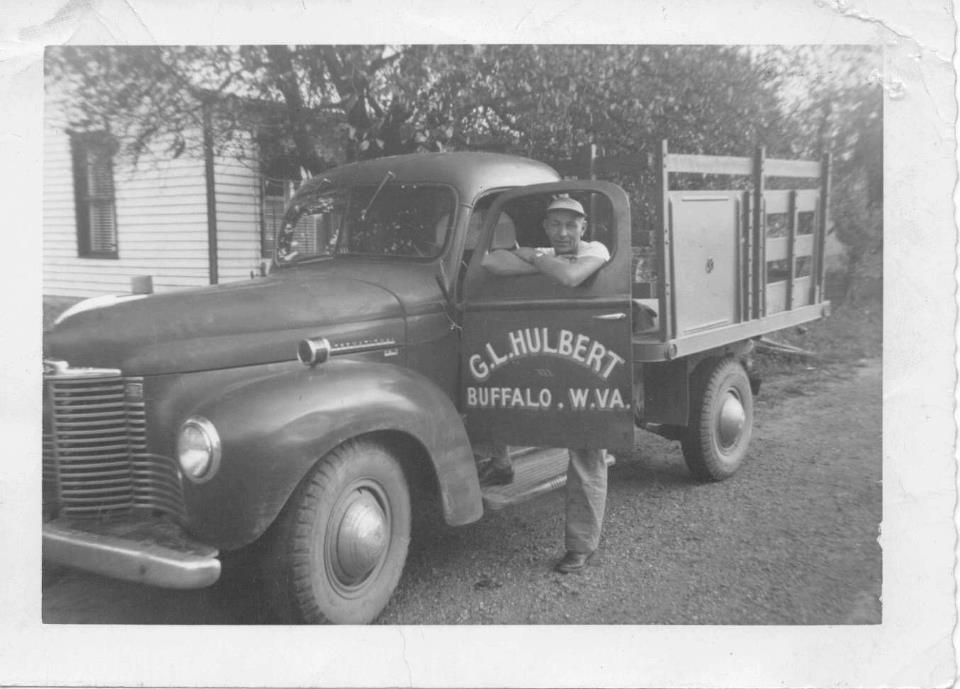 Picture before and after the fire in 1980 that destroyed the store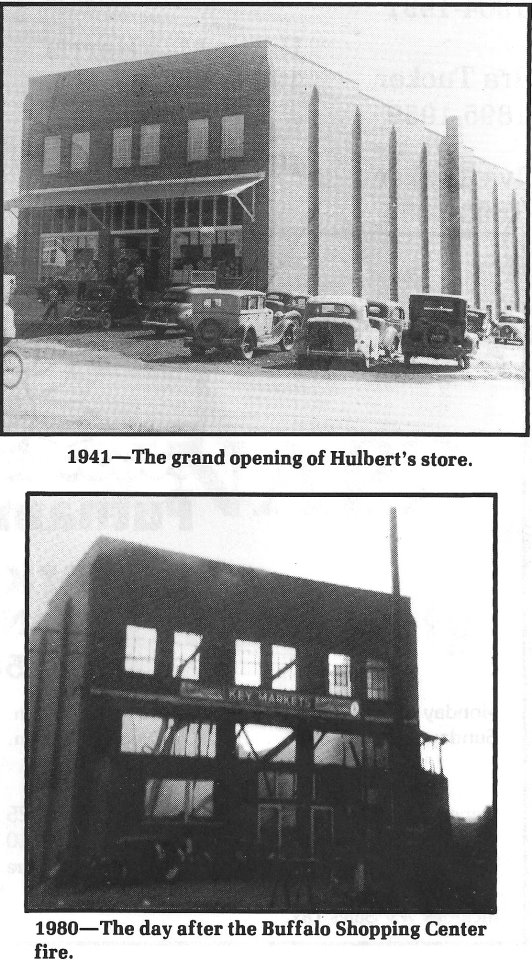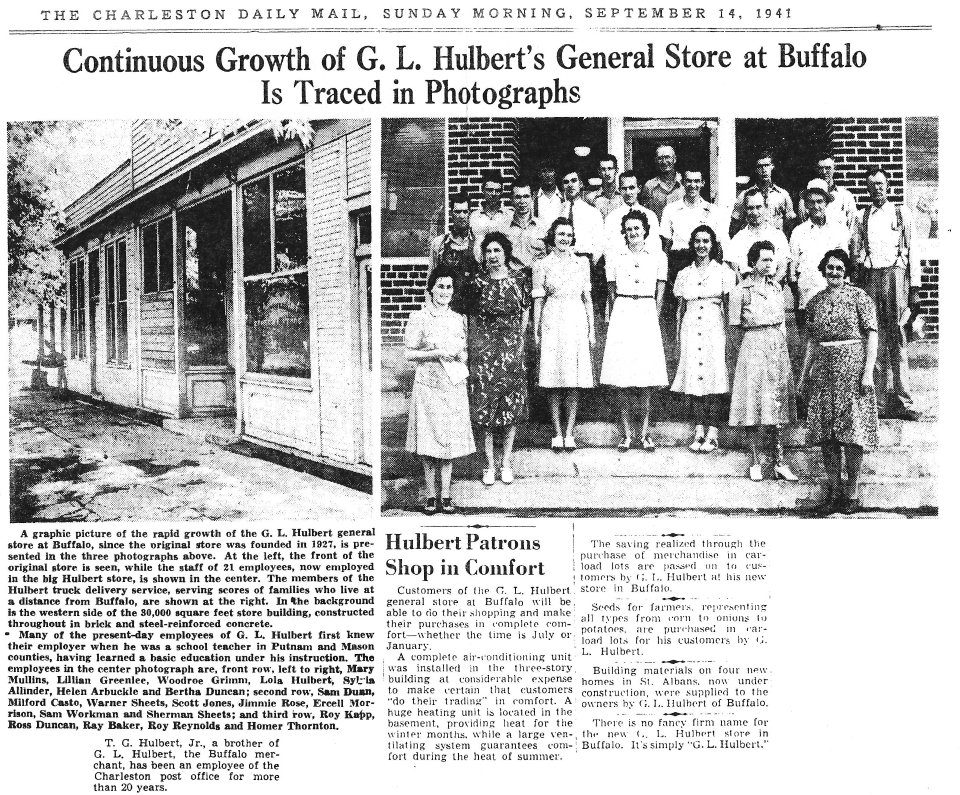 Local Newspaper Articles (Upper left) G. L. Hulbert's home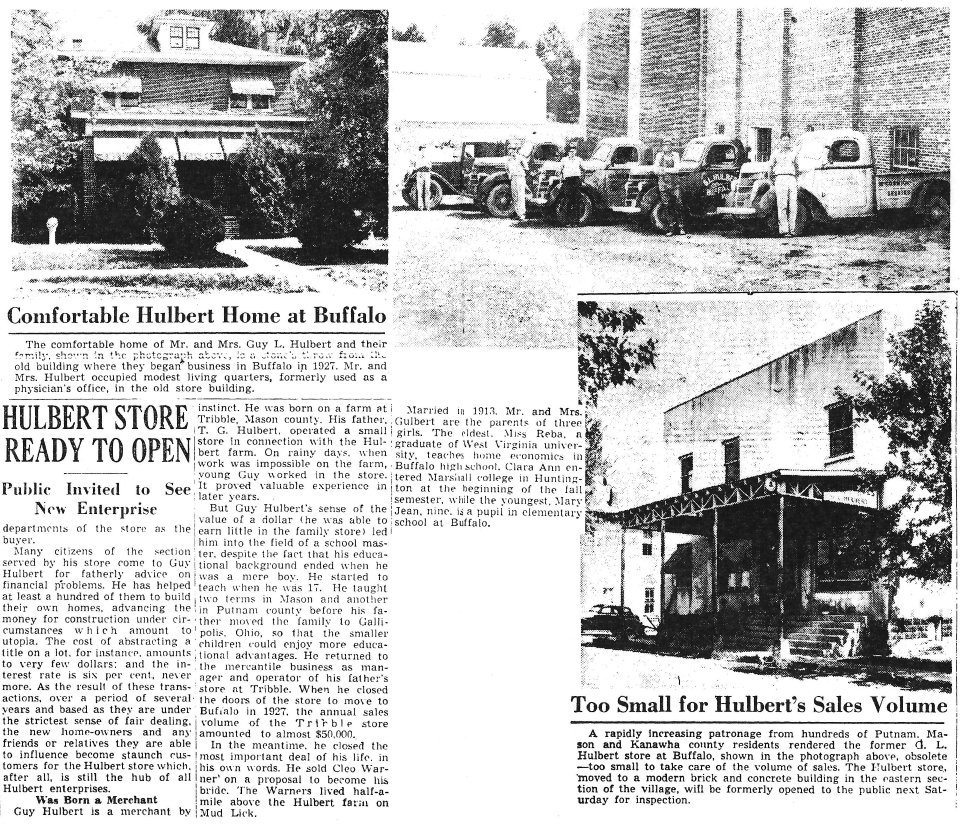 Backstory and Context
G. L. Hulbert moved his family from Mason County to Buffalo, West Virginia in 1927. In September 1941, Hulbert opened the second-largest general store in the country in Buffalo. Hulbert's daughter Reba Sheets recalls, "I probably never heard of Buffalo till we moved there. But he must have seen the possibility of a good bit of trade."1
The 30,000 square foot store had everything that you could have ever needed and then some. Farmers and Riverboat workers from miles around came to shop Hulbert's store. Before G. L. Hulbert's Store opened, farmers and others in the area had to travel using the river to shop in Huntington, Charleston, or Gallipolis, Ohio. Upon opening, Charleston, West Virginia newspapers gave the store high profile news coverage.
Mr. Hulbert had previously owned another store beside his home before he ran out of the room and decided to build a much larger store in 1930. The store drew exponential amounts of attention and even had a delivery for goods brought at the store. Hulbert expanded the store to three floors in 1940. Reba's husband, Warner Sheets, who worked at the store, said, "we unloaded 255 boxcars a year. Mr. Hulbert would buy two carloads of sugar at a time. Vinegar by the carload. A tractor-trailer load of lard."1 Shoppers also traveled from Ripley and Point Pleasant in cars, wagons, and on horseback. 
Shoppers bought appliances, dry goods, groceries, and even farm machinery., and they would wait half a day to be waited on. Going to Hulbert's general store was a part of social life during the time. The unimaginable happened though just 39 years after opening, the store caught ablaze and burnt to the ground overnight in 1980.
Sources
Tuckwiller, Tara. The Community of Buffalo (Putnam County), Charleston Gazette. September 21st 1998. Accessed December 18th 2019. http://www.wvculture.org/history/communities/buffalo03.html.
Rushbrook, Bonny. Buffalo's Octoberfest continues to grow, The Putnam Herald. October 17th 2008. Accessed December 18th 2019. https://www.herald-dispatch.com/news/buffalo-s-octoberfest-continues-to-grow/article_df1d22e2-9a61-5442-a0c3-5f3e54fe1bc5.html.
Additional Information