United Freedom Movement Challenges School Segregation at Murray Hill School in Cleveland, 1964-1965
Introduction
In the spring of 1964, progressive white and Black residents of Cleveland charged their public school system of system-wide discrimination and racial segregation within individual schools. Members of the United Freedom Movement held protests at the Murray Hill school and others in the Little Italy neighborhood. Some whites in the Little Italy neighborhood rioted against the practice of busing Black children to schools in their neighborhoods. From their perspective, suburban schools were largely exempt from busing plans, and their children were being unfairly singled out to participate in forced integration. In January 1964, violence broke out between white counter-protesters at the Murray Hill School and the members of the UFM. Tensions were high at other schools and police barely prevented a riot at the nearby Memorial School. Opponents of the UFM and busing used these incidents to derail progressive school leaders and their plans for bussing.
Images
United Freedom Movement members picket the Cleveland Board of Education in September 1963.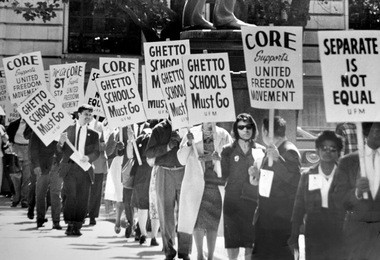 Whites attack a UFM demonstrator in the Murray Hill neighborhood in January 1964.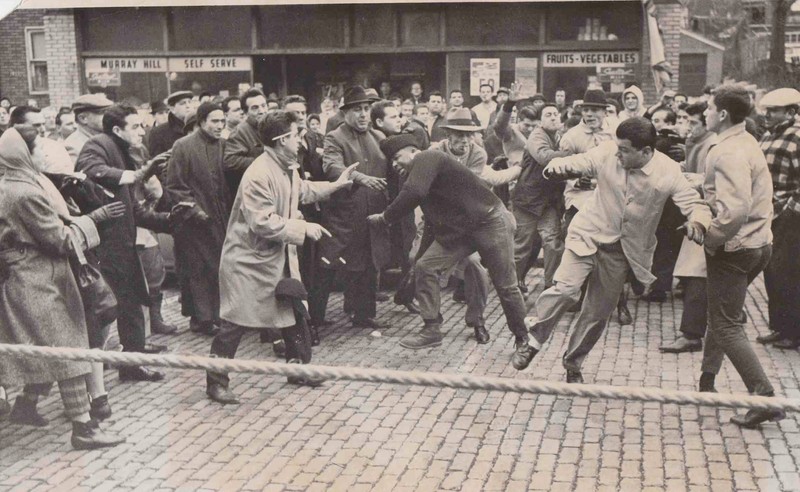 Backstory and Context
Inspired by the growing movement to end discrimination in housing, employment, and education, progressive citizens in Cleveland formed the United Freedom Movement in June 1963. Harold B. Williams, executive secretary of the local NAACP, was the coordinator of the UFM-as the title suggests, the UFM was envisioned as a coalition of existing civil-rights organizations such as the local NAACP and others along with African American religious and social organizations. In August 1963, the UFM turned their attention to de facto racial segregation in public schools. Although the Supreme Court had outlawed school segregation, Black and white residents in Cleveland and other northern cities usually lived in racially-segregated neighborhoods, and so many schools were all-Black or all-white.

UFM Members also held sit-ins at the school board meeting, protesting against what they believed was a system of de facto segregation and a policy to create new schools in predominantly white areas of the city. Although members of the UFM protested and even picketed at construction sites (leading to one death) of new schools that they believed were perpetuating a system of racial segregation, the leaders of the school board refused to meet with UFM leaders. With little success in convincing school leaders to create new schools in racially-mixed areas and a string of violent confrontations and internal disputes about whether UFM should endorse political candidates, the organization slowly fell apart between 1965 and 1966.

Sources
Leonard Moore. "School Desegregation Crisis of Cleveland." Journal of Urban History 28, no. 2 (January 2002): 135-157.

"United Freedom Movement." Case Western Encyclopedia of Cleveland History. Accessed May 7, 2014. http://ech.case.edu/cgi/article.pl?id=UFM
Additional Information