Progress Mill
Introduction
Located on the Front Street in Buffalo, the Progress Mill was not only a huge supplier of goods to the nearby community of Buffalo. But was also the living quarters for the 8th Virginia regiment soldiers during the Civil War. During the Winter of 1861 to 1862, soldiers trained in Buffalo and went off to battle. Some dying in the mill do to typhoid fever caused by the mosquitoes that bred in the mills flooded basement. The mill was later torn down, but remnants of the building still remain on the site.
Images
Company D, 8th (West) Virginia Infantry Regiment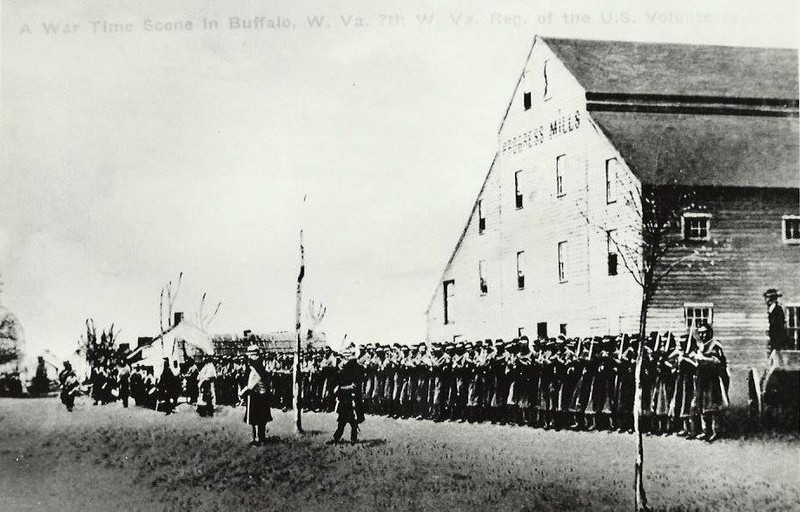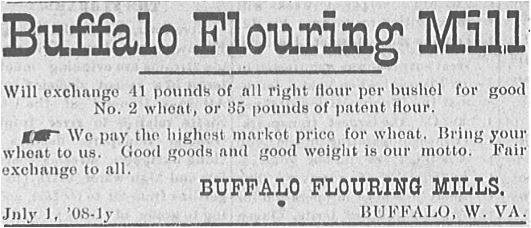 Backstory and Context
The Progress Mill located in Buffalo provided milled goods to the local people of Buffalo, Eleanor, and boat travelers that came up the Kanawha River. The mill operated by water, turned milling stones that grind corn and other grains into flours. The four story mill plus basement, turned out large amounts of products a day and was a great means of work for many locals.
During the Civil War, the mill was also home to the 8th (West) Virginia Infantry Regiment. Shown below, was one of the only Civil War photographs that shows the soldiers that were quartered here from the year 1861 and 1862. During the winter of these years, the soldiers trained and lived in the community of Buffalo. The soldiers were ordered in April of 1862, to go to New Creek, (West) Virginia and left the town of Buffalo. Over their two years together, only 8 men were lost a 2 officers wounded in battle. Another 167 out of the regiment would be lost due to disease over the course of the war. Several soldiers died in the mill during their stay due to typhoid fever caused by the mosquitoes that were bred and hatched in the flooded basement of the mill.
The mill was later destroyed, and the remnants of the structure still remains today.
Sources
Local Historian Society Private Interview "Mark Harris"