Hotel Theresa
Introduction
The Hotel Theresa was built from 1912 to 1913. Although the original owner barred African American guests, the hotel became one of the most important centers of Black cultural, economic, and civic life in Harlem after Love B. Woods, an African American businessman, purchased the building and opened it to all guests. During the 1940s and 1950s, Hotel Theresa was one of the few full-service hotels in the city that truly welcomed African American guests. As a result, musicians, political leaders, athletes, movie stars, and civil rights activists usually stayed at Hotel Theresa when they visited the city. The hotel closed in 1967, the result of several factors including the end of segregation. The building remains one of the most beautiful in Harlem with its Terra Cotta exterior and grand architectural design. The hotel was built by the architectural firm of George and Edward Blum and served mostly as apartment complex for temporary residents. However, the hotel eventually welcomed traveling guest who were in town for short stays. The hotel also contained a two-story dining room that was used for banquets, weddings, meetings, and other functions along with a bar and grill that was a major gathering place for the Black residents of Harlem. During the 1940s and 1950s, Hotel Theresa was recognized as the center of Harlem, hosting many prominent Black social, political, entertainment and sports figures, as well as many foreign diplomats. Muhammad Ali, Malcolm X, Joe Louis, and Josephine Baker were some of the visitors of the world-renowned hotel. Hotel Theresa was also home to important Harlem institutions, including the March Community Bookstore and Malcolm X's Organization of Afro-American Unity. The hotel is also famous for hosting Cuban president Fidel Castro, who chose to stay at the hotel while visiting New York. The building is now known as Theresa Towers and home to apartments and office spaces.
Images
Now home to apartments and office spaces, Hotel Theresa was a center of Black life in Harlem in the 1940s and 1950s.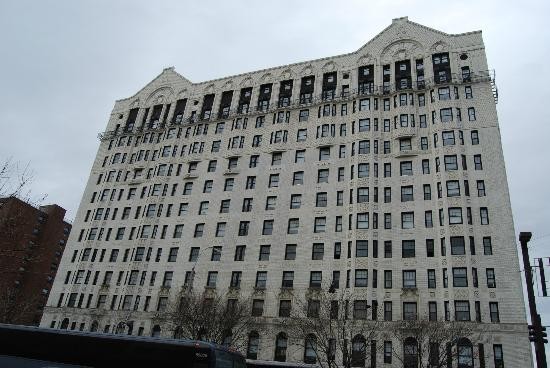 Backstory and Context
Hotel Theresa deteriorated throughout the 1960s owing to the costs of maintenance and the decline in high-profile guests. The end of formal and informal practices of racial segregation throughout other hotels in the city gave Black visitors more opportunities to stay at hotels that were spread throughout the city. In 1966, sections of the hotel were converted into office spaces and the hotel closed the following year. Despite the hotel's decline, Hotel Theresa remains an important fixture in African American history as the home of many civil rights organizations and the place that allowed Black visitors to network with one another and be treated with dignity.
Sources
Hotel Theresa, New York City Landmarks Commission, July 13, 1993.
Additional Information