Battle of Resaca De La Palma
Introduction
One of the first battles of the war between Mexico and the United States, the Battle of Resaca de la Palma was fought at this location on May 9th, 1846. IN this battle, United States General Zachary Taylor engaged retreating Mexican forces under the command Mexican general Mariano Arista. The battle had resulted in an American victory and ended up pushing the Mexican forces out of South Texas.
Images
The battlefield today contains walking trails with historic markers.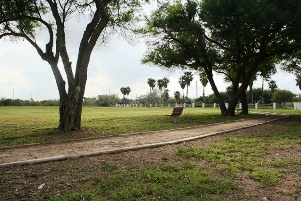 Backstory and Context
Following the events at Palo Alto, on the morning of May 9th Mexican forces under General Arista had moves to a position along the Resaca de la Palma and began digging in for a defensive stand. By 10 AM of that day Arista had placed his forces inside of the ravine that was thickly forested all around to reduce the danger posed by the American's artillery. Taylor's forces arrived in Resaca de la Palma around 3:00 PM. With Taylor was 4th and 5th infantry as well 4th and 3d infantry on both his right and left sides.
When the fighting broke out a mostly disorganized and uncoordinated due to the dense vegetation of the area and the Mexican artillery. Here at this point Taylor had ordered a charge to clear the Mexican artillery. In charge of this was Captain Charles May's along with his squadron of dragoons. In his attempt to silence the Mexican guns, May's charge had gone way past the guns and were able to capture a Mexican general. Although they had completed one feat their main goal of trying to take the Mexican guns was a bust.
To this Taylor then went to Brigadier General William Belkip and ordered him and his men to take the guns that May's had failed to take. Once the Mexican guns were taken some of the Mexicans began to retreat. Not long after this the 4th infantry of Taylor's army began coming up the Mexicans left flank. This allowed the American troops to take and hold the Mexican guns here as well. Here the US was able to defend against the final assaults of the Mexican army ultimately sending them back across the Rio Grande in a panic.
Sources
Hickman, Kennedy. "Mexican-American War: Battle of Resaca De La Palma." ThoughtCo, www.thoughtco.com/battle-of-resaca-de-la-palma-2361050. Accessed 3 May 2017.

"Resaca De La Palma." National Parks Service, U.S. Department of the Interior, www.nps.gov/paal/learn/historyculture/resacadelapalma.htm. Accessed 3 May 2017.
Additional Information