Mount Zion Baptist Church
Introduction
The Mount Zion Baptist Church was rebuilt after the Tulsa Race Riot of 1921. Located in Tulsa, Oklahoma, the Mount Zion Baptist Church is one of the most historic symbols of African- American history in the area. When the church was damaged during the Tulsa Race Riot of 1921 it took a collaborative effort from the local community to rebuild and revitalize the church.
Images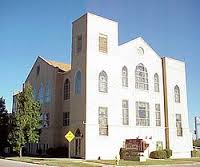 Backstory and Context
The Tulsa Race Riot is regarded as one of the most significant race riots in the history of the United States. Most of the historical documents were destroyed during the race riot.
Many African-Americans migrated to Oklahoma from Arkansas, Louisiana, Mississippi and Texas searching for a better life. A few were brought as slaves by various Indian nations during the "Trail of Tears", when the United States federal government removed the Choctaw, Seminole, Creek, Chickasaw and Cherokee American Indian Nations from their land to what would become the state of Oklahoma. Many African- Americans found a better life in the state of Oklahoma, and in towns such as Red Bird, Tullahassee, Boley, Rentiesville and Taft, African-Americans started successful businesses, becoming entrepreneurs and becoming a self-sustaining society. During the Race Riots in May 31, 1921, the church played a vital role as African-Americans sought to defend their community from the riots. Whites in the area generated rumors that the church was a hording place for weapons. The church building provided the black community with a place where blacks could defend their homes from whites who were intent on destroying the community. Despite the fight of the black community, some whites brought a machine gun to the church, killing some blacks defending the church. The church was burned and most of the building was destroyed. Despite the church suffering an immense amount of damage the local black community was adamant on rebuilding the church.


The Mount Zion Baptist Church is a significant aspect of black history. The church was a key location for blacks to defend their community during the Tulsa Race Riot. The church was a fixture in the black community serving not only as a place to worship, but also serving as a safe haven for the black community. Still in operation today, the church represents the local black community's commitment to sustain their community. The church was burned in the Race Riot, but as since been rebuilt.
Additional Information