Battle of Waynesboro; Jubal Early's Last Battle
Introduction
The Battle of Waynesboro occurred near this historical marker on March 2, 1865 and featured the final battle of Confederate Lieutenant General Jubal Early. The Shenandoah Valley had been the location of many battles in the Civil War, but near this location in the spring of 1865 General Philip Sheridan's superior force routed Confederate troops and gave the Union control of the region. Union cavalry in this battle were led by George Armstrong Custer, the infamous commander of the ill-fated mission against Native Americans at the Battle of Little Bighorn in 1876.
Images
This historic marker emphasizes the battle as the final engagement of Confederate General Jubal Early.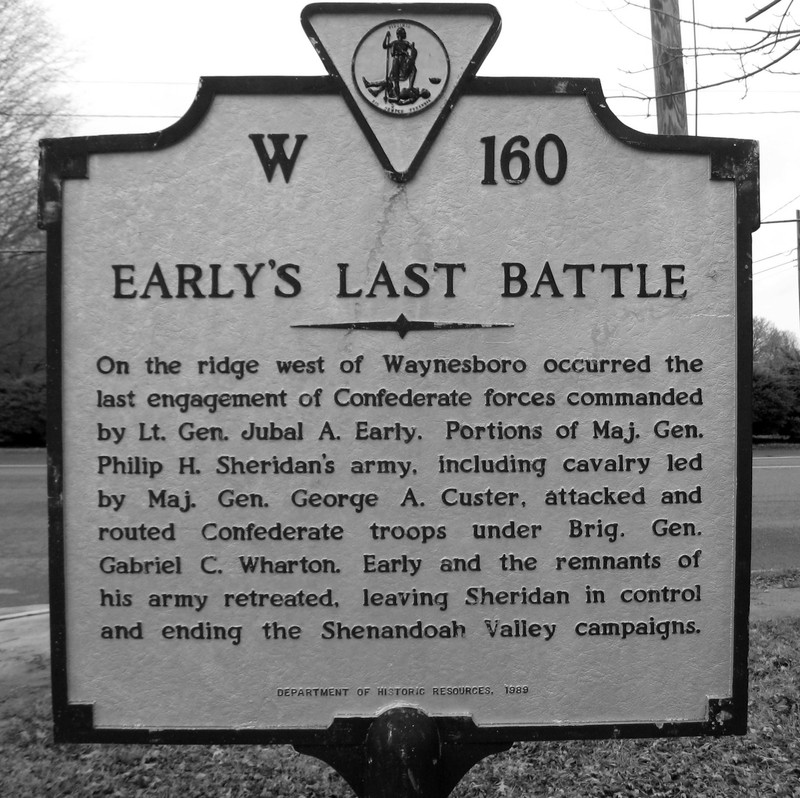 Backstory and Context
In the days leading up to this battle, Union General Philip Sheridan brought two of his cavalry divisions from Winchester through the Shenandoah Valley. Sheridan's men arrived at Staunton on February 27th, 1865, and were en route to join Major General William Tecumseh Sherman's forces in the Carolinas. While crossing the Shenandoah River, however, Custer's cavalrymen engaged a small force of Confederate troops under the command of Brigadier General Thomas Rosser. Rosser and his men attempted to delay the Union troops from reaching their destination by burning a long covered bridge.
Custer ordered his troops to swim across the river and attack Rosser's men. After driving Rosser's small band of troops back, Custer and his men to joined with Sheridan the following day. After Custer and Sheridan's troops united, they decided that they should not leave General Early's army and shifted their plans to drive the Confederate General from the Shenandoah Valley rather than moving on to the Carolinas as planned.
On March 2nd, Custer's forces set out to destroy bridges and attack Early's men. Custer's men had created a defensive position outside Waynesboro while Early positioned his men on a low ridge just west of the town. Although they also prepared defensive positions, Early had left his left flank exposed believing that the dense woods would prevent a Union attack coming from that direction.
At 2:00 PM, the quiet was broken by the sound of artillery as both sides pressed the attack. Custer sent Colonel William Wells and his brigade to scout the enemy's position which allowed him to discover that Early's exposed left flank. As Custer's men moved to attack the Confederate weakness, Wells' men rushed the Confederate flank and forced them to retreat. Early and his staff fled the battlefield while his army was captured or scattered, thereby giving the Union complete control of the area.
Sources
"Battle Summary: Waynesboro, VA." National Parks Service, U.S. Department of the Interior, www.nps.gov/abpp/battles/va123.htm. Accessed 3 May 2017.

Additional Information