Fire Station No. 5 (Knoxville)
Introduction
Fire Station No. 5 was constructed in 1909, and at that time, eight firefighters manned the station and operated fire engines that were pulled by horses. Today, the station is manned by ten firefighters who utilize some of the most modern fire and rescue equipment for the fourth-busiest station in Knoxville. The station boasts the fastest response time in the city and is the oldest active station in Knoxville.
Images
Fire Station No. 5 opened in 1909 and was preserved and placed back into active service in 1988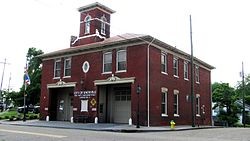 Backstory and Context
When Fire Station No. 5 opened on May 23, 1909, it was operated by eight firefighters with four horses, a steamer, and a ladder unit. The firemen would pile the manure from the horses outside so neighbors could put it to use on their farms or in their gardens.
Some of the biggest fires that the station fought include blazes at Standard Oil around 1912 and at Coster Mills in the 1920s. Two firefighters from Station No. 5 have lost their lives in the line of duty. Tom Hagerty died after suffering a heart attack at a fire in 1936. Scott Popejoy Jr. died as a result of a fire truck's faulty brakes six years later.
Owing to its age and deteriorating condition Fire Station No. 5 was shuttered in 1981. Thanks to the support of local leaders and preservationists, the historic fire station was restored and placed back in operational service in 1988.
Sources
Brooks, Scott. 100 years of protection: Station No. 5 helped neighborhood with more than just fires. Knoxville News Sentinal. May 23, 2009. Accessed January 21, 2019. http://archive.knoxnews.com/news/local/100-years-of-protection-station-no-5-helped-neighborhood-with-more-than-just-fires-ep-410013674-359393031.html/.


Additional Information