McCallister House
Introduction
The McCallister House, built in 1881, is an Italianate style home located on Putnam Avenue in Hurricane, West Virginia. The home was built by William "Bill Mac" McCallister, the first president of Putnam County bank. McCallister and his family lived in the residence until his death in 1925. Since then the house has been home to many families and businesses including, a law office and blind company, which remains there today. Renovations were made to the property in the late 1970s and again in the 2010s.
Images
McCallister House (Present Day)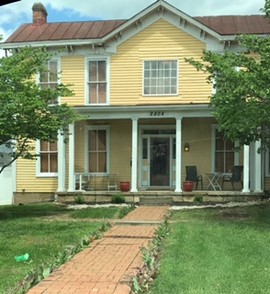 McCallister House serving as the law office of Mary Blasingim (1980)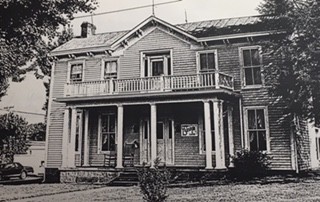 Backstory and Context
In 1881, William "Bill Mac" McCallister built a home near his business on Putnam Avenue in Hurricane. The McCallister property bordered the Chesapeake and Ohio Railroad and North Main Street. The Italianate style house was constructed by Yance Hill and Bill Martin using bricks fired on-site with McCallister's own kiln. The bricks were used both as foundation for the house and insulation between the walls. The two-story house contains features such as bay windows across the front, a pediment in the center, ornamental bracketed eaves and decorative corner boards, all of which are indicative of the Italianate style. At the time of its construction, the McCallister house was one of the most impressive homes in the Hurricane area.

In addition to being the first president of the Putnam County Bank, McCallister also operated a farm in Culloden, and a general store located near his home on Putnam Avenue. In addition to the house and general store, the property also contained two more store buildings, a barn, and stables. McCallister was a shrewd business man and his property and home displayed the prosperity he had in his endeavors during the post-Civil War railroad boom that sparked growth throughout the town of Hurricane.

Beginning in 1925, after the death of McCallister, ownership of the home was passed through different members of the family and others in the community until it was acquired by Tom and Mary Blasingim in the late 1970s. The house not only served as a home for the Blasingims, but it also served as the residence of Mary's law office. In 1979 the Blasingims began renovating and remodeling different parts of the house, including the roof and porch. It was renovated and rejuvenated again by the current owners in the late 2010s. The McCallister house still stands as a reminder of one of the greatest businessmen to take up residence in Hurricane.

Sources
Neal, Amy. "Glimpse into Hurricane's past to be shared during tour." The Charleston Gazette Metro West 10 Aug. 1988: 1A . Print.

Hurricane Centennial Committee. The Centennial History of Hurricane, WV. Walsworth Press, Inc.,1988. Print.

CC-80-144. N.p., n.d. Web. 02 May 2017.

Additional Information