New Street United Methodist Church, Shepherdstown
Introduction
Construction of this historic church began in 1854 and replaced a previous wood structure that had been destroyed by a fire earlier in the year. Differences over slavery caused a split in the Methodist Church in the antebellum era, leading to the creation of the Southern Methodist church. While nearly every Methodist in the South joined the Southern Methodists, congregations in places such as West Virginia split. Members of the "Northern" congregation retained control of this building while those who supported the Southern Methodists built what is now known as the War Memorial Building on German Street in 1868. The Methodists and Southern Methodists of Shepherdstown reunited in 1940 with the congregation using this facility as their meetinghouse.
Images
New Street United Methodist Church is located on the SW corner of New and Church Sts.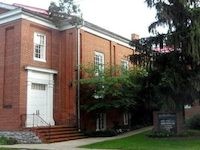 Backstory and Context
The Methodist Church in Shepherdstown began in 1776, when Freeborn Garretson (a Methodist preacher) spent some days in Shepherdstown. They became a regular appointment for the Berkley Circuit. The Jefferson Circuit started in 1820. The first church building was on Church Street between the current Catholic and Methodist Churches. This building was burned down in a fire on March 17, 1853, that started on Washington and Church Street and swept across the street to the Church. There was no fire truck, so the bucket brigade passed buckets of water. They couldn't save the Church.
After the fire, the Methodist Church obtained the lot on the corner to Church and New Streets and began construction in 1854 on the current brick building. During the Civil War, the Methodist Church split along with the rest of the country, creating the Southern and Northern Methodist Church. As a community in a border state, Shepherdstown housed both the Northern and Southern Methodist Churches. The Northern Methodist Church remained in the building on Church Street, while the Southern Methodists erected a building on the corner to Main and King Street. For the next seventy years, the Churches would remain separated.
The Churches were united in 1940. Upon the union of the Churches, the Main Street Church was sold to the Men's Club for a community building, and the New Street Church was re-designated as the sanctuary of the church. Many other congregations have been incorporated into the Shepherdstown Charge. In 1959, the Shepherdstown Church was made its own station because of the size of the Church. In 1969, the Church changed again to unite with the Evangelical United Brethren to form the United Methodist Church.
Sources
Kave, Reva. History. New Street Methodist Church. Accessed May 21, 2017. https://nsumc.wordpress.com/about/.


Additional Information