James Rumsey's House
Introduction
SW corner of where Duke (Route 480) and New Sts once intersected. The log cabin in which James Rumsey lived (1785-1788) stood on this spot where now stands a brick house built in 1860. A plaque on the side of the house identifies the site. The town's first jailhouse, a limestone structure, stood in the middle of New Street adjacent to the Rumsey house site from 1794 to 1865.
Images
This is the current house that sits on top of the site of the James Rumsey House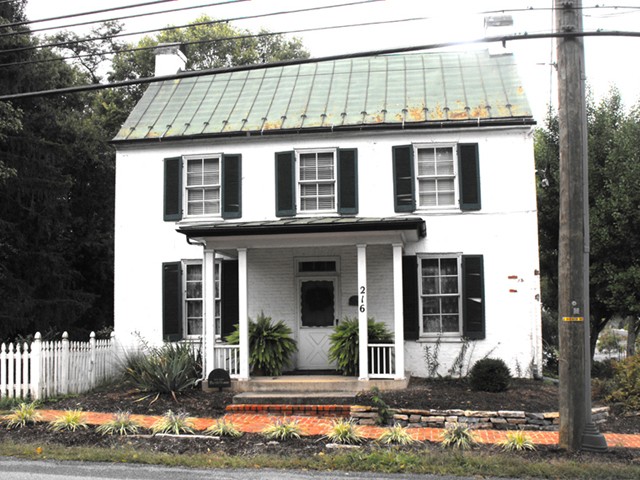 Backstory and Context
James Rumsey is an inventor, credited with inventing the steam engine and having the first successful test of the steamboat. He was born in 1743, in Cecil County, Maryland, but his family moved to Berkley County, Virginia. Rumsey was mechanically minded and became a miller, mill mechanic, and designer, canal builder, Blacksmith, and rustic architect. Rumsey kept an inn in Berkley Springs and created the first bath houses there.[1] Rumsey met George Washington at these bath houses and had a credible connection for his inventing. Washington hired Rumsey to build a "dwelling House, Kitchen, and Stable" on his Bath property.[2] Washington also wanted Rumsey to supervise operations of the Potomac Company, Washington's enterprise to make the Potomac River navigable from Cumberland to Georgetown.[3]
Rumsey's time working on the Potomac fit with his work on steam power. The first self-propelled boat was a pole boat. Carriage of the boat was fitted with a bank of poles that dragged the river bottom to propel the boat forward.[4] This design was not very effective in propelling the boat forward.
1785 brought Rumsey to Shepherdstown with his work with the Potomac Company. Rumsey's contact with George Washington and Benjamin Franklin may have sparked his invention of the steam powered- water jet propelled boat. Rumsey made his first demonstration on December 3, 1787, 20 years before Robert Fulton's boat. In 1788, Rumsey published "A Short Treatise on Steam," then he went to Philadelphia to seek help from the American Philosophical Society. Rumsey demonstrated his steamboat invention for Washington and received certification of the event from Washington. Washington wrote "The model & its operation upon the water … not only convinced me of what I before thought … quite impractical, but that it might be turned to the greatest possible utility in inland navigation."[5]
Rumsey's invention of the steamboat was controversial, Rumsey had to defend his invention against other's. John Fitch invented a boat, but his used oars, while Rumsey used water-jet propulsion.[6] Rumsey also had to defend his patent against Robert Fulton, who also invented a steamboat, but had his first test much later than Rumsey's.
Sources
DuBose, Georgia Caldwell "James Rumsey." e-WV: The West Virginia Encyclopedia. 08 December 2015. Web. 06 April 2017.
Allen, David G.. James Rumsey American Inventor. Accessed July 08, 2017. http://www.appaltree.net/aba/downloads/james_rumsey_biography.pdf.
Additional Information