The Richmond Pioneer Cemetery
Introduction
The Richmond Pioneer cemetery is the final home of many important graves belonging to founding members of the Mormon Church, including Jacob Whitmer, one of the three witnesses. It is also the home of William "Bloody Bill" Anderson. Once neglected, the cemetery has been cleaned up and restored.
Images
Monument to the three witnesses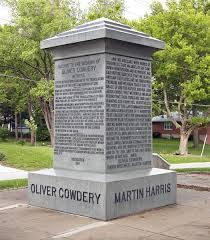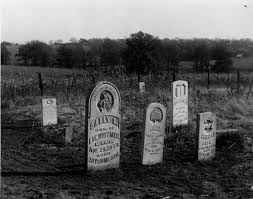 Backstory and Context
The Mormon Pioneer Cemetery is located at the intersection of Thornton and Crispin streets in Richmond, Ray County, Missouri. It was neglected for several years but, was finally cleaned up. There were several lost sites of the graves. In 1911, Junius f. Wells found the site of Oliver Cowdery had been buried. Cowdery was a facilitator of the monument to the Three Witnesses on that site.
The headstone of Jacob Whitmer was once standing at a vertical stance. However, it was then placed horizontally in concrete. There is also somewhere in the area that the remains of Peter Whitmer Sr. and his wife, Mary have been buried there. This is one of the places where some very key figures of the Mormon movement have been buried. Unlike Jacob Hawn, they had the ability to be buried with their family members
Sources
[1]
Mays, Kenneth. "Picturing History: Pioneer Cemetery, Richmond, Missouri." DeseretNews.com. Deseret News, 26 Nov. 2014. Web. 02 May 2017.
Additional Information