Richmond, Missouri Jail Site
Introduction
A white picket fence designates the location f the 19th century Richmond Jail, the site where Joseph Smith and his followers were first held after their arrest in late 1838. The site is was purchased by two members of the LDS Church and designated by a historical marker that was dedicated on November 19, 2011.
Images
Located a block north of the courthouse square in Richmond, the land where the jail once stood is now surrounded by a small fence.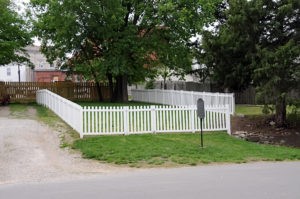 This marker was dedicated by LDS Church members on November 19, 2011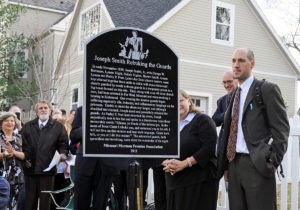 Backstory and Context
This is the location of the jail where Joseph Smith was imprisoned with several other early Mormon leaders in 1838 while a court of inquiry was held to determine the validity of rumors and charges of violence and insurrection. Smith and the other LDS leaders had been arrested at a settlement known as Far West, and had it not been for the intervention of Missouri militia leader Alexander Doniphan, they might have been executed instead of being jailed here.
Fellow jailed Mormon leader Parley P. Pratt's diary states the prisoners were forced to listen to guards who bragged about committing acts of violence against fellow church members on a nightly basis until Joseph Smith rose and rebuked his guards with such force that they were unable to speak. Smith was later sent to a prison in Liberty, Missouri where he was held for four months before escaping, likely with the help of his guards.
Sources
Berrett, Lamar C. "BYU Harold B. Lee Library." Adam-Ondi-Ahman - The Encyclopedia of Mormonism. N.p., 1992. Web. 02 May 2017.
Additional Information