Sharp-Hopper Log Cabin
Introduction
The Sharp-Hopper Log Cabin was constructed in 1835 and is now located on the property of the Cass County Public Library in Harrisonville, Missouri. The log cabin was originally located in the northern part of Cass County, which at the time of the cabin's construction was part of Johnson County. The Sharps had moved to Harrisonville, Missouri from Virginia due to other family members moving to the area.
Images
This log cabin was constructed in 1835.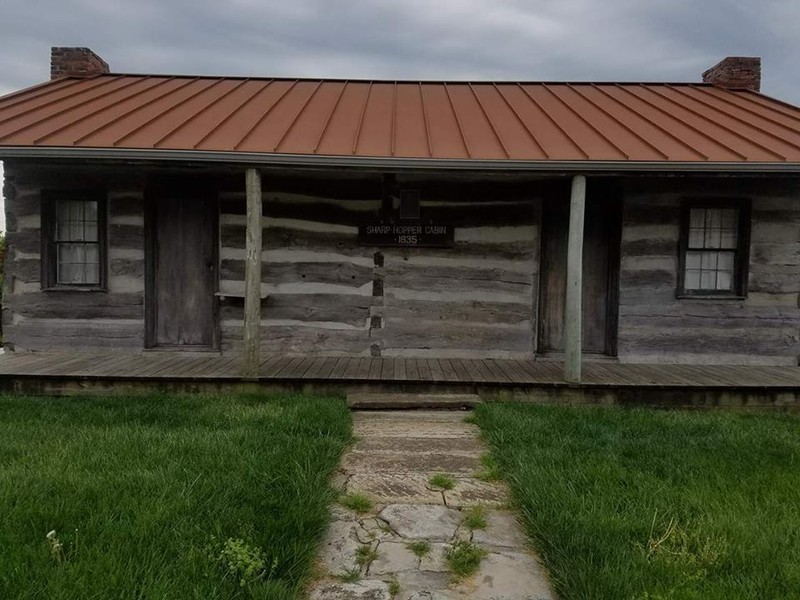 Backstory and Context
Author-Uploaded Audio
The cabin is split into two rooms, one side has the kitchen and the other a bedroom. The two rooms are connected by a door that splits the cabin in half. Both sides of the cabin are equipped with a fireplace as well as a front and back door. Though the families that lived in the cabin never owned slaves, those nearby did. Many items required to build this cabin had most likely been crafted by the people who were enslaved in the area. 
The second family that resided in the house was the family of Thomas W. and Lucy Davis Hopper. The family had moved to Illinois but still owned the cabin which they rented to the grandson of the cabin's owners before them, Van Sharp. After some time the daughter of Thomas and Lucy, Annie, moved back to the cabin. Since the time that Annie had moved back in 1911, the cabin remained in the ownership of the Hopper family until 1974. In 1974 a company took over the land which almost caused for the cabin to be destroyed; it was dismantled during that year and reconstructed near the square by 1976.
Today the cabin is used to represent the history of the area before the civil war. Americans moving to the West for the land and wide open spaces. The Cass County Historical Society maintains the cabin and will provide tours to groups. They will also open the cabin for special events and occasions including dances and reenactments on the lawn of the cabin.
Sources
Cass County Public Library. "Early Cass County." Accessed April 24, 2017. http://www.casscolibrary.org/casscountyhistory/panel2.
Additional Information