Amuzu Theatre
Introduction
The name Amuzu, as in "amuse you" is the place for entertainment in Southport. It has been showing films and holding plays off and on sine the early 1950s. It is a unique place with a backstory full of family, tradition, talent, and dedication.
Images
Bill Furpless, the grandson of the man who built the Amuzu Theatre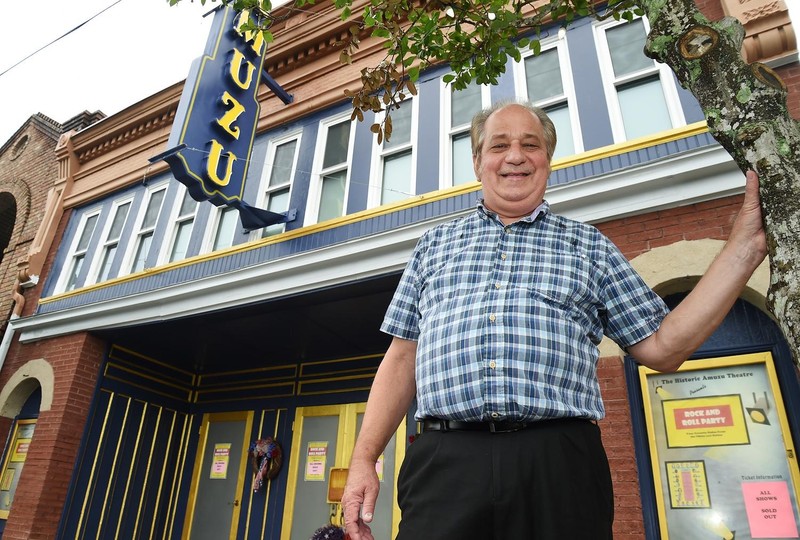 Backstory and Context
The building where the Amuzu theater stands was built by builder, brick mason, and former mayor of Southport, Price Furpless in 1912. Price and his wife operated the theatre, and eventually their kids helped run the business generation after generation. The Amuzu continued to run movies through the 1970s, but started to have trouble competing with bigger theatres. They began operating on a seasonal schedule, running in the busier summer months and closing in the winter. The last movie to run was an edited version of Close Encounters of the Third Kind, shown in October of 1980. The theatre closed its doors, but was not out of the spotlight. The building was shown in several movies: Crimes of the Heart, I Know What You Did Last Summer, and The Secret Lives of Bees.

In 2005, the theatre came back to life with live performances instead of movies. Brittany Campbell came to the Furpless family with the concept of Stage 11 Productions. Jerkll and Hyde was the first Stage 11 production. Bill and Cathy Furpless then began the Historic Amuzu Theatre Productions. Bill is the theatre manager and operator, and Cathy plays the keyboard and is the musical creator and director. Their daughter, Laura and Catherine are involved in almost every production. Since the summer of 2010, the plays Broadway on Howe Street and Old Time Rock and Roll are performed every summer.
Sources
The Historic Amuzu Theatre. Accessed April 29, 2017. http://www.amuzutheatre.com/.

Amuzu Theatre. Cinema Treasures. Accessed April 29, 2017. http://cinematreasures.org/theaters/4992.

Jones, Rebecca. A Landmark With a Story to Tell. Southport Magazine. March 03, 2015. Accessed April 29, 2017. http://southportmag.com/a-landmark-with-a-story-to-tell/.

Photo credits: www.google.com