El Morro National Monument
Introduction
El Morro National Monument is located on an ancient east-west trail in western New Mexico. The main feature of this National Monument is a great sandstone promontory with a pool of water at its base. Inscriptions cover the sandstone rock across the base of the formation.
Images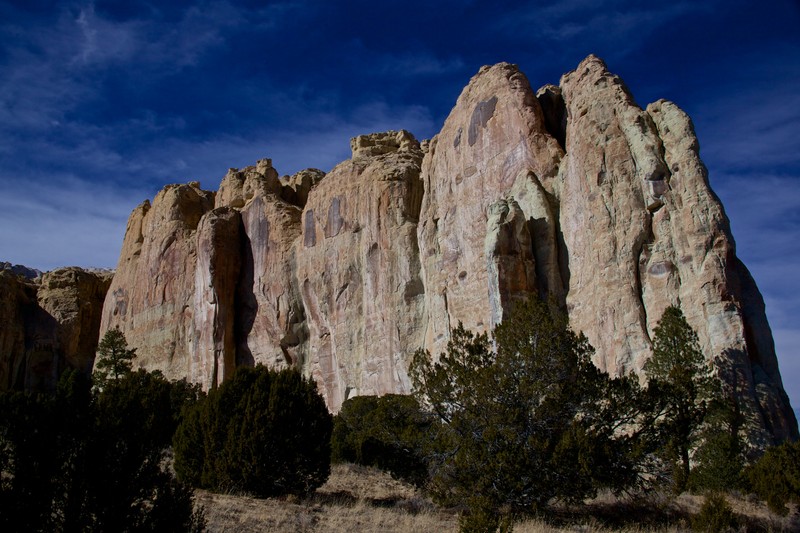 Entrance into National Monument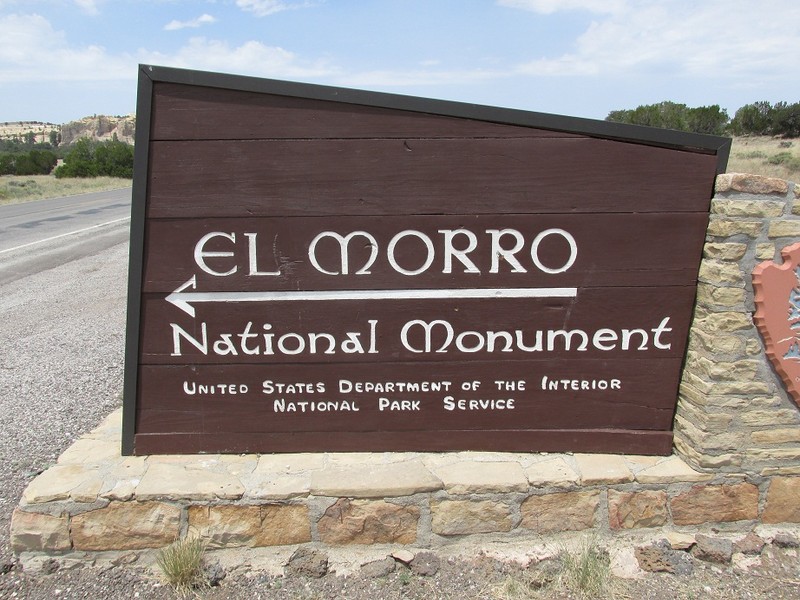 Petroglyphs in sandstone wall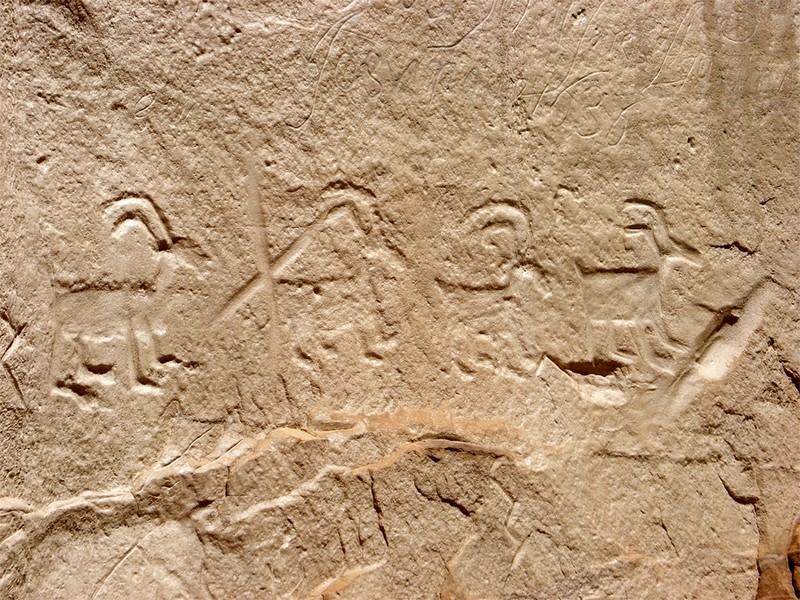 Backstory and Context
The El Morro National Monument is located in Western New Mexico, as one of the smaller monuments in the state. The monument borders the Ramah Navajo Reservation. El Morro is a natural rock formation, surrounded by desert plants. Standing 200 feet above the ground, El Morro, "the headland," attracts not only people, but also animals to the area. At the bottom of the cliff, there is a natural basin of a constant, dependable supply of water. The fresh water attracts coyotes, deer, and other wild creatures.
The monument, known as the "Inscription Rock," has existed for more than 7 centuries. Evidence of this is from the many petroglyphs carved into the soft sandstone. Petroglyphs are pecked-out outlines of bear tracks, human hands, and other symbols on sandstone wall. The writings include tellings of the battles of ancient kings. In the late 1500s, Spaniards would stop at El Morro to rest and get a drink from the basin. Because of the softness of the sandstone, the inscriptions are starting to slowly disappear.
The unusual and vivid monument has much to offer to its visitors. The inscriptions are so extraordinary to site that there is a half-mile paved trail that leads to the walls. Visitors can either walk the inscription trial or walk the Headland Trail. The Headland Trail is a two-mile strip leading to the top of El Morro. It also has a campsite, exhibits, and a visitor center.
Sources
Mazzio, Joann. El Morro National Monument: History on a rock. Desert USA. 2015. Accessed May 3, 2017. http://www.desertusa.com/mag00/jan/stories/elmorro.html.

El Morro National Monument. The American Southwest. Accessed May 3, 2017. http://www.americansouthwest.net/new_mexico/el-morro/national-monument.html.

Things To Do. NPS. Accessed May 3, 2017. https://www.nps.gov/elmo/planyourvisit/things2do.htm.


Additional Information