Golden Gate Park
Introduction
The development of Golden Gate Park began in 1871 under the guidance of park engineer William Hammond Hall and gardener John McLaren. The park consists of 1,017 acres and is the fifth most visited city park in the United States.
Images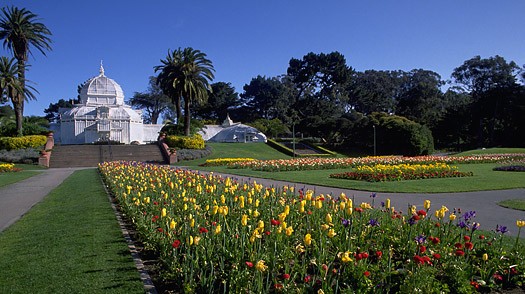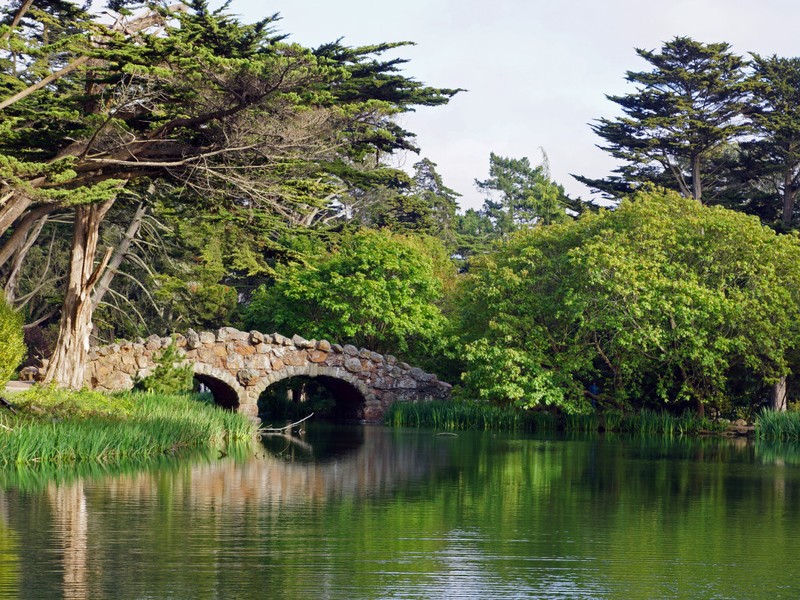 After the 1906 earthquake, the park was the site of a camp for hundreds of the city's homeless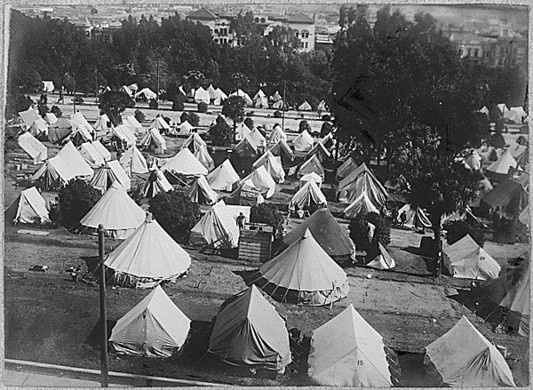 Backstory and Context
In the late 1800s, when San Francisco was a relatively new, but rapidly expanding, city, city planners realized that San Francisco would one day feel too crowded. Starting in 1871, civil engineer William Hammond Hall began trying to cultivate land that mostly consisted of sand dunes and was believed to be unfit to grow anything. Within four years, roughly 60,000 trees were planted in the area to stabilize the soil.

The park began to resemble its present incarnation in 1894 as a result of the Midwinter Fair. The five-acre Japanese Tea Garden, one of the most popular parts of the park, was created for the exposition. Two years later, the elegant McLaren Lodge was built, and was the home of John McLaren, who was supervisor of the park for thirty-five years. The windmills at the far western end of the park were added in 1903.

In 1906, in the aftermath of the earthquake that ravaged the city, the park became a refugee camp of sorts as thousands of newly homeless San Franciscans took up residence there. It's estimated that 40,000 homeless people lived in camps set up inside the park, many of them living in "earthuake shacks" designed by John McLaren.

In between the Conservatory of Flowers and Haight Street is an area of the park known as Hippie Hill. During the Summer of Love in 1967, the area became a gathering spot for devotees of the counterculture, likely becoming the most permissive point in the most permissive part of a very liberal city. A number of musicians and singers gave free performances at Hippie Hill, including Janis Joplin, George Harrison, and Jefferson Airplane.

The park was added to the National Register of Historic Places in 2004.
Sources
http://www.atlasobscura.com/places/site-of-1906-earthquake-refugee-camps Retrieved 30 April 2017.

http://www.sfgate.com/neighborhoods/sf/goldengatepark/ Retrieved 30 April 2017.


Additional Information